Alpine River Access Point Now Open to the Public
As part of the development of the Upper James River Water Trail (UFRWT), a study was conducted to investigate potential strategic locations along the 45 mile stretch of river within Botetourt County to create new public access points. One location commonly referred to as Alpine, traditionally used by boaters and fishermen for many years, was identified as a key location for inclusion within the trail.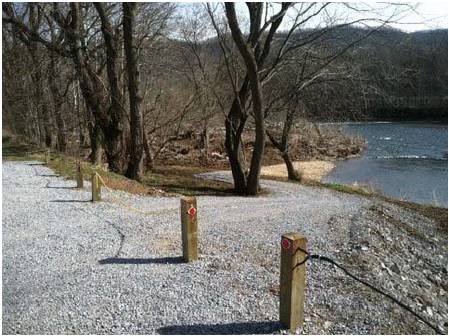 County staff presented a proposal to land owners Rockbridge Corp. and Carmeuse (formally O-N Minerals) that included partnering with the County, various local stakeholders and the Department of Game and Inland Fisheries to construct a formal hand-carry access ramp to the river and a parking area for vehicles and trailers. Following presentations and discussions among the parties involved, the two companies decided to donate the three contiguous parcels of approximately 10 acres and valued in excess of $31,000 in total to the County for the project.

Contributions of cash and in-kind donations in excess of $11,000 were made by Carmeuse Lime & Stone – James River, Gene's Logging, Robertson-Fowler, Twin River Outfitters, Wilderness Canoe, Jelly Stone Campground, and the James River Association with additional assistance provided by county departments of Public Works, Developmental Services, and Parks, Recreation and Tourism.

At its June meeting, the Board of Supervisors authorized acceptance of the property deeds. They thanked Carmeuse Operations Manager, Steven Powell, who attended the meeting, for the Carmeuse assistance and support of this project.

Most of the site construction was completed this winter with only minor additional improvements remaining to the parking area and installation of an information kiosk.

There are seven public access points on the Upper James River Water Trail that are owned and operated by the Department of Game and Inland Fisheries in Botetourt County. These sites are provided for the public for the expressed sole purposes of boating and fishing.
Contact info: Pete Peters, Director, Parks, Recreation & Tourism
(540) 473-8326
---
Ferguson Named Outstanding EMS Administrator
At its annual awards banquet, the Western Virginia Emergency Medical Services Council, Inc. (WCVEMS) acknowledges the achievement and excellence of EMS workers in its region, which includes the counties of Alleghany, Craig, Botetourt, Floyd, Franklin, Giles, Henry, Montgomery, Roanoke, Patrick, Pittsylvania and Pulaski, and the cities of Covington, Danville, Martinsville, Radford, Roanoke and Salem.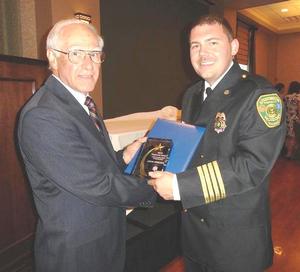 Ford Wirt, President of the WVEMS Board of Directors, presents Jason Ferguson with his award.
This year, Botetourt's Division Chief for Fire and EMS Operations, Jason D. Ferguson was the recipient of the Regional Award to the Outstanding EMS Administrator. This award is bestowed on an individual who has demonstrated the "ability to organize, conduct, manage, problem solve and evaluate within his or her organization and, by exemplary leadership and administrative skills, improve the effectiveness, response and delivery of EMS."

Jason started with the County in December 2001 as a paramedic. Over the years he was promoted to Captain, Battalion Chief and Division Chief.
Contact info: Carr Boyd, Director of Botetourt County Emergency Services
(540) 473-8675
---

The Registrar Wants YOU!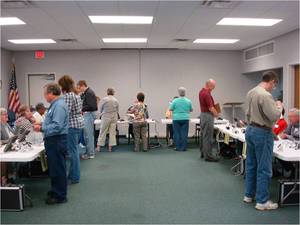 The Office of Voter Registration and Elections is preparing for the upcoming Presidential Election. They are seeking volunteers for the Electronic Pollbook Certification Class (July 21, 2012), and the Voting Machine Certification Class (August 25, 2012). Historically, Botetourt County has a voter turnout of 75%.

Many volunteers are needed to serve Botetourt residents. Please consider joining the effort.
Contact info: Phyllis Booze, Registrar, (540) 473-8235

---

Election 2012
8.1% (1,872) of registered voters (23,203)
turned out for the June primary election.