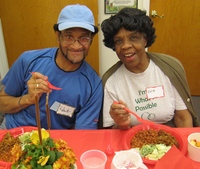 EarthLinks' Wishlist:
Vacuum cleaner
Exterior Paint
Art supplies
Storage Space
Garage Space

Office supplies of any kind

Gift cards to craft, hardware and art supply stores or grocery stores
Beads for jewelry
Drill Press
Laptop with XP Pro

Make a donation of $100 or more by Midnight this Friday to receive your 2010 Enterprise Zone Tax Credit!
Dear EarthLinks Friends and Supporters,
Looking back a few months to the beginning of our pre-holiday season of sales, we are filled with relief and utter gratitude. We have come through many weeks of multiple-sale weekends (some with eight locations in just two days!), seemingly constant calls for help to our amazingly dedicated volunteers, and much business in the EarthLinks Workshop to be sure our inventory would survive the holiday rush. And with the help of our volunteers and supporters, we made it through just fine. In fact, your time graciously given to us in the garden, workshop, and at sales; your purchases at the many gift markets and holiday bazaars; and your willingness to spread the word about EarthLinks to those around you helped us to realize one of our most successful sales seasons ever. We cannot thank you enough.
The importance of our success this year goes far deeper than the amount of sales we accomplished, though. These sales mean that we can continue to provide our Workshop program, creating a safe and healing space for our participants. The stipends funded by our sales mean that the men and women served here can afford to stay in housing, buy groceries for their family, attempt to get out from under the weight of severe debt, and pay for their medical needs. Finally, the love shown to us by our volunteers and supporters contributes to the overall community of support and transformation fostered here at EarthLinks.
So, to everyone who has given so much to EarthLinks this year, again we say, "Thank You." But the work does not stop here. Through the holidays and into the New Year, our participants will continue to come to the Workshop. We will continue to seek out new sales locations and opportunities to spread our stories. EarthLinks will continue to grow and develop to try to meet the needs of Earth and her people. We hope you continue with us on this journey.
Wishing you all the joys of the season and prosperity throughout the New Year,
The team at EarthLinks
PS: Don't forget that you can always get connected with EarthLinks on Facebook, Twitter, or on our Website!