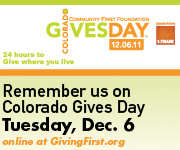 UPCOMING SALES:

We're at the following sales this month and next. Click here for more details.
Nov 26-27: St Paul's Episcopal Church, Lakewood
Nov 26-27: Most Precious Blood Church, Denver
Nov 27: Loveland 1st United Methodist, Loveland
Dec 1-2: Regis U. Peace Fair, Denver
Dec 3: 1st CRC Global Bazaar, Denver
Dec 3: Mile Hi Church, Lakewood
Dec 3: Golden Gate Grange, Golden
Dec 3-4: Messiah Comm. Church, Denver
Dec 3-4: 1st Plymouth Church, Englewood
Dec 3-4: St Thomas Aquinas, Boulder
Dec 4: Smoky Hill UMC, Centennial
Dec 4: First Mennonite Church, Denver
Dec 4: 10:30 Catholic Community, Denver
Dec 4: Montview Blvd Presbyterian, Denver
Dec 10: EarthLinks Holiday Open House! Denver
Dec 10: Holiday HaHo Market, Denver
Dec 11: St Barnabas Church, Denver
Dec 17-18: St John's Cathedral, Denver
Giving Thanks in Advance
Yesterday the EarthLinks Workshop community gathered to share friendship, blessings, and delicious food at our annual Thanksgiving Potluck. A theme of our conversations was how the support of community leads us to peace and happiness. And we would be remiss if we did not give thanks to you, today and every day. You consistently provide the critical support necessary to keep our programs going strong. So, this Thanksgiving we are thankful for you.

We also give thanks in advance for your support of EarthLinks on Colorado Gives Day 2011. When you make a tax-deductible donation any time during the 24-hour period of December 6, your gift will be boosted by the FirstBank incentive fund. Your gift will help us meet our goal of $6,000 on Colorado Gives Day and further our efforts to sustain people and the planet. Your donation also qualifies for the Enterprise Zone Tax Credit (up to 25% of the gift) for gifts totaling $100 or more during the 2011 calendar year.

Read on for two ways to take advantage of this opportunity to make your gift to EarthLinks go further on Colorado Gives Day.
---
Plan ahead for Colorado Gives Day!
Want to make a gift to EarthLinks on Colorado Gives Day but don't want to wait until December 6? It's easy to pre-schedule your gift today through GivingFirst.org! (Pre-scheduled gifts still qualify for the incentive fund boost on Colorado Gives Day.)
Visit GivingFirst.org/EarthLinks.
Click "Donate Now to this Charity."
Enter the donation amount, and select the box to "Schedule Donation for Colorado Gives Day."
If you mark your donation as a recurring gift, you'll also qualify for EarthLinks' Sustainability Circle!
---
Create an exciting Fundraiser for EarthLinks!



Want to rally your friends and family around EarthLinks' mission to sustain people and the planet? Turn Colorado Gives Day (or any day!) into an exciting personal fundraising event! By creating a personal fundraising page, you can enlist all of the people you're connected with to support EarthLinks.
To create your EarthLinks fundraiser, simply visit GivingFirst.org/EarthLinks and click the large "Fundraise Now for this Charity" button on the left side of your screen.
---
We hope you'll continue to support EarthLinks on Colorado Gives Day and beyond.

Have a safe and happy Thanksgiving!