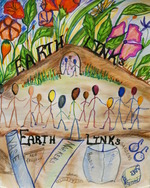 A beautiful drawing representing the EarthLinks Community, done by a
Workshop Participant.
EarthLinks will remain open on Friday, December 23rd, for last-minute holiday shopping!
Come by from 8:30am-5:00pm to pick up Earth-friendly products from the Workshop!
Did you know...
As a nonprofit with 501(c)(3) status, donations to EarthLinks are tax-deductible under Federal law. Colorado taxpayers also qualify for the Enterprise Zone Tax Credit (up to 25% of the gift) for gifts of $100 or more!
Solstice Greetings from EarthLinks!
Today is the Winter Solstice, a time when we gather as a community in the EarthLinks Workshop to celebrate the year behind us, look forward to a year of hope and peace ahead of us, and share in the joys of community. The Winter Solstice also marks the longest night of the year, especially difficult for the thousands of men and women in Denver enduring the cold, isolation, and danger of life on the street. This is a time to recognize our need for support in this moment, while also hoping for longer, warmer days to come.

We are very grateful for all of your support this fall. We could not do our work without you! Because of your willingness to come out to our sales, stop by our store, and make generous donations online and in person, this has been a season with much to celebrate. With all this year's craft fairs and our absolutely incredible Holiday Open House, our sales numbers for the year will help sustain our participants through the cold winter ahead, though our programs remain in need of financial support. Your generosity on Colorado Gives Day keeps us hopeful for the continued success of our organization. And your countless volunteer hours at sales, in our Workshop, and in the garden have helped us build up our vibrant, loving community.

We truly cannot thank you enough for all your support in 2011. And we must ask you again for your continued support in 2012. We are making great strides in our efforts to Sustain People + the Planet, but we need your help to keep going. Please consider making a tax-deductible year-end gift to EarthLinks. You have until December 31st to qualify for the Enterprise Zone Tax Credit.

Wishing you peace and warmth on the Winter Solstice,
happy holidays with family and friends,
and joy in the New Year,

The Team at EarthLinks