Greetings of Harvest gratitude and Holiday blessings,
EarthLinks is gathering the many reasons to be thankful this season. You and your generosity are held in profound gratitude. We give thanks for the generous financial support we received from so many of you. We are also grateful for all the volunteers who gifted us with their time and presence.
The many kindnesses shared with us have strengthened our bonds of community. We depend on your support and hope you remember us in your holiday giving.
EarthLinks also gives thanks for our participants who arrive each day with their beauty and burdens. Each time we gather we are grateful for our EarthLinks community where we find a compassionate presence to welcome us in, always.
We are grateful for all those who have found housing, especially before the winter season. One of our participants, "Elaine," just moved into her own apartment after living on the streets for 10 years. She said, "I look out the window at the snow falling and give thanks every day that I'm in here and not out there. I'm safe and I'm blessed. And I think of all those others who are still out there." After Elaine gave a presentation on behalf of EarthLinks at a nearby Presbyterian Church, that community has taken her under its wing and is helping to furnish her apartment which she can finally call "home." We are grateful for all who reach out to us and our organization.
---
Colorado Gives Day: December 8, 2010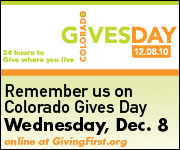 Increase the value of your donation when you support EarthLinks on Colorado Gives Day, December 8, 2010! On this special day, Colorado is coming together to raise one million dollars in one day for nonprofits like ours. All nonprofits participating in CO Gives Day are featured on GivingFirst.org, an online giving resource. On this website we share our goals, accomplishments and much more to help you be an informed donor. What's more, when you donate online on December 8, the value of your donation will be increased by the Colorado Gives Day Incentive Fund – created by FirstBank and supplemented by local organizations. To make a donation on Colorado Gives day (or any day!), see our profile at http://www.givingfirst.org/EarthLinks or simply visit our website and click the Donate Now button on any page!
100% of your donation comes directly to EarthLinks when you give through GivingFirst.org
Donate any time during a 24-hour period starting at 12am on December 8 to qualify for the incentive
---
EarthLinks Video: Notes from the Peace Garden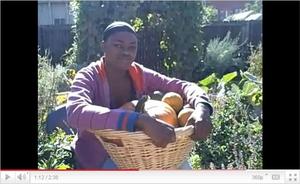 Every day, EarthLinks connects men and women who are homeless and low-income with Earth, providing life-changing opportunities for growth and the chance to experience the peace of nature.
In our newest video, Notes from the Peace Garden: Muzzette, take a glimpse at our harvest from the Peace Garden and learn why EarthLinks is so important in the lives of our amazing participants.
---
We are ever grateful for your continued support! As always, you can connect with EarthLinks on Facebook, Twitter, or on our Website.

Sincerely,
The team at EarthLinks