Dear Friend of EarthLinks,
Check out the information in this newsletter for a special Urban Foraging Workshop, a call to Tea Lovers for a special product, and a final push for Cody's Marathon Fundraiser!
---
Want to learn the secrets about urban foraging? Then join us tomorrow for a very special workshop on Urban Foraging with Kate Armstrong, the Urban Forager! We'll learn about finding and harvesting edible weeds, uncover their hidden nutritional value, and discover clever ways to prepare them for the dinner table. Don't miss this enlightening, hands-on workshop!
Saturday, October 13th
10am-Noon: Urban Foraging Workshop
($5 Suggested Donation)
Noon-2pm: Open House & Volunteer Orientation
---
Update: Cody's Marathon Fundraiser!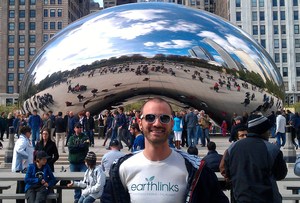 Our Community Engagement Director,
Cody Meinhardt
, is back from running the 2012 Chicago Marathon! With your fundraising pledges and well wishes encouraging him along the way, Cody finished the 26.2 mile race in 4 hours 20 minutes! Way to go!
But that's not the end of this fundraiser.
With only two days left, Cody is just

$80 away

from reaching his $1000 goal!
If you are inspired by Cody's committment to sustaining people and the planet, please consider helping Cody reach his goal by
making a donation to his campaign by clicking here,
and please pass this along to your friends and family.