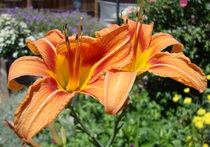 Lilies in the Peace Garden

Upcoming Events:
If you'd like to help run any of the following sales or simply want more info, please contact Cody Meinhardt.
July 19: YMCA of the Rockies Art & Craft Fair, Estes Park
July 28-31: Denver County Fair, Denver
August 5: Here is How Street Fair, Denver
September 15: Annual Imagine Fundraiser, Denver
October 22: Broadmoor Community Church Alternative Gift Fair, Colorado Springs
October 29: Light of the World Seniors Craft Fair, Littleton
Lights, Camera, Vote for EarthLinks!
Help EarthLinks win a professional video package worth $700 in Greenworks Video's July contest, Lights Camera Vote! Here's how:

EarthLinks is part of Greenworks Video's contest during the month of July along with two other Denver nonprofits. The contest winner at the end of the month will receive a custom-made video produced by Greenworks Video's Emmy award winning writer-director Brian Doubleday and veteran editor Jim McConnell!

To help EarthLinks win, all you have to do is go to the contest page on Facebook, select EarthLinks, and your vote will be cast!

The nonprofit with the most votes by midnight on July 31 will win the complimentary Gold video package from Greenworks Video, valued at $699.

Help EarthLinks step into the spotlight by sending this contest page link to your friends and family!!

http://www.facebook.com/GreenworksVideo?sk=app_221360904560456
---
Volunteer Orientation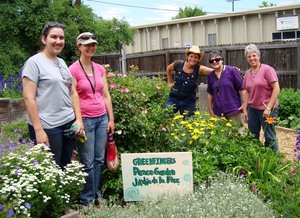 Did you hear about EarthLinks at a sale and want to learn more? Do you want to volunteer with EarthLinks, but aren't sure how you can get involved? Are you a returning volunteer who wants a better understanding of our organization? If you answered yes to any of these questions, you should come to our first ever Volunteer Orientation!

Join us at EarthLinks (2828 Larimer Street, Denver) on Monday, July 11, from 5:30 to 6:30 pm to learn about our history, current programs and staff, and all the many ways you can get involved with EarthLinks. There's an opportunity for everyone!

To reserve your space please contact Cody Meinhardt: cody@earthlinks-colorado.org or 303-389-0085.

See you there!
---
As a nonprofit working with marginalized communities, we truly rely on the love and support of people like you. You help us run our garden and workshop programs, you help us complete sales throughout the year, you help us build a more solid foundation through fundraising and special events. In short, YOU are the heart of EarthLinks. Thank you for your continued support.

The Team at EarthLinks