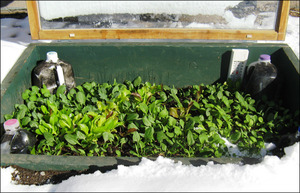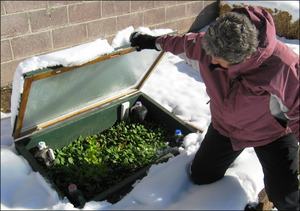 Julie checking on the greens in our Cold Frames. To learn more about our winter gardens click here.
---
As you prepare for
Valentine's Day, remember that EarthLinks' products make the perfect gift -- from Earth with Love!
---
Mark your calendars:
- Volunteer Appreciation Dinner:
Please join us in celebrating the gifts and love of our volunteers with a special dinner on Friday, March 4th, from 6-8pm at Habitat for Humanity (3245 Eliot, Denver). Be ready for great food, lovely music, and a joyful community!
Please RSVP to reserve your place.

- Pancake Breakfast:
7am-1pm, March 27, 2011, Queen of Peace Catholic Church, Aurora.

- WaterCourse Foods Nonprofit Monday:
Join us for a delicious, vegetarian meal, and WaterCourse Foods (17th & Emerson, Denver) will donate 10-15% of all sales to EarthLinks! Come by any time 7am to 10pm on Monday, March 28th.
See you there!
Dear EarthLinks Friends and Supporters,
It may be cold and snowy outside, but we're still growing here at EarthLinks! If you keep up with our blog posts on the EarthLinks website, you've likely seen the photos of our Cold Frame gardens. If not, check out the photo set over on Flickr. Even in the dead of winter we have thriving beds of spinach, arugula, lettuce, kale, claytonia, and mache. It has been a joy to watch our participants start these plants from seed and see them grow into a lush oasis in the snow. As one volunteer put it, "This is something everyone should do!"

We hope our winter gardening is an inspiration to all you fellow gardeners out there! If you're like us and live for the joys of planting, tending, and harvesting a garden every year, you have no doubt already begun thinking about how you'll plant your garden this spring. As the time to start planning draws closer, please keep EarthLinks in mind. Our rain barrels, mason bee boxes, and bat boxes could be the perfect addition to your next garden!

Remember, your purchase from EarthLinks supports urban gardening, promotes Earth-consciousness, and helps to sustain the lives of those on the margins. To see our products, please visit our Online Store.
---
Bee Works Soap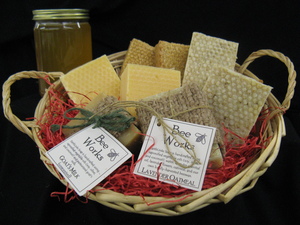 In addition to growing delicious greens throughout the winter, we're growing our product line! In the fall we began piloting a brand new line of handmade, organic soap under the banner of Bee Works. These soaps are hand-crafted using Earth-friendly, vegetarian oils and additives, including our own locally-harvested honey and beeswax. Participants and volunteers have spent many hours donning gloves and goggles to develop the Bee Works line, producing varieties such as Lavender Oatmeal, Lemongrass, Honey, and Goat's Milk soap. Look for EarthLinks' Bee Works soap at sales all throughout the year, and soon in our Online Store!
---
Pancake Breakfast Fundraiser for EarthLinks
Please join us for a Pancake Breakfast fundraiser in support of EarthLinks from 7am to 1pm on Sunday, March 27th, at Queen of Peace Catholic Church! Come see our beautiful products, hear about the latest developments from EarthLinks, and enjoy a tasty breakfast!

Queen of Peace is located at 13120 E Kentucky Ave, Aurora, CO 80012. We hope to see you there!
---
Seeing our greens growing out under the snow, experiencing the thrill of developing a new product line, and always appreciating the loving support of our community, we are reminded that even this winter is a season of growth for EarthLinks. We hope you'll continue to grow along with us.
The team at EarthLinks