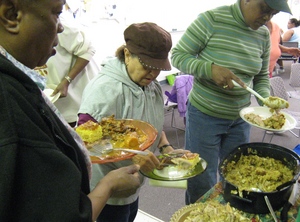 Our community sharing a special Valentine's meal, lovingly prepared by a participant.

---
You can help EarthLinks win $500 from the My Colorado Project just by "Liking" our photo! In this contest sponsored by My Colorado and Community Shares, the photo entry with the most "likes" by March 31 will win $500 for a local nonprofit. Click here to see EarthLinks' entry, register for a quick, free username, and vote! So give us a hand by voting and spreading the word!

---
2010 Annual Report
2010 was a year of growth, change, difficult decisions, and healing in the EarthLinks community.
Read more about the year in our 2010 Annual Report.
Are you ready to dine for justice?
At EarthLinks, we believe that sharing a meal with someone is one of the most intimate, community-forming, and life-giving acts in which we can take part. Cultivating our Peace Garden increases the amount of homegrown food we can share together, going a long way to form a true community, a family, a home for our participants. This community brings people living on the margins of society into the fold and raises Earth-consciousness in us all. At EarthLinks, a meal is an act of social and environmental justice.

We invite you to join us for two meals to benefit EarthLinks and our programs of social and environmental transformation: This Sunday, March 27, from 8am to 1pm Queen of Peace Catholic Church will host a Pancake Breakfast Fundraiser in our honor. The next day, Monday, March 28, WaterCourse Foods has chosen EarthLinks for its Nonprofit Mondays program. 10-15% of all sales from the entire day will be donated to EarthLinks.

Read on for more information on how you can join us this week to dine for justice.
---
Pancake Breakfast Fundraiser
A Pancake Breakfast fundraiser in support of EarthLinks will take place from 8am to 1pm on Sunday, March 27th, at Queen of Peace Catholic Church! Come see our beautiful products, hear about the latest developments from EarthLinks, and enjoy a tasty breakfast!
Queen of Peace is located at 13120 E Kentucky Ave, Aurora, CO 80012. We hope to see you there!
---
Nonprofit Monday at WaterCourse Foods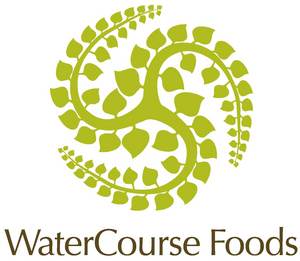 WaterCourse Foods has chosen EarthLinks to be the recipient of its Nonprofit Mondays program! Please join us for a delicious, vegetarian meal, and WaterCourse Foods (17th & Emerson, Denver) will donate 10-15% of all sales to EarthLinks! Come by any time 7am to 10pm on Monday, March 28th.

Your purchase at WaterCourse on March 28th will go directly to EarthLinks and our community of people who are homeless and low-income. When you sit down to enjoy a Tempeh Cuban, Banana Bread French Toast, a plate of Seitan Fajitas, or any mouth-watering dish on the WaterCourse menu, know that you are helping to raise Earth consciousness, building a community of transformation and healing, and supporting our participants on their journey toward wholeness. Who knew a delicious meal could do so much!

RSVP on our Facebook Page, and please Forward this message to a friend!
---
We look forward to joining you in community around the table! Your continued support nourishes EarthLinks as we look forward to growth and new life this Spring season.
The team at EarthLinks