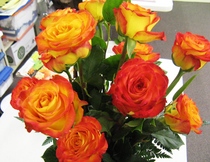 A beautiful flower arrangement designed by participants in last month's Floral Design Course.
This year's course graduated 10 women, who were all offered paid internships in the floral industry!
Congratulations!

---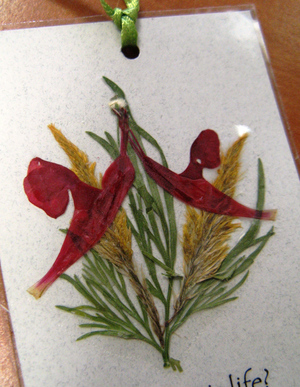 Reflections from the EarthLinks Workshop
Each workshop at EarthLinks begins with a community-led time of reflection and discussion. This encourages the sharing of wisdom and experience within our community. In order to bring YOU, our supporters, into this community, we have begun posting reflections from the workshop on our website. Click here to read the first posts in our new blog series, Reflections from the Workshop.
Spring sales are blooming!
You wouldn't believe how many new seedlings are sprouting up around the Peace Garden, in our temporary green house and cold frames, and even sometimes in the EarthLinks office! There is an incredible amount of hope and anticipation coming to life in these little green "children" of the garden.

This Spring is shaping up to be a time of growth and beauty for us, and that includes a number of sales and fundraising events to benefit EarthLinks. We'll be selling our craft products at churches, local markets and festivals, and at a very special night of art, fashion, and local music. As always, please remember to keep EarthLinks in mind as we celebrate the love of family on Mother's Day and Father's Day. Our Products make the perfect "triple" gift -- for your loved one, for those on the margins, and for the planet.

Read on below for details on our upcoming sales and events, and be sure to check the list on our website for new sales as they are posted!
---
Ride the Rockies for EarthLinks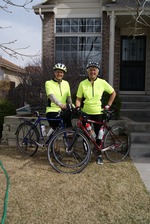 Beth Lindroos, the intrepid leader of our Day Trips Into Nature program, wants your support as she Rides the Rockies for EarthLinks! From June 12-17 Beth's team, the Pedal Pushers, is taking part in the annual Ride the Rockies bike tour. This grueling ride promises to be both intensely challenging and incredibly rewarding.
Read here for a brief message from Beth about how you can pledge to support her ride for Earthlinks!
---
An Evening to Grow with DeVelo Magazine

Come see us at An Evening to Grow, an EarthLinks benefit brought to us by DeVelo Magazine! You don't want to miss this evening of fashion, art, and live music by local musicians at Translations Gallery. All proceeds from An Evening to Grow will be donated to EarthLinks, supporting our mission to Sustain People + the Planet!
Click here for more information.
---
Upcoming Sales

Mark your calendar for these upcoming sales! Check out our website for more information, and contact us if you'd like to volunteer your help at an event.
We hope to see you at these sales and events! Check our website for more information.
---
We're sure that with your love and your help EarthLinks will continue to bloom, not only in this Spring, but all year round. Thank you for your continued support!

With hope and anticipation in this springing of the year,
The team at EarthLinks