Dear EarthLinks Friends and Supporters,
Amidst all the excitement of our remarkable sales season, we are also very excited to be a part of the first ever Colorado Gives Day coming up on December 8! Colorado Gives Day is an opportunity for individuals and organizations across the state to come together in support of the many wonderful nonprofits doing so much for our community. Now more than ever, EarthLinks needs your support so that we can continue our programs of healing, transformation, and connection for People-at-Risk and Earth-at-Risk. Read on for more information about Colorado Gives Day and how you can get involved.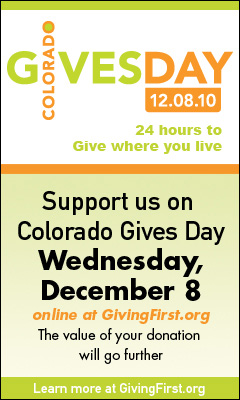 Presented by Community First Foundation and FirstBank, Colorado Gives Day asks donors to give to their favorite charities online through the website GivingFirst.org. As a special incentive, the value of your donation will be increased by the Colorado Gives Day Incentive Fund – created by FirstBank and supplemented by local organizations. Donate online from anywhere, and any time over the 24 hour period of December 8.
100% of your donation comes to EarthLinks when you give through GivingFirst.org
Donate any time during a 24 hour period starting at 12 a.m. on December 8 to qualify for the incentive
To give to EarthLinks on Colorado Gives Day, simply visit our GivingFirst Profile and click Donate Now, or click the Donate Now Through Giving First button on any page of our website.
---
Schedule a One-Time Donation for December 8th!
If you would like to give to EarthLinks on Colorado Gives Day, but don't want to wait until December 8, there is now a way to schedule a one-time donation that will qualify for the incentive! After visiting our GivingFirst Profile and clicking Donate Now, simply follow these steps to schedule your donation:
On the checkout screen, enter a dollar amount.
Click "Is this a recurring donation? Yes." (even though this is still a one-time donation)
Select "First installment date: 12/08/2010."
For "When should this donation end?," select : 12/10/2010.
Click "Add to cart."
---
Thank you for supporting EarthLinks and remembering us on Colorado Gives Day, December 8! As always, you can connect with EarthLinks on Facebook, Twitter, or on our Website.

Sincerely,
The team at EarthLinks