Dear EarthLinks Friends and Supporters,
Greetings from EarthLinks HQ! As Autumn settles in and the flowers produce their last blossoms in the Peace Garden, we at EarthLinks are gearing up for our busiest sales season. Every week from here until well into December, we will be showing our wonderful handmade products at craft fairs, church bazaars, and alternative holiday gift markets. Our crafts are popular at these sales because of their versatility as both beautiful home decorations and gifts for friends and loved ones. That is only half the beauty of our products, though, as every EarthLinks purchase goes directly to support Earth and those who are poor in Denver.
It's never too early to begin planning your holiday shopping, so please think of EarthLinks when deciding where your dollars will go this season. Whether you attend one of our upcoming sales, shop through our convenient online store, or stop by EarthLinks HQ at 2828 Larimer Street in Denver, your support of EarthLinks is greatly appreciated! Thanks, and read on for more EarthLinks updates!
---
Here are the details for two of our upcoming sales. Check out our website to find more upcoming sales, and as we are still in need of volunteers to staff these sales, please sign up to help!
The Broadmoor Community Church Alternative Gift Fair is Saturday, October 23, from 9am to 4pm. The church is located at 315 Lake Ave., Colorado Springs, CO 80906. We look forward to seeing you there!
On Friday, October 29, and Saturday, October 30, we will be at the Shop for a Cause Holiday Gift Market at University Park United Methodist Church. The Market runs from 4-7pm on Friday and 10am-3pm on Saturday, at 2180 South University Boulevard, Denver, CO, 80210.
Whole Foods Market Washington Park to Honor EarthLinks!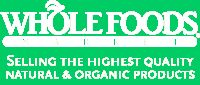 Last month, Whole Foods Market in Washington Park hosted a share of proceeds event for EarthLinks. For the entire day on September 23, 5% of all sales were set aside to be given to EarthLinks to support our mission of Connecting People-at-Risk with Earth-at-Risk.
This Saturday, October 23, at 10:00 am Whole Foods will honor EarthLinks by presenting us with a check for this amazing donation! EarthLinks staff will be on hand to thank Whole Foods and spread the word about our healing mission. Please come out to show your support for EarthLinks and join us in giving thanks to Whole Foods!
Whole Foods Market is located at 1111 S. Washington St., Denver, CO 80210.
A note about our wonderful volunteers...
We are extremely grateful to benefit from the love and support of many volunteers, whose dedication and hard work make it possible to keep our innovative programs going strong. We would like to send out a very special THANK YOU to all of our sales volunteers, our regular garden and workshop volunteer Eleanor Swanson, and the crew from Light of the World Church in Littleton.
Eleanor Swanson, award-winning poet and professor at Regis University, has volunteered in our Peace Garden and workshop for many years. Last week Eleanor led us in a very special nature writing workshop, during which our participants learned to pause, take in the beauty of nature with all five senses, and think of new and creative avenues for personal expression. Thanks, Eleanor, for teaching us new ways to connect with the peace of Earth!
Finally, our bellies are still full from the delicious meal provided earlier this week by a group of volunteers from Light of the World Church! The LOW crew came in after our Tuesday workshop, fancied up the place with tablecloths and beautiful centerpieces, and served us a hot barbecue lunch. We couldn't have asked for better company or better food!
---
Thanks again for all of your continued support! As always, you can connect with EarthLinks on Facebook, Twitter, or on our Website.
Sincerely,
The team at EarthLinks