Dear Friend of EarthLinks,
We sincerely thank each and every person who joined us last Thursday at the Denver ChopHouse & Brewery for our annual fundraiser, Imagine 2013! From the ChopHouse's amazing food and beer, to the fun music provided by the Ken Walker Trio, to the stunning silent auction assembled by our incredible volunteers and board members, the event was a huge success. We told you we had some big news to share at Imagine, so read on for two important announcements:
Our Big News: A New Chapter for EarthLinks in Sun Valley
We wrote to you this Spring with news of our search for a new, permanent location for EarthLinks, due to increases in rent and the pressures of gentrification in our current neighborhood. After a lengthy search, countless visits to potential sites, and many ups and downs, we have great news to share: we have finally purchased a new home for EarthLinks!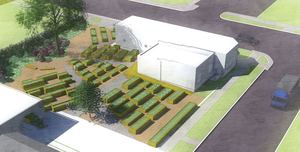 Located near the Decatur-Federal West Line light rail station in Denver's Sun Valley neighborhood, our new property sits on just over a half-acre of land with four small buildings in need of lots of love. We hope to bring new life to this space, provide food for our neighbors living in this food desert, and form community with those wishing to share our journey. Once the buildings are improved to safely house our program (we need bathrooms, roofs, water, a kitchen...) we will move and start again to build our gardens and grow our community. Our estimated move date is early Spring 2014.

We invite you to join with us as we enter into this next chapter in EarthLinks' history. We are humbled by the immense work ahead, but we hope you find this as exciting as we do! Please consider making a donation to help us begin our new chapter in Sun Valley by clicking here.

Help us win $10,000 from Tom's of Maine!
EarthLinks has been named Colorado's ONLY state finalist in the Tom's of Maine 50 States for Good initiative, a national program created by the leading natural products manufacturer to support the goodness behind grassroots community projects. It features nonprofit finalists from every state and invites the public to vote for 15 winning organizations to share $150,000.

We have the chance to earn $10,000 in funding to support our "New Roots" project, which seeks to build an initial garden at our new property in Sun Valley so we can continue our Workshop Program while renovations begin, and we need your help! Visit www.Facebook.com/TomsofMaine and vote for EarthLinks ONCE DAILY, now through October 15th. Help us continue to make a difference in the lives of people experiencing homelessness by supporting our mission to build community and end isolation!