"Seeing with Other Eyes": The Place of Imaginative Literature in the Christian Life
Michael Travers
Professor of English
Southeastern Baptist Theological Seminary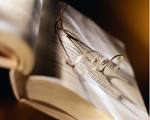 Most Americans who have attended college likely took a literature survey class, perhaps two—American or British Literature Survey; the literature survey class is a standard course in the general education component of an undergraduate degree. The question is why should students be required to read secular literature at all? The question is exacerbated when the student is a Christian, for Christians are responsible for the wise stewardship of their time. Is time spent reading imaginative literature or watching a movie wasted? If fiction is false in every way, it would seem to be a waste of time. Is there any sense in which there is truth in literature? The truth or error to be found in literature should interest every Christian, for we are a people of the truth as revealed in the Bible and in Jesus Christ. In this brief essay, we can only begin to think about the question of the place of literature (and, of course movies) in the Christian life. If we do not answer these questions, we will live an attenuated Christian experience and be less effective in our witness for Christ....continue reading this article on our website.
___________________________________________________

Book Recommendations

Engaging God's World: A Christian Vision of Faith, Learning, and Living
Cornelius Plantinga, Jr., Grand Rapids, Eerdmans, 2002
ISBN # 0-8028-3981-9, 150 pp., paperback, $16.00.

In this book, Cornelius Plantinga, Jr. gives university students a theological framework with which they can think about their studies, their future vocations, and their leisure. Plantinga's framework is an exposition of the biblical narrative in three plot moves—Creation, The Fall, and Redemption.

The Reason for God
Timothy Keller, New York, Dutton, 2008
ISBN # 978-0-525-95049-3, 293 pp., hardback, $24.95.

In this book, Tim Keller provides the readers with a 21st century version of C. S. Lewis' classic Mere Christianity. In the first part, he addresses such skeptical questions as: can there really be just one true religion? How could a good God allow suffering? Hasn't science disproved Christianity? In the second part, he builds a constructive argument for the truth of Christianity.

___________________________________________________

Book Review

Losing Our Virtue: Why the Church Must Recover Its Moral Vision
David F. Wells, Grand Rapids, MI. Eerdmans Publishing, 1998


ISBN #

978-0802846723, 228 pp., paperback, $24.00.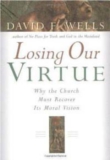 In this book David Wells (distinguished Professor of Historical and Systematic Theology, Gordon-Conwell Theological Seminary), explores the "face-off between Christian faith and our morally degenerating culture." It is his purpose to demonstrate that that the enculturation that has taken place among evangelical Christians has been far more profound than many suspect. Not only is the culture shaping the moral vision of the church such that we are "losing our virtue," but because of this we are also losing our voice in the culture. But not only is this book a cultural critique, Wells also seeks to suggest ways that evangelicals can regain their voice in order to have a transformative impact on culture....continue reading this book review on our website.
___________________________________________________
Website Recommendations
FrancisSchaefferStudies.org
francisschaefferstudies.org

A great introduction to the life and works of Francis & Edith Schaeffer making their thought more accessible for general inquiry. This site is especially helpful to those who have only recently become aware of the extraordinary work of Francis and Edith Schaeffer.

bethinking.org
bethinking.org

This website brings together some of the best apologetic recourses. It is something like a one-stop shop for those interested in apologetics. One will find audio and video recordings of some of the great apologists of the last 20 years.

The Marion E. Wade Center of Wheaton College
wheaton.edu/wadecenter

The Marion E. Wade Center of Wheaton College hosts this brilliant website. Here one will find a wonderful collection of materials from great scholars such as G. K. Chesterton, C. S. Lewis, Dorothy Sayers, and a several others. Although designed for the serious-minded scholar, any person interested in some of the great literary minds within the Christian community will find this site most enjoyable as well as informative.

______________________


Upcoming Events
at the Center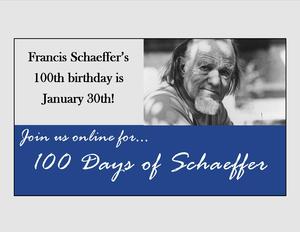 100 Days of Schaeffer,
Online Commemoration of Francis A. Schaeffer's 100th Birthday, Life and Legacy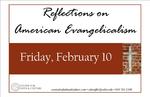 Reflections on American Evangelicalism
with Greg Pritchard, Director, European Leadership Forum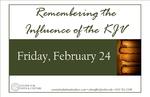 Remembering the Influence of the KJV
with Leland Ryken, Professor of English, Wheaton College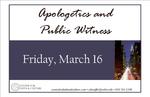 Apologetics and Public Witness
with Stuart McAllister, Vice-President for Training and Special Projects, RZIM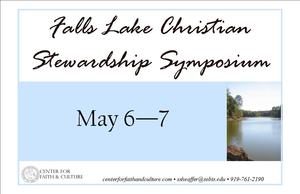 Falls Lake Christian Stewardship Symposium
Co-sponsored event with the George Institute for Biodiversity and Sustainability
______________________

News and Announcements from the Center

The Center is now on Facebook!

Find us on Facebook!

"Like us" to receive the latest news at the Center and current faith and culture updates!