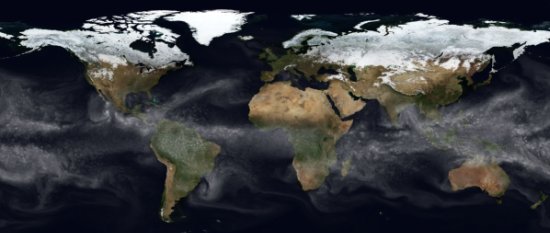 Image: Jamison R. Daniel, Scientific Visualization, National Center for Computational Sciences, Oak Ridge National Laboratory
World's Most Prestigious Weather and Climate Research Centers Choose Cray
Cray continues to be the top choice for some of the world's most highly recognized weather and climate research centers. In May, Cray received a contract from the U.S. Department of Energy (DOE) to provide the National Oceanic and Atmospheric Administration (NOAA) and the Oak Ridge National Laboratory (ORNL) with a next-generation Cray supercomputer which will be used for advanced climate modeling and research. Once completed, the Cray supercomputer will be the world's most powerful high performance computing system dedicated to climate research.
In April, Cray signed a contract with the Foundation for Space Technology, Applications and Science (FUNCATE) in Brazil to provide the National Institute for Space Research (INPE) with a new Cray XT6TM supercomputer for weather forecasts and climate studies. The National Center for Atmospheric Research (NCAR) in Boulder, Colorado recently purchased a Cray XT5mTM mid-range supercomputer, the Finnish Meteorological Institute (FMI) is home to a Cray XT5m supercomputer, and last year Cray won a contract to supply the Korea Meteorological Administration (KMA) with a Cray XE6TM supercomputer.
Read more
At the 2010 International Supercomputing Conference (ISC) in Hamburg, Germany, Cray announced that Sweden's Royal Institute of Technology (KTH: Kungliga Tekniska Högskolan) is the latest organization to order a Cray XT6mTM supercomputing system. KTH's PDC Center for High Performance Computing is acquiring a 93-teraflops Cray XT6m supercomputer as part of a national plan by the Swedish National Infrastructure for Computing (SNIC) to provide Sweden's scientists with access to world-class high performance computing resources.
Read more
Cray Launches the Cray XE6 Supercomputer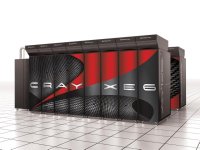 Cray built the world's first production petaflops system with the Cray XT5TM supercomputer in 2009. Now with the Cray XE6 system, Cray is raising the expectations for high performance computing once again.
The Cray XE6 supercomputer takes the proven Cray XT5 infrastructure and incorporates it with two innovative new technologies: AMD's powerful multi-core processors and the revolutionary Cray GeminiTM interconnect. The result is a system that brings production petascale to a wider HPC community and fundamentally changes how Cray systems communicate. Designed to scale to over 1 million processor cores, every aspect of the Cray XE6 supercomputer – from its industry-leading resiliency features to its host of scalability-boosting technologies – has been engineered to meet science's ever-toughening demands for scalability, reliability and flexibility. Read more Cray XE6 Video

Cray XE6 Brochure


High-End HPC Heats Up: Cray and the Path to Exascale Computing -
IDC Vendor Spotlight
In the "Hot Seat" at ISC 2010
Cray's chief technology officer Steve Scott gave a "Hot Seat" presentation this May on efficient scalable computing at the International Supercomputing Conference (ISC), Europe's leading conference on high performance computing, networking and storage. To view his presentation, click here and select Kapitel 10 ("Efficient Scalable Computing"). ISC 2011 will be held June 19-23 in Hamburg.
Cray User Group (CUG) Conference

CUG convened this May in Edinburgh, Scotland for its annual technical conference. Mark your calendars for CUG 2011 in Fairbanks, Alaska on May 23-26.

Cray Named One of Washington's 100 Best Companies
to Work For
Cray was selected to Seattle Business magazine's annual list of Washington's 100 Best Companies to Work For 2010. Results are based on a survey of over 10,000 employees of companies across Washington State. Employers are measured on their achievement in areas such as leadership, communications and training. Read more