---
Cray Ships the First Multi-Cabinet Cray XE6™ Supercomputer

In July, Cray shipped the first multi-cabinet Cray XE6 supercomputer, the first of several significant system shipments to a number of customers over the next few months.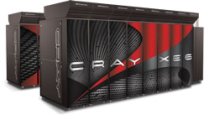 "We are very proud of achieving this important milestone, which is the result of innovation, hard work and a strong commitment from Cray employees company-wide," said Peter Ungaro, president and CEO of Cray. "Shipping the first large Cray XE6 system is a special accomplishment. On behalf of the company, I would like to thank our partners and suppliers, all of our customers who have been working with us through the development process and the United States Defense Advanced Research Projects Agency (DARPA) for their support. Also, I would like to extend a special thanks to our beta-testing partner, the Swiss National Supercomputer Center (CSCS), for their help in getting the Cray XE6 supercomputer ready to meet this major milestone." Read more

Cray Makes Perfect Cents

Find out how to get petaflops technology for pennies. With "three nines" of system availability the Cray XT5m™ system delivers unrivaled efficiency, all starting at 4-cents per megaflop. Special offer

Cray to Build the National Nuclear Security Administration's (NNSA) Next Generation Supercomputing Platform





"Cielo is being acquired and deployed by the NNSA's New Mexico Alliance for Computing at Extreme Scales (ACES). This is a joint partnership between Los Alamos National Laboratory and Sandia National Laboratories. Both Los Alamos and Sandia have a long history with Cray, going back to the very beginning of the supercomputing era," said John Morrison, High Performance Computing Division Leader at Los Alamos.

In addition to Los Alamos and Sandia, the Cielo platform will support Lawrence Livermore National Laboratory, to ensure the safety, security and effectiveness of the United States' nuclear stockpile, while also running NNSA's largest and most demanding modeling and simulation workload. Read more
Swift Engineering: The Race to Indy



Swift Engineering, Inc., a top designer and manufacturer of world class open wheel race cars, purchased a Cray CX1000™ system to help design their entry for the 2012 season IZOD IndyCar® Series.

View the interactive case study and find out how Swift Engineering leverages the Cray CX1000 supercomputer to design and engineer race cars.

NVIDIA-Led Team Receives $25 Million Contract to Develop High-Performance GPU Computing Systems



A team led by NVIDIA including Cray, Oak Ridge National Laboratory, and six top U.S. universities, has been awarded a $25 million research grant by DARPA, the U.S. Defense Department's research and development arm, to address what the agency calls a "crisis in computing."

The four-year research contract, awarded under DARPA's Ubiquitous High Performance Computing (UHPC) program, covers work to develop GPU technologies required to build the new class of exascale supercomputers which will be 1,000-times more powerful than today's fastest supercomputers.

"The DARPA UHPC program is attacking technical issues that are key to the future of high performance computing, from the embedded terascale to the exascale," said Steve Scott, Cray's senior vice president and CTO, and Cray's principal investigator on the team. "We are excited to be working with this team, and we believe the directions we are pursuing will lead to radical improvements to the state-of-the-art in the coming decade."
Read NVIDIA article Read WSJ article Read IB Times

Choose your favorite Cray
desktop wallpaper here!