The 29th Annual International Symposium of the CTBR, Current Advances in Prostate Cancer Health Disparities, took place on Thursday, May 5, 2016 at Hunter College's Kaye Playhouse in New York City. This was the eight joint symposium of the CTBR and the Weill Cornell Medical College Clinical Translational Science Center (CTSC).

This successful event brought together a diverse group of leading prostate cancer researchers, over 200 attendees from scientific, academic, government and community groups, and 34 science posters presenters from multiple tristate area research institutions.

You can view videos of all talks, a symposium report, and poster abstracts on the symposium website.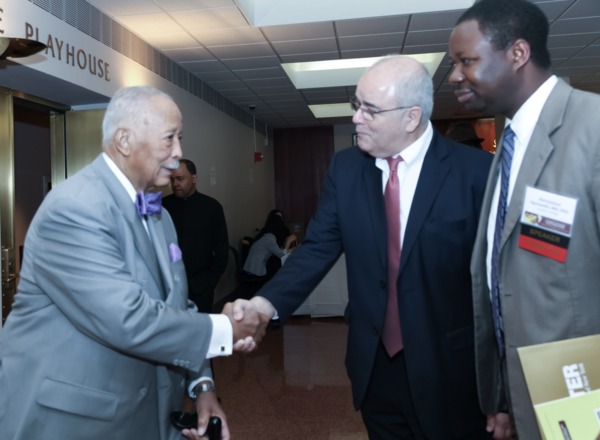 L- R: Mayor David Dinkins, Jesus Angulo and Olorunseun Ogunwobi.
Former Mayor David Dinkins, Congressman Charles Rangel, and Diallo Shabazz, Executive Director of The 100 Black Men, Inc. joined us for the day. Congressman Rangel spoke to the audience about prostate cancer health disparities, a prevalent health problem in minority populations.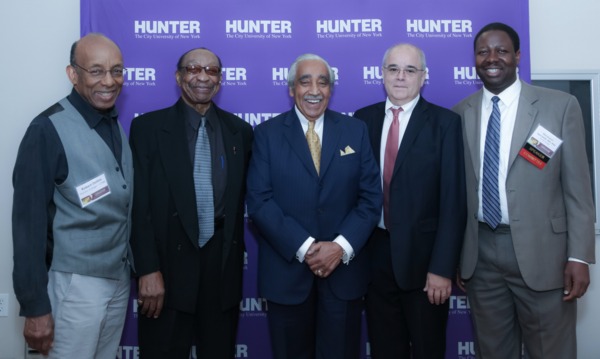 L-R: Robert Dottin, symposium guest, Charles Rangle, Jesus Angulo and Olorunseun Ogunwobi.
Jesus Angulo, CTBR Program Director/Principal Director, Lon S. Kaufman, Acting Provost and Vice President for Academic Affairs and Timothy Wright, CTSC Coordinating Program Director started the day with opening remarks.

Philip Kantoff
Opening remarks were followed by a keynote address by Philip Kantoff, the Chairman of the Department of Medicine at Memorial Sloan Kettering Cancer Center. Kantoff's talk focused on the paradox of prostate cancer treatment in which the effort to identify potentially agressive cancers lead to over-treatment of indolent cancers. He dedicated his talk to his mother, Hunter graduate Liselotte Kantoff (née Kraus) and shared her graduation photograph and commencement program from June 19, 1941.




L-R: Philip Kantoff, Curtis Pettaway, Brian Harper and Patrick H. O'Connor.

Kantoff then joined a panel discussion with Curtis Pettaway, Professor of Urology at the University of Texas MD Anderson Cancer Center, Brian Harper, Medical Director of Academic Health Centers at the College of Osteopathic Medicine, NY Institute of Technology, and Reverend Patrick H. O'Connor, Lead Pastor of First Presbyterian Church, a multicultural congregation in Jamaica, Queens. As a prostate cancer survivor, O'Connor brought a much-valued patient's perspective to the symposium. (Harry Belafonte was unable to join the panel as scheduled due to health issues). Several prostate cancer survivors and current patients in the audience provided insightful comments and questions throughout the day.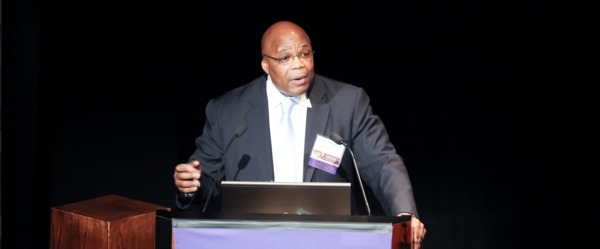 Curtis Pettaway

In the afternoon keynote address Curtis Pettaway outlined contested recommendations of the United States Preventative Services Task Force which would limit the frequency and type of diagnostic testing. Pettaway stressed the importance of men of African descent to get screened for prostate cancer early and frequently.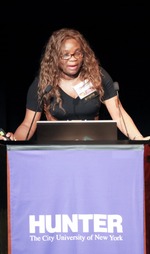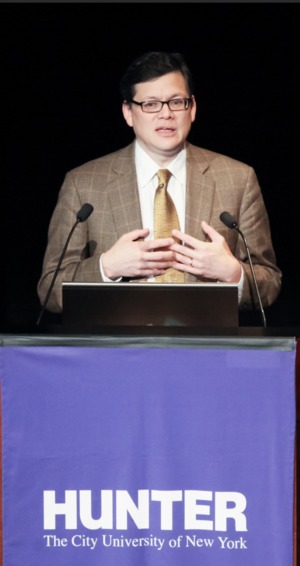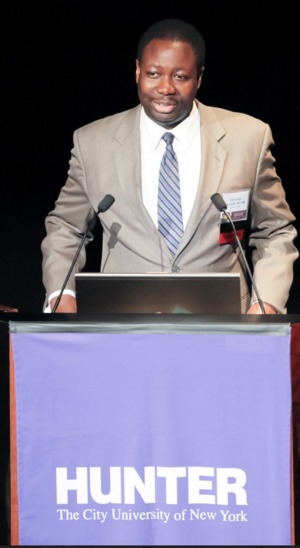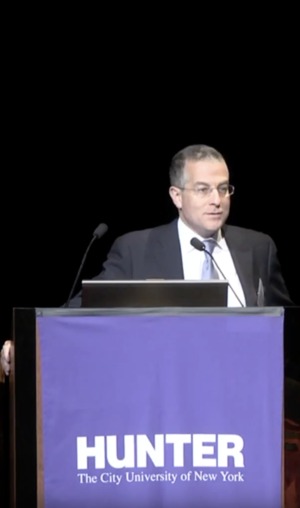 L-R: Folakemi Odedina, Timothy Rebbeck, Olorunseun Ogunwobi and Douglas Scherr.
Folakemi Odedina described her research on understanding the experiences of black men at the moment of a prostate cancer diagnosis. Timothy Rebbeck addressed the intersection of cultural and biological factors in health disparities. Hunter faculty and CTBR member Olorunseun Ogunwobi's talk focused on his efforts to identify additional biomarkers to be used in prostate cancer diagnosis. Douglas Scherr concluded the afternoon talks with the progress urologists have made in stratifying patients by risk and thereby reducing the number of unnecessary surgeries.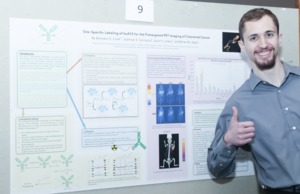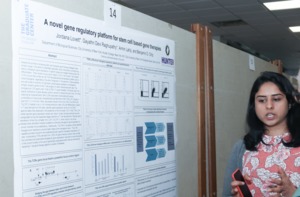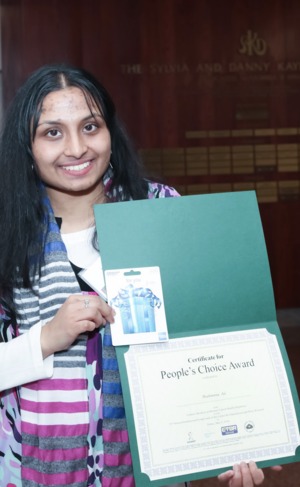 L-R: Brendon Cook, Gayathri Devi Raghupathy and Thahmina Ali

We congratulate the three poster award winners: Brendon Cook, Hunter College, CUNY, "Site-Specific Labeling of huA33 for the Pretargeted PET Imaging of Colorectal Cancer;" Gayathri Devi Raghupathy, Hunter College, CUNY, "A Novel Gene Regulatory Platform for Stem Cell Based Therapies;" and Thahmina Ali, Hunter College, CUNY, Xplore-Seq: A Standardized, Scalable Platform for Transcriptomic Profiling in a Clinical Setting." Each poster awardee received a certificate and a cash prize in recognition of their exceptional work.

The CTBR and CTCS thank and congratulate the symposium planning committee for the success of the day. We also thank the speakers, moderators, poster presenters, poster judges, attendees, student volunteers, and CTBR staff for helping make our 29th annual international symposium a success.