CTBR DIGITAL BIO-IMAGING FACILITY

This facility is based in room 826 HN and provides both Hunter College and CUNY researchers with an accessible state-of-the-art facility for biological image analysis. The Director of the facility, Lloyd Williams, PhD, is assisted by Zhong Wang with faculty oversight provided by CTBR member Diana Bratu. A full list of equipment that is housed and maintained in our Bio-Imaging facility can be found on our website.

Since Hunter's expansion to the new Belfer Research Building on 413 East 69th Street, CTBR has funded new equipment for the facility that is housed at Belfer to support the research there.

Nikon A1R Resonant Confocal (Belfer, Room BB 453)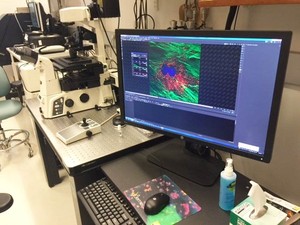 The Nikon A1 Confocal microscope is a powerful fully-automated confocal imaging system, capable of capturing high-quality confocal images of cells and molecular events at high speed and enhanced sensitivity. The A1R pairs the capabilities of a high quality line scanning confocal with an ultrahigh-speed resonant scanner. This allows imaging of intercellular dynamics at 30 fps (512 x 512 pixels). This system was acquired through an administrative supplement from the National Institute on Minority Health and Health Disparities (NIMHD) of the NIH awarded to the RCMI program at Hunter College.
Nikon Ti-S Fluorescence Microscope (Room BB 477)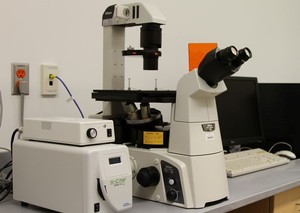 This is a basic workhorse fluorescent microscope equipped with X10, X20 and X40 objectives, and standard dichroics for DAPI GFP and RFP.

An Additional Nikon NIS Elements Analysis station (coming soon…).
This station, equipped with software for 3D analysis and deconvolution, will enable researchers to offload analysis from the busy workstations that control the microscope.
GE FLA 7000 Typhoon (Room BB 475)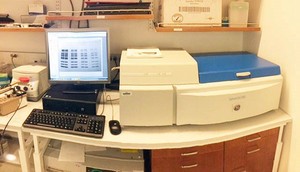 The Typhoon FLA 7000 is a fast laser scanner for biomolecular imaging applications including sensitive and quantitative measurements of radioisotopic labels, chemifluorescent Western blots, and single fluorescence.

Bio Tek Synergy HTX Microplate Reader
Synergy HTX is a Multi-Mode Microplate Reader for making absorbance, fluorescence, luminescence and AlphaScreen/AlphaLISA measurements on 6- to 384-well microplates.