On May 15, 2017, we hosted our 30th annual international symposium: Stress and Resilience: the science of adapting to a challenging world. The symposium was co-hosted with the Clinical and Translational Science Center (CTSC) at Weill Cornell Medicine. The all-day event brought together noted basic and clinical researchers with the goal of advancing our understanding of the biopsychosocial mechanisms of both maladaptive stress and stress resilience.

Recordings of the presentations are available on the symposium website.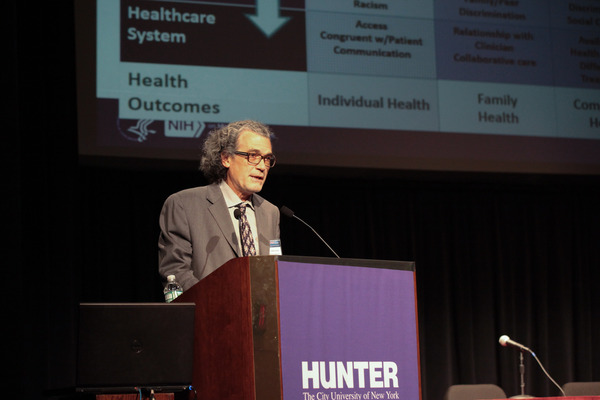 Eliseo Pérez-Stable, MD, Director, National Institute on Minority Health and Health Disparities (NIMHD) of the National Institutes of Health (NIH). Photo by Carlos Lijeron.

The Director of the National Institute on Minority Health and Health Disparities (NIMHD), Eliseo J. Pérez-Stable, gave a special address on the role of chronic stress in minority health and health disparities.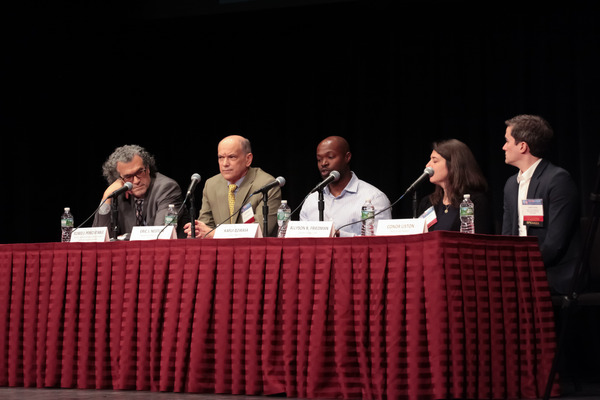 L-R: Eliseo Pérez-Stable, Eric J. Nestler, Kafui Dzirasa, Allyson K. Friedman, Conor Liston. Photo by Carlos Lijeron.

Eric J. Nestler's (Mount Sinai Medical Center) keynote address, Transcriptional and Epigenetic Mechanisms of Depression, outlined his research into finding treatement "that promote resilience and not just those that oppose the deleterious effects of stress." Three talks followed Dr. Nestler's morning address: Kafui Dzirasa (Duke University) presented on A Convergent Stress Vulnerability Pathway Encoded by Emergent Spatiotemporal Dynamics; Allyson K. Friedman's (Hunter College, CTBR) on Activating Resilience Mechanisms: A novel approach to treating depression; and Conor Liston (Weill Cornell Medicine) spoke on Prefrontal Cortical Network Dynamics in Chronic Stress and Hyperexcitable Brain States. The five morning speakers then took questions from the audience.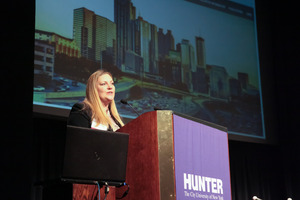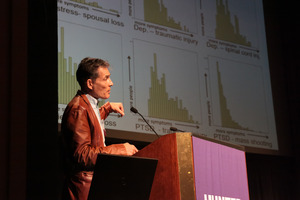 L-R: Tanja Jovanovic and George A. Bonanno. Photos by Carlos Lijeron.

The afternoon session opened with two talks on parenting, environment, and neural processing: Regina Sullivan (NYU School of Medicine) Maternal Control of the Infant Brain: Lessons from an Animal Model and Nim Tottenham (Columbia University) Early Experiences and Cortical-Subcortical Brain Development in Humans. Tanja Jovanovic (Emory University) leads The Grady Trauma project which is a civilian trauma study based at Grady Memorial Hospital and Emory University School of Medicine in Atlanta, Georgia. The project focuses on Post-Traumatic Stress Disorder and the clinical and physiological implications of trauma exposure. In her talk Dr. Jovanovic presented findings that "indicate that child maltreatment presents an early and long-lasting influence on inhibition-related activity in the rACC [rostral anterior cingulate cortex], which may promote or protect against PTSD." George A. Bonanno (Columbia University) concluded the afternoon presentations with his talk Loss, Trauma, and Resilience: From Heterogeneity to Flexibility. From observed trajectories of outcome in response to loss and trauma, his research team found the most common outcome to be resilience. His talk also included research on predictors of the resilience trajectory and resilience-promoting factors.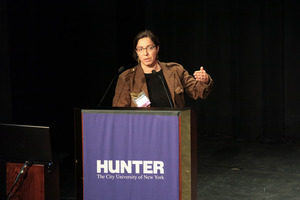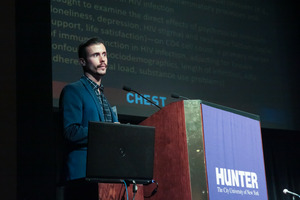 L-R: Ekaterina Likhtik and H. Jonathon Rendina. Photos by Carlos Lijeron.
This symposium was the first time we included Data Blitz presentations. These are fast-paced overviews of in-progress or recently completed research conducted by young investigators. Both morning and afternoon sessions included 5 presenters each for a total of
10 Data Blitz presentations
. Pictured above are two Data Blitz presenters: Ekaterina Likhtik (left) and H. Jonathon Rendina both Assistant Professors at Hunter College. The other Data Blitz presenters were Nesha Burghardt (Hunter College, CUNY), Bridget Callaghan​ (Columbia University​), Noga Cohen (Columbia University), Alexander Harris (Columbia University), Emanuela Offidani (Weil Cornell Medicine), Ana Ortin Peralta (NYSPI/Columbia University), Kristen E Riley​ (MSKKC), and ​Wei Zhang (Queens College, CUNY).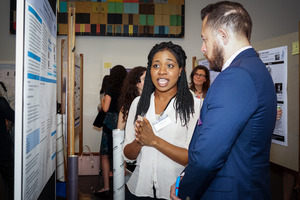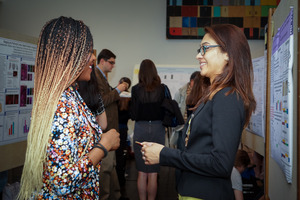 L-R: Poster presenter speaking with poster judge, Rodrigo Valles, Jr.
Poster presenter speaking with symposium volunteer Hameda Khandaker. Photos by Carlos Lijeron.
This year
38 poster presenters
shared research related to the topic of the day. Poster judges from Hunter College and Weill Cornell Medicine selected the top three posters: 1st prize went to Jonathan N. Tobin, a PostDoc at Rockefeller University; 2nd prize went to Marharyta Labkovich, an undergraduate at Hunter College; and 3rd prize was awarded to Josephine McGowan, a Graduate Student at Columbia University/New York-Presbyterian. The People's Choice award went to Kizzy Vazquez, BP-ENDURE Program Administrator. Francis Lee (Weill Cornell Medicine) presided over the awards ceremony and closed the day.