You Don't Have to Hate Your Career to Break Away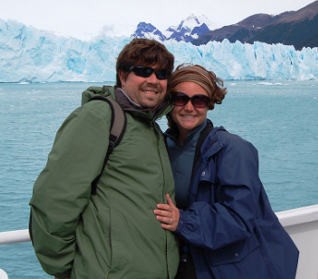 "I'm done."
"I can't take it anymore."
"I work 70+ hours a week."
"I hate my boss and colleagues."
"I have no life."
"I can't live like this anymore."
When talking sabbaticals and career breaks, the above statements ring true for so many Americans. If you're one of those people, then making the decision to say "Screw it!" and head out on the road may be pretty easy.
My story took a different path. I never uttered any of those above statements.
After spending the first half of my 20's trying to figure out what it was I wanted to do, I finally went back to school to get my teacher's certificate and master's. I became a high school English teacher and soccer coach. I really enjoyed my job. I was happy. I was nearly through my first year of teaching and my new career when my wife first came at me with this idea of a year-long RTW trip.
At first, I thought she was nuts. We were both finally out of school and making good money. We were paying off our debt. We were saving up for a house. We were about to fulfill the
American Dream
!


Why in the world would I want to give all that up?
Could every day Joe's like us really quit our jobs at the beginnings of our careers and travel the world for a whole year?
It didn't take long for me to change my tune.
When we sat down and went over our finances, budget, and how much we could realistically save if we cut back our spending, I was shocked. When we ran the numbers of how much we could save versus how much it would take to travel for a year in developing countries, I was sold.
After initially being dismissive and negative about my wife's idea, suddenly it was all I could think about. If we could legitimately swing it, why would we not do it? At first, leaving our jobs and giving up our lives to travel seemed crazy, wreckless, and irresponsible.
After some research, reflection, and contemplation, though, we realized that if we could legitimately make this travel dream come true,

it would be crazy, wreckless, and irresponsible not to do it.
So we took the plunge. What most of society would deem to be a crazy and childish decision became the best one we ever made. Our decision to chuck it all and travel together for a year changed everything: our lives, our relationship, our thoughts on our careers, our views of the world, and our views on life and what it should really be like.
Does that sound crazy to you?
Adam Seper
Meet, Plan, Go! St. Louis Host
Win a Trip to Mongolia (or Peru)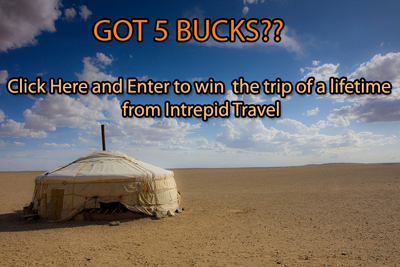 This summer, Sherry Ott is taking a sabbatical from
Meet, Plan, Go! planning
* to venture off on The Mongol Rally – a 10,000 mile road trip from London, England to Ulaanbaatar, Mongolia. Sherry and her teammates will travel across 2 continents and 13 countries for charity – and you can help them get there!
For a $5 donation, you have the chance to win a trip to Peru or Mongolia through Intrepid Travel.
The more you enter, the more chances you have of winning!
Learn more about the raffle and how to enter
as well as this crazy adventure.
* Don't worry – Michaela Potter and our 17
kick-ass hosts
have it under control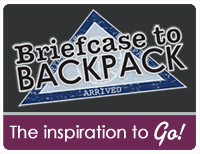 The Inspiration to
Go!
The latest from Briefcase to Backpack
Traveling with a Purpose: The Happy Nomad Tour
- Adam Pervez is in the process of transitioning from corporate tool to nomadic fool and heading out on his "The Happy Nomad Tour" in August.
Meet Our Kick-Ass Chicago Host: Lisa Lubin
- All of our local kick-ass Meet, Plan,
Go!
hosts have inspiring stories of their own career break travels. Meet Lisa Lubin and see why she is part of our team in Chicago.
A Year in Paris
- In the months leading up to her 33rd birthday, Jenny Sundel's high-paying, but deeply unsatisfying interim job ended. After a decade of working around the clock she knew she needed a break.
Photo Friday: The Boot Bus
- Talk about having amazing hosts for our Portland event – BootsnAll were promoting the career break movement over 10 years ago – to people who had even yet to have a career!