If Not Now, When?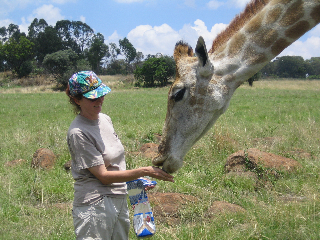 In 2004 I discovered an idea for an extended international trip that had me totally entranced. At the same time, I learned that when you ask a question and are serious about finding the answer, the universe complies.
I came on the topic of volunteer travel from an article entitled "Virtuous Vacations". As an avid volunteer and international traveler, it sounded like a perfect fit for me.
The dilemma was I had no idea how to do it. As I focused on the trip, a little voice in my head kept chanting "if not now, when?".
When taking a class – "Volunteer Vacations: Traveling on Purpose" – at Colorado Free University, I
MET
someone who had some of the answers. Next I began reading Transitions Abroad, a magazine about living, teaching, and volunteering abroad. Then I attended a local Earthwatch event about international volunteering. Now it was time to narrow down my options. I selected three "must-do" projects, but ended up adding nine more for an even dozen for my year-long trip around the world.
As a single woman in my mid-40's, I had some trepidations, but I kept hearing, "if not now, when?"
.
During my
PLAN
ning year of 2005, I went from exhilaration to sweat-inducing fear. I wisely enlisted four people who kept me grounded and on task. I was nervous but committed, and it benefited me to be organized. A planner at heart, I would just tick things off my to do list as I moved closer to departure.
What was it like to
GO
round the world for one year as a volunteer? Absolutely fantastic! The main reason my 2006-year abroad was such a success is I picked countries, locations and projects that I could not wait to experience. I chose seven species of wildlife that I had seen and I learned a lot about them and myself.
A wombat named Wiggles taught me to appreciate the unexpected. From a baboon named Nigel, I was reminded to be myself always. Purdy, a timid yet lovely giraffe, showed me the benefits of patience and quietness. In addition to animals, I did things I never dreamed I could do including archaeology and working with the Red Cross. Lastly, I was privileged to experience the joy and wonder of meeting and working with orphans, school children, and over 100 volunteers from other nations.
Your goal may not be to volunteer around the world. But for your career break, these three questions still apply:
WHAT DO I WANT TO DO ON MY CAREER BREAK?
WHERE CAN I DO IT?
IF NOT NOW,

WHEN?



Travel in Safety,
Jane Stanfield
Meet, Plan,
Go!
Denver Host |
Where Is She Heading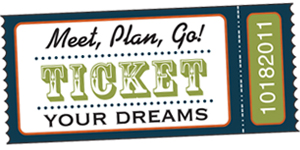 The Ticket to Your Dreams
We are thrilled to announce that tickets for the Meet, Plan,
Go!
October 18th event are now on sale.
Our hosts have been busy organizing some inspiring panelists to help you answer that questions – if not now, when?
Visit the location closest to you to learn more about your local event and to purchase your ticket. It's a small price to pay to start making your travel dreams come true!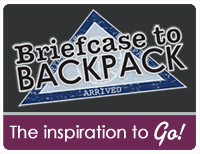 The Inspiration to
Go!
The latest from Briefcase to Backpack
2010 Event Attendees Who Said Go! – Part 2
: In the months after our Inaugural Meet, Plan,
Go!
event, we never get tired of hearing stories from those who attended and decided that they would
Go!
Here are a few that have been on the road.
Meet Plan Go Panelists – Sneak Peek:
our Kick-Ass hosts have been busy putting together some kick-ass panels. Here is a sneak peak of those who will be sure to inspire you!
A Career Break with a Purpose:
Inspired to bring meaning to their career break, Lisa Dazols & her partner Jenni Chang will be traveling the globe for a year in search of gay people who are creating change for the LGBTQ community.
Kick-Ass Orlando Hosts Mike & Catrell Cooney:
Mike & Catrell Cooney cashed in on their dreams, and their retirement, in order to create memories that will last a lifetime for their family.
Kick-Ass Los Angeles Host Lisa Niver Rajna:
What would you do if you were asked to join someone on their career break? See what happened when our Los Angeles host Lisa Niver Rajna said Yes!