Why Your Career Will Thank You For Taking Time off to Travel
There's a fabulous India Arie song that croons: "I am not my hair, I am not this skin, I am not your expectations, no, no!" I had this song very much in mind as I jaunted around the world on a year-long leave of absence from teaching last year. My version of the song, however, went something like this: "I am not just my job, I am not this chalk, I am not your expectations of a teacher, no, no!"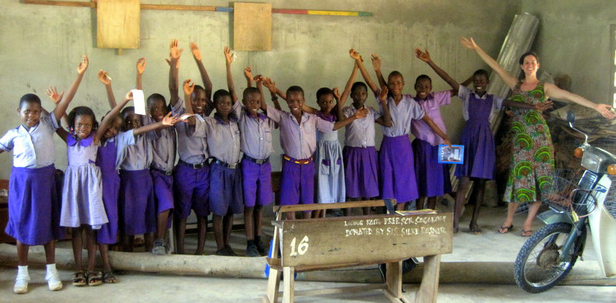 I loved the six years I spent as a high school English teacher before I set out to travel, but I felt tightly constrained (to the point of disgust and shame) by society's stereotype of what "Being a Teacher" means.
Pause, dear reader, and think for a moment of the remarks that "Teacher" conjures up for you.
Did any of these statements (which I hear frequently) pop to mind?
"Poor thing. You must be exhausted all the time from disciplining and grading."
"Sorry your salary is too low to do much."

"You must like to follow rules."
Whatever YOUR profession may be, you likely hear similarly limiting and stereotypical phrases.
People who utter them aren't trying to be mean – they're just repeating what we've repeated about these jobs for decades! And stereotypes of each profession deeply influence which people do and don't apply for those jobs as time goes on, thus perpetuating the stereotypes further.
As a gal passionate about the future and present of education, I'm on a rabid mission to re-frame what "Teacher" means in the public mind – and my 9 months of solo career-break travel are a key element in that. Comments that many people have said to me since I've returned home and shared with them the joy of traveling through Southeast Asia, West Africa, and Spain include:
"I thought teachers were all boring! Traveling around the world alone is so exciting and daring, and it must really inspire and excite your students. Perhaps Teaching is not such a dull career after all!"
"Whoa – You were able to do that on your savings and still have money left over when you came home?! I guess teachers don't make such a terrible salary after all! Maybe I'd consider that career, too."


"So you mean teachers don't just sit at home all night grading? Teachers can still have a life and be a life-long learner and explorer with that career? Nice!"
By fulfilling my dream of traveling around the world alone for a year, I've added a sparkling thrill back into an entire career that previously seemed limiting, in both my own mind and the minds of those who hear the story.
It's my hope that this will encourage more adventurous, energetic, worldly folks to enter the Teaching profession.
The more of us who do this with our respective career fields, the more we can reshape our world to honor the expansive gorgeousness of the human spirit.
How could career-break travel reshape the limiting perception of YOUR job, and rev up and inspire both you and the people who hear of your fabulous adventures?

Lillie Marshall
Meet, Plan,
Go!
Boston Host |
AroundtheWorldL.com
|
TeachingTraveling.com
Planning Tools to Get You on the Road
For years we've offered inspirational stories to motivate and inspire you to make the career break and sabbatical decisions that are best for you. And now we have added some planning tools to help you with the actual preparations to get you on the road.
Round the World Tickets
Create your own itinerary and get a quote on an around the world ticket
Use our Trip Planner to create your own customized Multi-Stop International trip and get an instant price. Or, simply build an itinerary just the way you want and submit it to AirTreks airfare experts for a quote.
Travel Safe with Travel Insurance
Find the coverage you need for your trip with World Nomads easy-to-understand information on travel insurance, and their fast, secure online ordering. Before you know it you'll have crossed one more thing off your trip's to-do list. When you're traveling, after all, it helps to cover yourself with some worldwide travel insurance. Prices are budget-friendly, and it's better to have insurance and not need it, than to need it and not have it.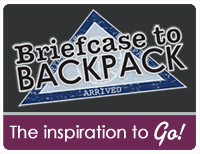 The Inspiration to
Go!
The latest from Briefcase to Backpack
Travel Health Insurance Providing Credible Coverage
– Delphine Foo-Matkin and Michael Matkin navigate the murky waters of travel health insurance and the importance of finding credible coverage as an American.
Studying Spanish in Argentina
– Sarah Gottlieb used her sabbatical to brush up on her Spanish skills - a skill that has made her a more valuable "briefcase" as she reintegrates into the workforce.
Meet Our Kick-Ass Host St. Louis Host: Adam Seper
– Adam was actually enjoying his career when his wife Megan suggested a break. It didn't take long for him to get on board with the idea!
Photo Friday: Dreams from a Cubicle
– See how travel blogger Chris Gray Faust keeps her travel dreams alive from her gray, cubicle walls. How do you stay motivated?
Photo Friday: Coney Island
– This Photo Friday is in honor of one of our Basic Training members, Val Bromann, who is kicking off her career break travels this weekend in Coney Island!