Career Break Wedding of the Decade
It's the wedding event of the decade -
Meet, Plan,
Go!
and
Briefcase to Backpack
eloped and got married last night! There were no paparazzi or crazy uncles, just a champagne toast and sighs of relief. The two 'royal' career break travel resources make a lovely couple...don't you think? Now we want to invite you to the reception to celebrate.
Stop on by
and greet the new couple. No gifts necessary - we prefer comments and Facebook 'likes' instead!
What does this great union mean to you?
By joining these sites together, we can now bring you the best career break advice, planning tools, resources and inspiration
all in one place
.

We first launched Briefcase to Backpack as a place to share inspirational stories from various career breakers, helping others to realize they were not alone in their career break travel dreams. And with the Meet, Plan,
Go!
events, we brought that community to in person meetups. With the growing popularity of the events and additional planning resources such as our
Career Break Basic Training
course and community, we felt that it was time to bring all of these resources to one site.
So what can you expect from the newly merged site? We've broken it down to three simple tabs:
MEET:
Here you can learn more about our nationwide event, local meetups, as well as previous events.
PLAN:
Here you will find the tools and resources to assist with all of your career break planning needs, including information on our Career Break Basic Training, planning tools such as RTW tickets and Travel Insurance, reviews of some of our favorite travel and career-related books & gear, and destination inspiration.
GO!:
This is where the inspirational stories from Briefcase to Backpack live, and they are still organized in the same fashion.
So how do you get to the newly designed site? We still have the same URLs – so whether you use meetplango.com or briefcasetobackpack.com you will be able to find us.
Take a look around and we look forward to sharing more exciting updates to the site as they develop.


Michaela Potter & Sherry Ott
West Coast Road Trip & Meetups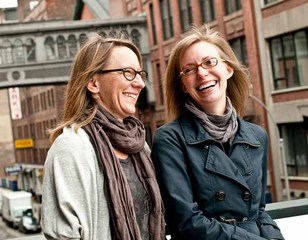 In the months leading up to our nationwide event in October, our Kick-Ass hosts will be hosting local meetups so you can get more involved with the Meet, Plan,
Go!
community in person.
Sherry and Michaela
, creators of the career break movement, will be hitting the west coast for a number of conferences in early Summer, so they will be able to join you at several of these events in what we like to call the "West Coast Road Trip":
Come out and mingle with career break veterans, travel experts, and dreamers; surround yourself with the support you need to 'Go!'.
And be sure to visit our
Local Events
section of the site to stay up to date on upcoming events in New York City, Boston, Los Angeles and more.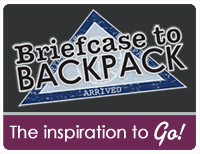 Over on Briefcase to Backpack
So You Want to Write a Travel Memoir
- You've just returned from an inspiring career break and are inspired by the experience to write a book. Think it's not possible? Alexis Grant offers tips on how you can make it happen.
A Life Changing Year Ends Full-Circle
- After losing her job and spiraling into debt, Abby Tegnelia found herself living in a small Costa Rica village for a year. It was the life change she needed to recharge and fall in love with her career all over again.
Photo Friday: Portland, OR
- This Photo Friday is in honor of one of our newest Meet, Plan, Go! locations - Portland, OR!
Photo Friday: New Orleans
- In honor of one of our newest Meet, Plan, Go! 2011 locations - New Orleans - we present these photos from the powerful exhibit "Living with Hurricanes: Katrina & Beyond".