Kia ora, talofa lava and ya at'eh friends and family,
Lots of fabulous news to share! Firstly, our latest CD, "Grandmother Earth Grandfather Sky," has three nominations at the
New Mexico Music Awards (NMMA)
for World Beat, and both Native American Contemporary and Traditional categories. We also have been invited to perform at the awards on Sunday, May 20th at the Hardrock Cafe in Albuquerque. We are very excited! We also want to acknowledge and thank both Jose and Kath Ponce and other volunteers for all their continuous work and contributions to make the
NMMA
a possibility!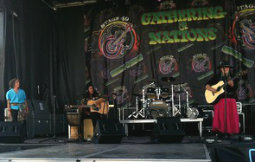 On Friday we performed at the
Gathering of Nations (GON)
on Stage 49. We were joined on stage with ASL interpreter, Bonnie Chauncey Riggs. GON has over 3,000 indigenous / Native American / Indian dancers and singers representing more than 500 tribes from Canada and the United States who to participate socially and competitively at the annual Gathering of Nations Pow Wow. Thanks to Melissa and Skehmi from
Emergence Productions
who organize this event. We were very delighted to meet and watch
'NRG Rising'
a reggae band from Aoteroa (New Zealand.) Cozie bros!!
This Saturday, May 5th (Cinco de Mayo) we will be performing at
Legal Tender
in Lamy from 6-9pm. Mike Vargin will be joining us on bass. We are stoked to play at
Legal Tender
, the old saloon/museum/restaurant built in 1860.
Legal Tender
has the large
st collection of Americana in New Mexico. It is the one and only non profit saloons/museums and has a stunning history as it is a Santa Fe rail stop. Owners Johnny and Sandy reopened the joint after it was closed for a period of time. Many won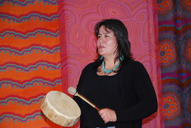 derful locals volunteer their services to keep the place open and running. The food is great, the price is affordable, the atmosphere is stellar,and there is no cover! Come on down! Be sure to reserve your table 505 466 1650.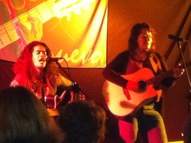 Our downunder summer tour in January and Feb
ruary was PHENOMENAL! Thank you to everyone who mad
e it very special!! This was our best tour ever! We had a blast in both Australia and New Zealand. We performed in New Zealand at the
Titirangi Folk Club
. It was very sentimental having Elena's family attend and see her perform for the first time! We had a blast performing around Victoria performing in five shows for the
Midsumma Festival
, along with several other venues "Down Under."
A group of incredible friends took us five star camping for a few days in the Great Otway National Park, Victoria (on the Great Ocean
Road.) It was fantastic being outdoors again! Thank you to everyone who made this tour soooooo special!

We have a huge year ahead filled with more studio recordings and performances, etc...We look forward to keeping you all informed about our movements!
In light and blessings
Elena & Tash
Photo credits:
Top and middle pix by Deborah Pennington and Cheryl Vacchini at Art Space Wodonga, Vic, Australia (Aboriginal art work by Jimmy Page.)
Second pix by Nizhoni Redmond at Gathering of Nations, Stage 49, Albuquerque, New Mexico.
Downunder Tour unknown photographer/s
Performance at Foco Nuevo, West End, Brisbane
Camping outdoors in Otwey National Park; Indigenous Rugby League match with Aunties Dr. Graceland Smallwood, Jenny & (boxer) Anthony Mundine; The phenomenal sistas at the Albury Aboriginal Womens Health Centre