Yuntaku Social Mixer Event
First ever professional social mixer sponsored by HUOA.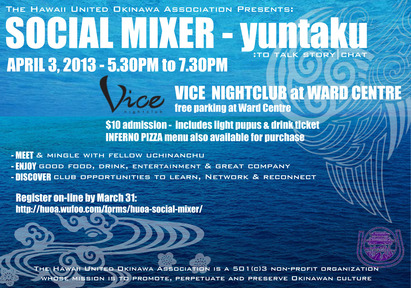 Fist ever Hawaii United Okinawa Association's Social Mixer "Yuntaku" at Vice Inferno Nightclub. Event is open to anyone 21 years of age and older.
Wednesday, April 3rd
5:30pm - 8:30pm
Vice Nightclub (the old Brew Moon at Ward Centre)
1200 Ala Moana Blvd
Honolulu, HI 96814
Free parking at Ward Centre
$10 for light pupus & one drink ticket (Cash payment at the door is preferred, checks to HUOA also accepted)
Job Opening at the Hawaii Okinawa Center
"Facilities and Communications/Internet Specialist" job opening at Hawaii Okinawa Center. This position reports to the Executive Director (ED) of the Hawaii United Okinawa Association (HUOA) and ensures the ongoing repair and maintenance of
the Hawaii Okinawa Center (HOC) facilities. In addition, this position maintains the HUOA web pages and assists the ED in communications and special projects.
Jake Shimabukuro "Life on Four Strings"
Click on picture for more information:
Tsuito Koen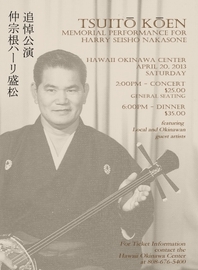 Memorial performance for Harry Seisho Nakasone at the Hawaii Okinawa Center. Featuring local and Okinawa guest artists.
Saturday, April 20, 2013
Concert $25 - 2:00 PM
Dinner $35 - 6:00 PM

For ticket information, contact HUOA: 676-5400
8th Annual Taste of Marukai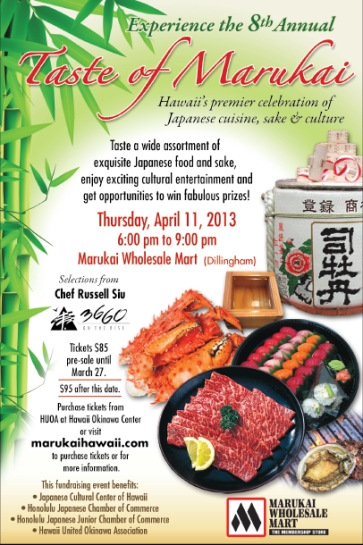 Thursday, April 11, 2013
6:00 pm to 9:00 pm
Presale: $85 until March 27, $95 after.
@ the Marukai Wholesale Mart (Dillingham)
Contact HUOA for tickets: 676-5400