Salmon and Steelhead Restoration in Deer Creek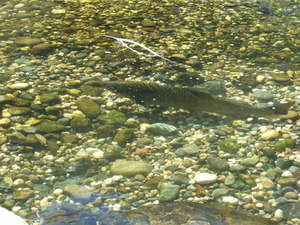 Every fall at the confluence with the Yuba River, Central Valley Chinook salmon arrive in Deer Creek to spawn. Salmon and other anadromous fish (species that live their adult lives in the ocean but move into freshwater streams to reproduce) are threatened all over the west because of dams and degradation of habitat and water quality. Because Englebright Dam now blocks much of the Yuba River's historic spawning range, restoration of Deer Creek's spawning habitat is a critical part of efforts to reverse population declines.
Throughout the month of September, Sierra Streams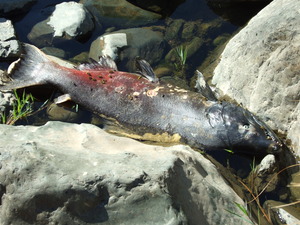 scientists and their partners have been working to restore Deer Creek's salmon and steelhead habitat. The project, funded by Bella Vista Foundation, involved removing large rocks that armored the streambed and inhibited spawning, and placing 250 tons of suitably sized gravels and small cobbles that are needed by spawning salmon to build their redds (nests). Upstream dams now block these naturally occurring gravels.
The project showed almost immediate and very gratifying results. On October 6, SSI scientists confirmed the presence of the first salmon in Deer Creek this season, with five adult salmon and two redds being constructed in the enhanced gravels. During a follow up survey on October 27, seventy-three adult salmon were observed. As of today, more than thirty-four spawning redds have been constructed, a three-fold increase from the thirteen redds observed in the 2011 season prior to restoration. Almost all of the spawning to date has occurred in the sections of Deer Creek where spawning gravels were placed, demonstrating that the salmon are using the enhanced habitat areas.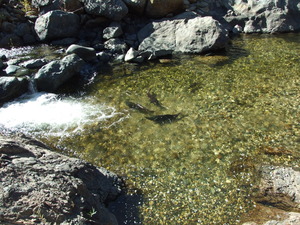 We need your help with monitoring the success of this exciting project. Monitoring activities will take place through the end of the year and include Chinook salmon and redd surveys, macroinvertebrate and algae collection, and water quality monitoring. If you would like to get involved and are comfortable scrambling around on rocks in the creek, please contact Justin Wood at 530-265-6090 ext. 204 or
justin@sierrastreamsinstitute.org
.
.
---
Reach the Decision Makers Training Program
Seven months ago a team of five staff, board and community members joined forces to participate in the Reach the Decision Makers Training Program, designed to help our organinzation directly inform the US Environmental Protection Agency (EPA) on the issues that are important to our community. Our team included Lisa Frankel, Development Director, Mary Anne Kreshka, child development educator, and Steve Carlton, hydrogeologist, both members of the Sierra Streams Institute Board of Directors, Shelly Covert, the Nisenan Tribal Council Secretary and Director of Culture and Shannon Smith-Crowley, a registered lobbyist for women's reproductive health.
Reach the Decision Makers (Reach), a project of the UCSF Program on Reproductive Health and the Environment, is a science and policy training program that works to increase the number of scientists, community-based leaders, public health and health care professionals who are actively involved in informing the EPA of current and relevant scientific findings impacting their decisions in setting policy. Reach projects are designed to help translate science into meaningful public policy that can protect reproductive health.
The Reach program included 30 scientists and representatives from community organizations across the country. In May we flew to Washington, DC to attend a two-day retreat that included both training and a meeting at the EPA addressing issues related to environmental reproductive health science and public policy. In mid-October our project team returned to Washington to meet again with EPA staff to discuss the impacts of heavy metals remaining from abandoned mines on human reproductive health, and the need to develop and implement a comprehensive national program designed to educate both health professionals and community members in areas impacted by abandoned metal mining operations.
The results of our meetings with the EPA staff in Washington were exciting and challenging. We were given encouragement and many recommendations for possible collaborations, as well as questions to consider as Sierra Streams Institute moves forward with this work. For more information contact Lisa Frankel at Lisa@sierrastreams.org.
---
Do You eBird?
Sierra Streams Institute recently joined eBird, a citizen based scientific study run by the Cornell Lab of Ornithology and Audubon. eBird is a "crowd-sourcing" project where recreational and professional bird watchers upload checklists of their observations to a central database. The central database allows scientists to study the annual distribution, abundance, and movement patterns of North American birds. Watching these numbers over time will show whether populations are increasing, decreasing, or remaining stable at local, state, regional, and continental levels.
We recently uploaded all the data from our yearly bird surveys to eBird. Our bird surveys consist of recording all birds seen and heard during a five minute period at mulitple points along Deer Creek. In the past three years, we have recorded 4,771 unique observations of 91 bird species. You can see our checklists and submit your own at
eBird.org
Project Learning
Tree Awards
Sierra Streams
Institute a
Greenworks
Service
Learning Grant
The grant will be used to purchase native plants for a demonstration garden on the Grizzly Hill School campus, part of our year-long environmental education partnership with Twin Ridges Elementary School District.
---
Be a Part of Our Team
Sierra Streams Institute relies on the dedication of our volunteers and donors. With sixteen monthly monitoring sites and numerous scientific and educational projects, we always welcome new volunteers, whatever your interests and experience. Community participation in our work is not only vital to our mission but also richly rewarding for our members, who receive scientific training and expertise, meet their neighbors, and participate in local restoration and monitoring projects.
Join us
-or-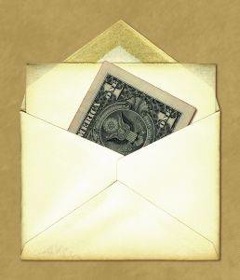 ---

Have you signed up with eScrip?
Your purchases with eScrip merchants, including SPD in Grass Valley and Nevada City, help support Sierra Streams Institute.
3% of all purchases will be given back to us if you sign up and designate Sierra Streams Institute as the recipient.

Sierra Streams Institute
eScrip code
# 500029715
---