Hi Bay Area Showcase Friend,
See what fun and exciting things are happening for Bay Area Showcase Chorus...
---
We're Having a Luau! Show

The lovely ladies of Bay Area Showcase Chorus are off to Hawaii to strut their stuff on the International Stage. Before they make it to their hotel, they end up at the wackiest Luau ever! The "Aunties" of Lipschtick will amuse and delight the audience with their antics while introducing the many wonderful singers and performers who will be there to make it a memorable afternoon.




Be sure to join us for an afternoon of music and laughter, but be sure NOT to come hungry. I have a feeling that the luau feast will not go as planned... 
Where: The Smith Center-Ohlone College, 43600 Mission Blvd., Fremont, CA

When: October 26th, 2013 at 2:30 pm

Tickets: $15 for Adults $10 for Children under 12. Available on our website: www.singharmony.org or at the door. (doors open at 2pm).

Parking: $2 per day. Parking permits available online or from permit vending machines located in the lots at the college.  
Afterglow: Round Table Pizza, 46600 Mission Blvd., Fremont, (510) 490-0440. Join us after the show for more singing and fun!
---
BASC in the Sun!
Nov 5-9, 2013
Sweet Adelines International Competition
Honolulu, Hawaii
Bay Area Showcase Chorus is contestant #18, representing Pacific Shores Region 12! The chorus semi-finals are on Thursday, November 7th. The chorus finals are on Saturday, November 9th and we plan to be on that stage.
IF YOU CAN'T JOIN US IN BEAUTIFUL HONOLULU, TUNE IN TO THE WEBCAST!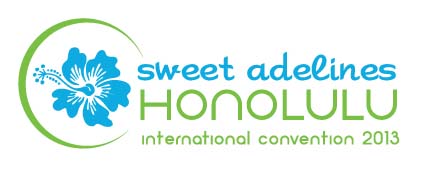 Nothing beats the excitement of seeing the competition and action LIVE! But
if you can't join us for the 67th Annual Convention and Competition in
Honolulu, you can join us on the live FREE webcast! This year's webcast will
be better than ever. Your generous donations help us maintain a quality webcast - start donating today! The Honolulu Webcast Will Not Begin Until Tuesday, November 5, 2013, with the Harmony Classic Competition. See the choruses and fabulous quartets!
http://sweetadswebcast.com/
---
Harvest Festival



If you are planning a day at this year's Harvest Festival, be sure to catch our performance on Saturday and get that holiday spirit, after your turkey stuffed Thanksgiving.  Join us at The Harvest Festival at the San Jose McEnery Convention Center, 410 Almaden Blvd., San Jose, CA.

http://www.harvestfestival.com/visitors/shows/sanjose/



Saturday, November 30th, 2013,  1:45PM until 2:15PM
---
Harmony Holiday
Bay Area Showcase Chorus is the headliner guest on the Voices in Harmony men's chorus' holiday show.
Saturday, December 14th, 2013, 2:00 PM and 7:00 PM (Two Shows!)
Details and ticket info coming to our
website
soon!
---
Singing Holiday Cards

Send your friends and family a unique Holiday Greeting via Bay Area Showcase Chorus' Singing Holiday cards. These singing holiday cards always delight the recipients.
Program information coming soon. Check our
website
.
---
Be Our Guest
New Year, New You, New Fun!
Ladies, do you sing in the shower? In the car? With the radio? Do you love shows like The Sing
Off, X-Factor, The Voice, Glee? We've got the spot for you! If you've been told your voice is too low, we've got the spot for you! Voices in any range -- we've got the spot for you!
January 23, 2014 through February 13, 2014
Thursdays at 7:00 p.m.,
6:30PM on your first night, to register
Watch our website for more information.
Guests are welcome at any rehearsal too, if you can't make these dates! We are always looking for singers! You can call our hotline (408-973-1555) or email divas@singharmony.org or visit our website for more information.
We hope to see you there!
---
Singing Valentines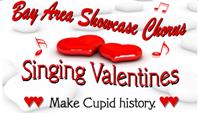 Bay Area Showcase Chorus will be delivering Singing Valentines again, on February 14th, 2013. Whether it's for family, a friend or coworker, surprise your special someone with a greeting they'll never forget. Two options: By Phone (great for those long distance sweeties), or In Person delivery by one of our special Valentine Quartets.
---
Hearts in Harmony Show
Mark your calendars now: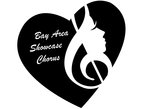 Saturday, March 15th, 2014
IFES Portuguese Hall
432 Stierlin Rd – Mountain View, CA
Don't Miss It!
---
Did You Know?
Did you know that the Bay Area Showcase Chorus has a number of groups, in varying sizes, that are available to entertain at your event? We provide a unique form of entertainment, sure to please all ages. Here are the performing groups available:
First and foremost, there is the
Bay Area Showcase Chorus
. We've entertained at arts and wine festivals, craft fairs, Harvest Festival, etc. Anyone can hire the full chorus, or a subset, to perform. To hire the chorus, contact
chorus@singharmony.org
.
The Daytimers
are a group of 14-18 members of our chorus who are available to entertain at daytime functions. If you would like to hire The Daytimers, contact
daytimers@singharmony.org
.
Our
Quartets
are a fun way to provide entertainment for many functions. Our quartets have been known to perform for holiday parties, weddings, birthday parties, corporate functions, and as guest performers in area shows. There is a quartet with a style and repertoire to fit just about any occasion. To hire one of our quartets, contact
quartets@singharmony.org
.
Check out our
website
for more info.
---
Come to a rehearsal
Our rehearsals are always open to the public. We meet on Thursday nights, from 7:15-10:00PM. Here's the link to our
rehearsal info
, but also check our
Calendar
for last minute changes.
Call
408-973-1555
, visit our
website
, or
email us
for more info.
---
Support Us
The Bay Area Showcase Chorus is a non-profit charitable organization as described under the Internal Revenue Code, Section 501(c)(3). The chorus relies on donations to cover some of its expenses. Consider becoming one of our supporters with a tax-deductible contribution.
See our website for more information:
Support the Chorus.
---
www.singharmony.org

408-973-1555

Forward this message to a friend