Hi there,
Local government has always faced threats to services and financial sustainability. The possibility of forced amalgamations, indexation grants freezes, reductions in federal spending and road funding… all compounded by escalating community expectations.
It's time for councils to become proactive, and make changes before other tiers of government make changes for them. It's time to become more innovative and deliver better performance at lower cost.
Unsealed roads, one of the bigger items on council budgets, are a case in point. The old method of unsealed road maintenance still practised by many councils is to grade and re-sheet following a routine road management plan. Some councils attempt to optimise the life of their unsealed roads by increasing the road pavement depth. i.e. more gravel. These methods are neither financially or environmentally sustainable.
However there is an innovative solution so simple, economical and effective that it is allowing councils to eliminate the majority of re-sheeting and cut back on unsealed road maintenance by four to six times.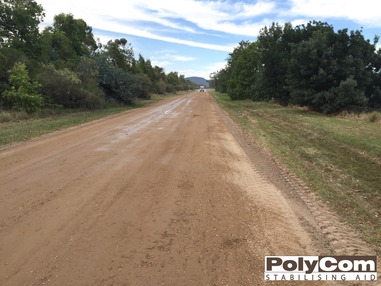 Rather than 100mm gravel re-sheeting at approximately $34,000 per kilometre, councils can rehabilitate the in-situ materials at 100mm at a cost of $15,800 (1km length, 6 metres wide, 150mm depth). All that is required is a grader, a roller and a water cart. This simple, up-to-date method of in-situ stabilisation not only costs less, but creates stronger, tightly bound roads that last longer.
These are just some of the benefits of in-situ stabilisation with PolyCom Stabilising Aid instead of carting rock. Stabilise and reduce dust in one operation. Eliminate the need for continuous water applications and expensive maintenance procedures. Reduce wear and tear on equipment. Reduce trucking and carting costs.
PolyCom allows councils to unlock the hidden assets in their unsealed roads to build better roads, shifting the savings in unsealed road funding to other critical infrastructure projects.
To remain financially viable, councils must make a real commitment to adapt and innovate. In preparation for a viable financial future, it is time to enable genuinely transformative change using innovative solutions such as PolyCom Stabilising Aid.
Visit www.earthcoprojects.com.au to find out more.