April 2017
Happy Spring! Ya'at'eeh T'aachil (April - little leaves)

New life!
Spring time brings new life after a long cold winter, beautiful colors start to emerge as the earth warms up, trees and flowers bloom giving signs of a renewed life through Mother Earth.

Pic. 1: Prayer meetings are back! We recently welcomed back a long time tradition of House of Prayer Lutheran Church. Prayer meetings every Thursday night at HOP members home usually set for 6:00 p.m. After what seem like over 20 years the first prayer meeting was on March 2, 2017 at Betty Tsosie's Resident.


Pic. 2: House of Prayer Lutheran Church members attended a Women's Conference at God's Grace Church located northside of downtown Rock Point. Armor Up! Christian Women from all over the Navajo Nation were in attendance at the beautifully themed conference. Words of encouragement, spiritual inspiration from speakers and Pastors and gifts of appreciation were given to every participant.

Pic. 3: Navajo Lutheran Mission students and staff are taking on a project; planting vegetables to get into the spring season. Teachers are impletmenting lesson plans and learning alongside their students on Plant Life Cycle. We've been blessed this planting season and the community of Rock Point are encouraging one another to take advantage by using their fields. Thank you for the prayers.

Pic. 4: Women's Bible study started on April 12, 2017 in the Culture Center Hogan on the Mission campus behind the school building. Good topics, good discussion during the two hour period set aside on a Wednesday evening. Stories, bible verses, testimonials, encouragement, and laughter fill the air as the ladies gather around the table. Topic from the recent bible study on April 26, 2017 was "Art as Healing" posted by Bold Cafe written by Susan Schneider through The Gather magazine.

Pic. 5: Clean up day on Saturday, April 15, 2017. House of Prayer members and Hozho cafe regulars got together and cleaned up the location where the Sunrise Service takes place on Easter Sunday morning. Great outcome, good company, tasty food and blessed with a sunny and warm day.

Pic. 6: Years and years later, House of Prayer Lutheran Church hosts a Sunrise Service on Easter Sunday at 6:00 a.m. under the Cross at Rock Point. Members of HOP sat by the fire and listen to Pastor Kate as the sun rose over the beautiful red rocks to the east. Pastor Kate and HOP members together say "He is Risen!" with the response of "He is Risen, Indeed!" followed by echoes from the canyon. A recommendation to anyone wanting to visit the Navajo Reservation, Sunrise Service by the canyon is a must see and experience.

Pic. 7: Thank you for all the donations to make it possible for House of Prayer members (ladies) to be able to have attended two different Women's Conference in April. They've enjoyed themselves as they were among the many Christian Women that strive through their Faith in God. It is a blessing to see smiling faces leaving the conference. The drive home is filled with good conversation about what the mission and the church can do for the community. That's a great feeling! God's work, Our Hands!

Let the busy month of May begin! Prayers needed for our students, teachers and staff for a great school year. Prayers needed for the community as we plan promotions, graduations and banquets to celebrate achievements. Prayers for the community of Rock Point for good health, love and support for one another and for the future.





"Amazing Grace"
Forty Years of Lutheran Ministry
Among Navajo People
Compiled by Fern D Cole

1980 - House of Prayer

In 1980, Pastor Cole reported that attendance at worship service at House of Prayer averaged eighty at the morning Navajo language service and twenty at the evening English language service. Services of holy communion were held twice monthly.

Sunday School classes included a Navajo language men's class, a Navajo language women's class, an English adult class, and classes for teenagers and younger children. All but two of the Sunday School teachers in 1980 were Navajo. Mission school staff provided confirmation instruction in grades three through six as part of the school day. A class for children not attending the mssion school met after school hours. A Navajo adult instruction class met each week.

1981 - A Wedding
Navajos looked for ways to continue their traditions while living their Christian faith. During December, a young couple was married in the bride's home. The bride's home. The bride was a graduate of the mission school. The home was crowded with clan relatives of the bride and groom. The bride entered, wearing a soft brown velvet traditional Navajo dress and turquoise jewelry. She and the groom sat at the west side of the room facing the eastern door -- the traditional position for Navajo weddings. The bride's uncle, one of House of Prayer's lay preachers, performed the ceremony which united them in marriage. He encouraged them to live a Christian life and offered prayer that Christ would be at the center of their new home. After a feast of mutton stew and fry bread, many relatives spoke to the young couple, giving advice spiced with teasing, following the Navajo wedding custom.

1982 - Gift Shop
Many Navajos at Rock Point are skilled rug weavers and crafters of lovely silver and turquoise jewelry. Because Rock Point is not on a regular tourist route, it is difficult for local artisans to sell their crafts. Often they would come to the homes of the mission staff offering to sell rugs, bracelets, or Navajo pottery. The staff, with limited incomes, bought all they could. In 1982, the mission board authorized a fund of $1,000.00 to establish a gift shop. With this fund, the staff bought from local Navajos and sold the crafts to visitors.
Kate Adelman, Pastor and Executive Director

If you are like me, then you, too, are inspired by and for your co-workers to be the best possible leader. Together we work hard to come to our jobs with a sense of gratitude, to love one another, to follow the guidelines of workplace safety and fairness, to practice trust, and to take a breath before blurting our emotions.

These best-practices hold all the potential for growing competency, increasing productivity and rewarding innovation.

Think about what happens when gratitude, love, guidelines, trust and self-control are not on everyone's mind when they walk in the door for work. Perhaps sleep was interrupted by a relative acting out, the baby is sick and the nearest hospital is 50 miles away or a death has occurred in the community and everyone has pooled their food and gas money to pay the expenses.

One thing I know for sure, most of our readers experience life differently than our Navajo friends, yet we hold many things in common.

On our noblest days, we all seek to overcome anger with love; overcome evil by exercising goodness; overcome misery by being generous with one another; overcome the big and little lies by striving for truth. Jesus taught that our noblest victories are not against evil armies, but against our own human nature to dwell on our illusions, judgements, and ego driven thoughts.

In spite of the great teachings, all societies and tribes struggle with the impact of past wounds caused by violence and disrespect. All cultures are affected by domestic, economic, social, cultural and psychological violence, and violence against Mother Earth, our common inheritance.

There are indeed characteristics and practices that are uniquely Navajo, to which the Navajo will remain committed. At the same time, we all share the commitment to call out violence when we experience it, to liberate the captive, and to set the prisoner free. As Pope Francis wisely teaches:

"We are therefore called to a common enterprise: to form the hearts and minds of all, especially of children, to love and live in peace with everyone and with the environment; to teach that there is no peace without justice, and no true justice without forgiveness; to invite all to work together in preventing conflicts and rebuilding broken societies; to urge the media to avoid and counter hate speech, and biased and provocative reporting; to encourage educational reforms to prevent the distortion and misinterpretation of history and of scriptural texts; and to pray for world peace while walking together on the path of nonviolence."

Through every component of the Mission's purpose (House of Prayer, Navajo Christian Preparatory Academy, the Cultural Center, community assistance and guest programs) we strive to grasp the commonalities and celebrate the unique qualities. Our hope is that every guest will discover that Navajo people are not exempt from the world; they are a beautiful expression of humanity and possess skills and perspectives from which we all can benefit.

The Mission staff, myself included, are not always perfect in our endeavor to begin our work with gratitude, love, respect for the rules, trust or self-control. Yet we are learning these five things make our day more fun, keep us focused on the community and not ourselves, and model our commitment to our common work.

In this Newsletter you can witness for yourself the results of teamwork and community focus. You may not have thought about it before, but Living Navajo is a privilege – for them and for me.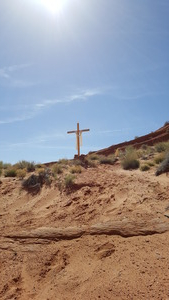 ♪ ♫Christ the Lord is risen today Sons of men and angels say
"Raise your joys and triumphs high Sing ye heavens,
and earth reply."
♪ ♫
("Christ the Lord is Risen Today")
Looking ahead
May 2017
May 10 - Walk With God in Beauty Mother's Appreciation Banquet at House of
Prayer Lutheran Church
May 17 - Navajo Christian Preparatory Academy K-6 Field trip
May 19 - Academic Awards Assembly for NCPA students
May 22 - Sports/Honor Students Awards Banquet
May 23 - Kindergarten & 6th Grade Promotion Banquet
May 24 - Women's Bible Study
May 25 - NCPA Kindergarten & 6th Grade Promotion day
May 26 - Last of school
Please consider partnering with us in the coming year to become
"A Mission With a Mission,"
and impact the lives of the Navajo children and families of Rock Point, AZ.
Published by the Navajo Lutheran Mission
Mission Manager: Mission.Manager@nelm.org
Principal: Principal@nelm.org
Executive Director: development@nelm.org
Student Sponorship: student.sponsorship@nelm.org