Spring! Which season is your favorite? They are all so wonderful, and some years hard to tell apart. Spring brings the return of light and warmth, so welcome. We welcome all of you to experince both with us!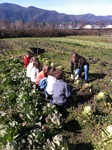 Thinking of joining us on a farm, in a school garden, or school cafeteria this spring? Want to find out about the many opportunities to engage in RVF2S programs throughout the region? Our spring training will give you all the information and skills you need to assist in any of our educational programs. Serving nearly 10,000 students each year is a big job for such a small organization, we depend on community members who support our mission and are willing to volunteer their time to make our programs possible.
April 3rd or 4th
9:30-2
SOU Center for Sustainability

Join us for hands-on training in farming and cooking with kids. Whether at school or on a local farm you will be prepared to teach students about agriculture, nutrition, cooking, and the environment.
Thank you to our amazing volunteers!
---

Rogue Valley Farm to School and the SOU Center for Sustainability have been working together for the last couple years to develop a partnership that will not only benefit each organization but students throughout the Rogue Valley. The Center for Sustainability is ideally located in proximity to many pre-school, elementary, middle and high schools that participate in RVF2S programs. This proximity allows increased opportunity for on-farm programing. SOU students from a variety of programs including the M.S. in Environmental Education, Master of Arts in Teaching (MAT), and Outdoor Leadership programs will assist in offering RVF2S programs at the Center. RVF2S has grown from an organization hosting programs on one farm to an organization offering programs in two counties on five farms; we are very excited to be hosting programs at Center for Sustainability.