The support of our community allows us to cultivate healthy kids, environmental stewardship, farm relationships and the local economy by bring farms and schools together. Thank you.
---
Become a Member
$25 - Radish
$50 - Snap pea
$100 - Tomato
$250 - Pumpkin
$500 - Apple tree
---
We would really like to grow our recurring gift option as a little ground we can count on planting in each month! The secure online option allows you to give as little as $5.00 per month. Making a recurring donation is an easy way to give that allows more of each dollar to go directly to stewarding our programs and organization by reducing administrative time spent processing donations. Rogue Valley Farm to School is always so grateful and touched by the support of our community. It's so nice to have enthusiasm for our programs expressed in all the ways you all do, thank you!



RVF2S is a non-profit organization and all donations are tax deductible.
---
RVF2S GEAR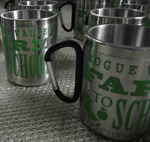 Mugs are $12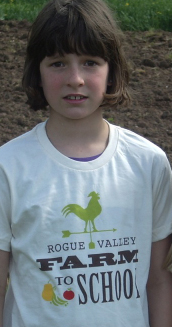 T-shirts are $16
Childrens 2 - 12
Unisex Adult S - XL
Women's cut too S - XL
Local delivery can be arranged, shipping elsewhere in the USA is $5.
Contact us to place an order
. Thanks.
---
Melina Barker
Education Director
education programs
volunteer coordinator
541-890-7004
melina@rvfarm2school.org
Tracy Harding
Executive Director
general information
farm to cafeteria
541-488-7884
tracy@rvfarm2school.org
Leland Fulton
AmeriCorp Volunteer
education assistant
541-482-2424
leland@rvfarm2school.org
---
Learn More...
Visit our website to find out more about RVF2S and our programs.
Hello,
We are very happy to invite you to the 4th Annual New Sammy's Dinner. We hope you have saved the date - February 19th. Please pardon us for teasing you for so long before releasing the details. We wanted to be sure we had everything lined up to feature as many amazing local producers as possible. This year's dinner is gong to be fabulous, we hope you'll join us.
MENU FOR THE FOURTH ANNUAL
ROGUE VALLEY FARM TO SCHOOL FUNDRAISER
AT NEW SAMMY'S Sunday February 19, 2012

BACON AND CARAMELIZED ONION
(OR SHIITAKE AND ONION) ALSATIAN-STYLE TART
2008 VIOGNIER ANNA MARIA. VALLEY VIEW WINERY

BUTTER LETTUCE SALAD WITH SMOKED BLACK COD, ROASTED BEETS,
PURPLE POTATOES, BROCCOLI, AND A CHOPPED FARM EGG

CHAMPAGNE SAUERKRAUT
WITH FRANKFORT AND CHICKEN SAUSAGES,
BRAISED WILLOW-WITT RANCH PORK BELLY, AND BACON-WRAPPED PORK TENDERLOIN,
APPLES, ONIONS, POTATOES, CARROTS, AND MUSTARD
2010 DRY GEWÜRZTRAMINER. THREE CREEKS RANCH MADRONE MOUNTAIN

(OR A VEGETARIAN SAUERKRAUT PACKED WITH VEGETABLES OF THE SEASON)
BLACKCURRANT AND BLACKBERRY SHERBETS IN A "PETITE POMPADOUR" BATH

CHOCOLATE AND HAZELNUT DOBOS TORTE WITH VANILLA BEAN CUSTARD SAUCE
2008 ROXY ANN NIGHT HARVEST VIOGNIER

$65./PERSON
$85. WITH WINES
(ALL PROCEEDS, AFTER FOOD COSTS, ARE DONATED)
PLEASE CALL 535-2779 FOR RESERVATIONS
Our THANKS to local producers for their donations: Abbie Lane Farm, Barking Moon Farm, Happy Dirt Farm, Madrone Mountain Winery, Meadowlark Farm, Pennington Farm, Port Orford Sustainable Seafood, Roxy Ann Winery, Whistling Duck Farm, Weisinger's of Ashland

Our THANKS to faithful staff at New Sammy's, who donate their labor: Tara Arthur, Danielle Hoff, Heather Haley, Aline Bissey, Rudy Hebert, and, friend of the restaurant, Sue Jaffe.

Our THANKS to all of you, who support the cause.

And a BIG THANK YOU to Charlene and Vernon of New Sammy's.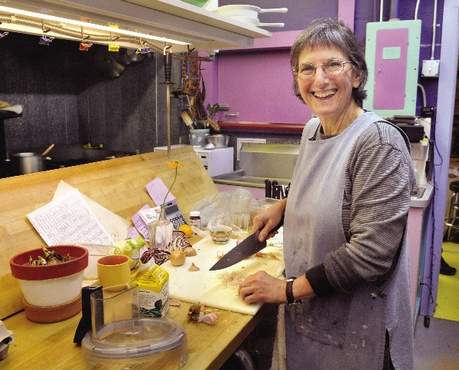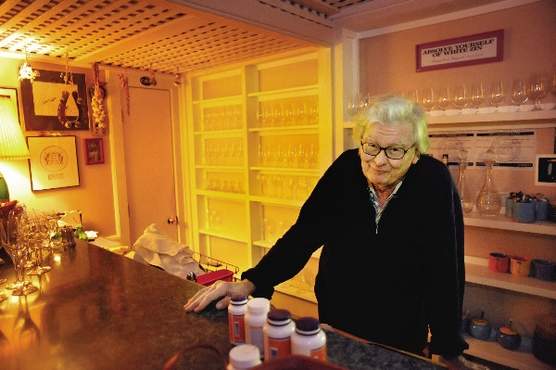 School Garden Coordinator Profile: Eric Sandrock
Eric is a science teacher at Ashland Middle School (AMS) has been instituting Farm to School since the 1980s. The AMS garden started as a way to get kids out of the classroom and into the natural environment; as Eric says "to get them to see that science had real world applications to their lives on personal level." Eric and his students transformed a vacant lot by the old maintenance building. They double-dug beds by hand and built a compost system. When the AMS addition was built in 1996, the garden had to relocate to its current site at the top of the soccer fields.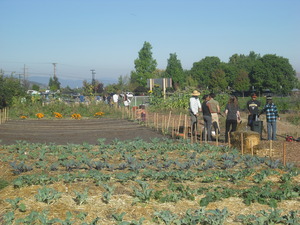 Working with students at the AMS garden as well as the Ashland High School garden, Eric trained 8th graders to teach younger students to plant potatoes. Every elementary school student planted "Potatoes for Hunger" producing over a ton of potatoes that were donated to Access Food Share. Eric and his students sold their produce to the school cafeteria, teachers and parents, making income that they reinvested into the garden. The garden program was hit hard by budget cuts in the early 2000s and the cafeteria change-over to Sodexho food service. Sodexho refused to use garden produce, despite the long history of successful garden to cafeteria relations. Happily, now that the Ashland School District has returned to an in-house food service, Eric and his students are once again supplying the cafeteria with garden produce. Last year Eric started the Alternative Program at AMS, and the garden is a big focal point. Students work with Eric to grow, harvest, and wash the garden bounty and deliver it to the cafeteria. "We bring lettuce, cabbage, broccoli, cauliflower, and boxes of potatoes and onions. Carrots are a big hit. Fresh carrots are so much better—there's just no comparison" says Eric. Eric continues to volunteer his time over the summer to maintain the garden and occasionally has some student helpers. RVF2S is happy to work with Eric, he is a wealth of knowledge for the newer School Garden Coordinators, providing support, knowledge, and years of experience.
---
We appreciate your help in cross-pollination, please forward our eNewsletter to other people you know who may be interested.
If you are new to our eNewsletters, back issues are archived on our website. Thank you