The support of our community allows us to cultivate healthy kids, environmental stewardship, farm relationships and the local economy by bringing farms and schools together. Thank you.
---
Become a Member
$25 - Radish
$50 - Snap pea
$100 - Tomato
$250 - Pumpkin
$500 - Apple tree
---
We would really like to grow our recurring gift option as a little ground we can count on planting in each month! The secure online option allows you to give as little as $5.00 per month. Making a recurring donation is an easy way to give that allows more of each dollar to go directly to stewarding our programs and organization by reducing administrative time spent processing donations. Rogue Valley Farm to School is always so grateful and touched by the support of our community. It's so nice to have enthusiasm for our programs expressed in all the ways you all do, thank you!



RVF2S is a non-profit organization and all donations are tax deductible.
---
RVF2S GEAR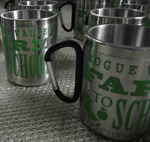 Mugs are $12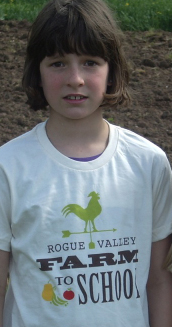 T-shirts are $16
Childrens 2 - 12
Unisex Adult S - XL
Women's cut too S -
XL
Local
delivery can be arranged, shipping elsewhere in the USA is $5.
Contact us to place an order
. Thanks.
---
Melina Barker
Education Director
education programs
volunteer coordinator
541-890-7004
melina@rvfarm2school.org
Tracy Harding
Executive Director
general information
farm to cafeteria
541-488-7884
tracy@rvfarm2school.org
Leland Fulton
AmeriCorp Volunteer
education assistant
541-482-2424
leland@rvfarm2school.org
Susan Muller
Educator
summer camps
530-902-5251
susan@rvfarm2school.org
---
Learn More...
Visit our website to find out more about RVF2S and our programs.
Greetings,
As is annually the case, winter never really lasts long enough to get completely caught up. And spring arrives quickly, completely loaded with activity. RVF2S is delighted to have so much going on!
We'll be at these upcoming events, hope to see you there!

The Hearth
4/19 - TOMORROW night, we hope you'll come.
The theme is "Feast or Famine"
7 to 9pm at Ashland Congregational Church, 717 Siskiyou Blvd.
Six of Ashland's bravest community members will get ten minutes to tell a true story based on the theme. Tellers include Matt Damon, Juliet Grable, L. Citizen, DavidPaul Doyle, and others.
Hosted by Mark Yaconelli with music by Duane Whitcomb, Wendi Stanek, Steve Shaw, and special guest Dianne Strong.
Cost is $5. All proceeds go to Rogue Valley Farm to School.
Wine, beer, coffee, tea and treats will be available.

Rogue Valley Earth Day
4/21 - RVF2S is always happy to have a booth at this fabulous event
11am - 4pm
At the grounds of ScienceWorks Museum
1500 East Main Street, Ashland

YMCA Community Heath Fair & Healthy Kids Day
4/28 - RVF2S will have a booth at the Health Kids Day event
10am - 1pm

FEAST: Food Education Agriculture Solutions Together
Jackson & Josephine Counties Community Food System Planning
4/24 - Rogue River, 5:30 - 8pm @ VFW
4/26 - Grants Pass, 1 - 6pm @ Gospel Rescue Mission
4/28 - Eagle Point, 2 - 6pm @ Ashpole Community Center
5/12 - Ashland, 1 - 6pm @ Bellview Grange
Dates not yet released for Medford & Cave Junction
For more information: hancel@accesshelps.org or 541-618-4019
---
SISKIYOU CHALLENGE
SEPTEMBER 22nd, 2012
Racers, volunteers and spectators - If you haven't already, please be sure to get the SISKIYOU CHALLENGE
on your calenders!
---
RVF2S is thrilled to announce a few firsts for this summer's camp season - an overnight camp at Rogue Valley Brambles, a camp for younger children at Eagle Mill Farm and partial scholarships!
Sunstone Bakery
has made a donation to support scholarships. An application will be posted on the RVF2S website Monday morning.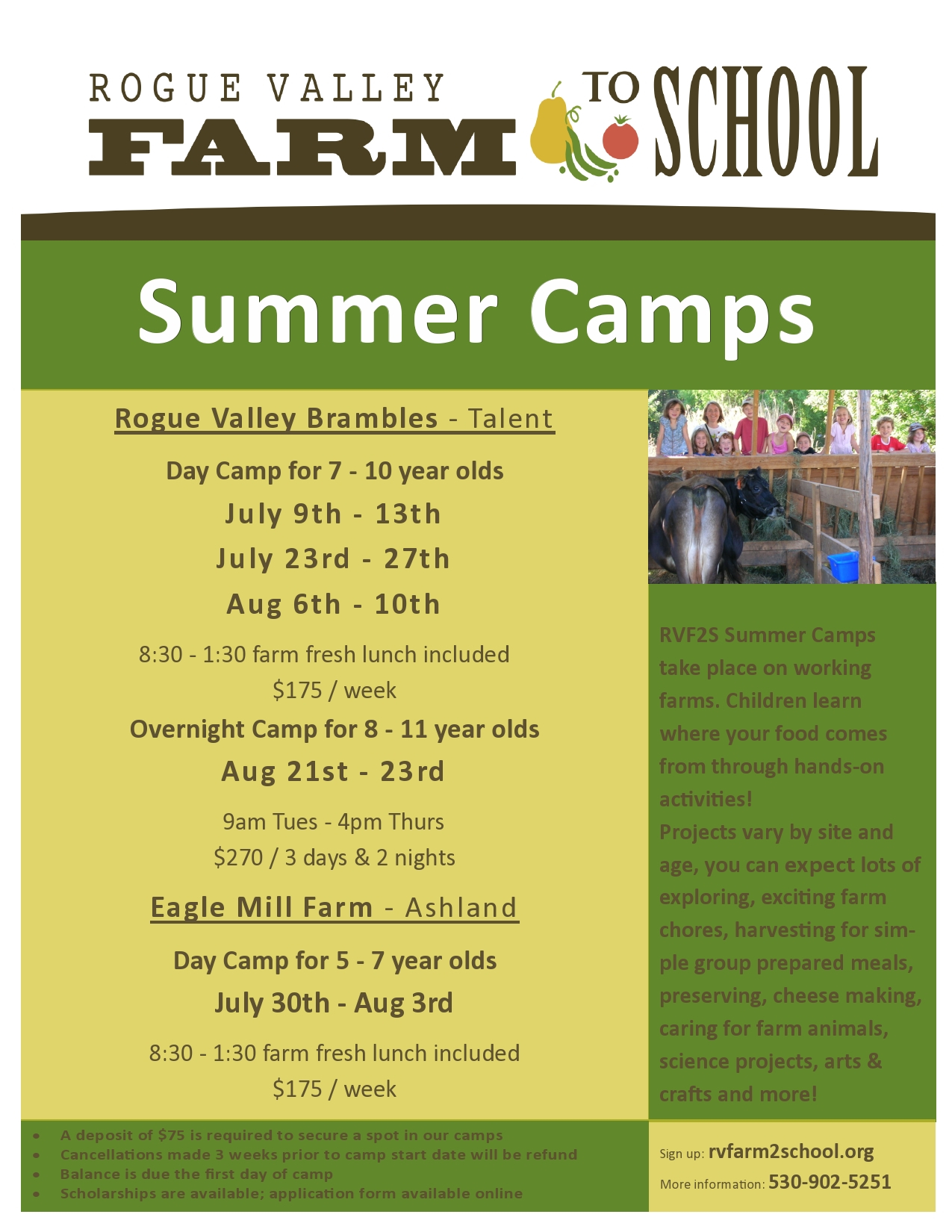 Farm to Cafeteria
RVF2S has unique relationships with each county, each school district, each classroom and each cafeteria that chooses to engage in our programs. The districts that most welcome our Farm to Cafeteria support are Grants Pass and Central Point. RVF2S would like to welcome Anne Leavens to

the Rogue Valley. Anne became the Central Point School District Food Service Director when she was hired in December. An Oregonian with a Business & Food Service Management degree from OSU and extensive experience around the state, Anne is happy to be back in the Rogue Valley with her husband and two year old son. After working with OSU Catering, Anne was the Catering Manager for the Ashland Springs Hotel. A desire for more predicable hours took her to Portland where she was hired as the Assistant Food Service Director with the North Clackamas School District. Anne is loving her new job and has lots of great ideas and hopes for the food she will be serving students each day.
If you have questions about the Farm to Cafeteria program please contact Tracy Harding
---
Education Programs
RVF2S Spring programs are full! We will be offering additional on-farm programs emphasizing healthy watersheds and Salmon Safe farming practices in Josephine Co through a new partnership with the Applegate Partnership & Watershed Council and White Oak Farm & Education Center. RVF2S is pleased to be working with these two organizations that share our mission of teaching youth about the connection between farming, food and our environment. RVF2S believes strongly in working together with organizations that share our mission and goals, this serves to increase efficiency, community, and the quality of our programs. We look forward to working more with these two organizations in the years to come!
RVF2S continues to work with three diverse and unique farms located near schools; Eagle Mill Farm in Ashland, Rogue Valley Brambles in Talent, and Dunbar Farms in Medford. We have 33 classes of 1st - 8th grade students from Ashland, Talent, Medford, Central Point and Grants Pass participating in Spring Harvest Meals. Students will be gathering eggs, learning about the plant lifecycle, feeding pigs, planting seeds, examining worm compost, investigating soil, harvesting produce and cooking a farm-fresh meal together.
---
School Gardens
RVF2S is excited to be supporting school gardens. Much thanks to the Master Gardeners of Jackson & Josephine Counties for donating an impressive amount of seeds to our farm and garden programs. Thanks to Fry Family Farm for donating plant starts, and Peaceful Valley Farm Supply for a special donation of organic seeds.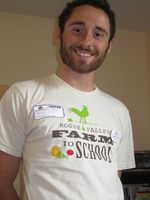 Our fabulous AmeriCoprs Service Member, Leland Fulton and his green thumb have been hard at work growing seedlings in the RVF2S greenhouse to share with school gardens.
After School Garden Clubs are being hosted at four elementary schools in Talent and Medford, offering the opportunity for students to connect with the garden weekly over the course of six or eight weeks. In Ashland RVF2S facilitates School Garden Coordinators at each of the seven school gardens. By supporting school gardens we are not only providing enriching educational experiences for students, but we are also increasing the volume of school garden produce available for inclusion in cafeteria meals.
---
RVF2S Volunteers
Last Saturday we had a full day of volunteer training, our 2nd annual. The morning was spent in the Ashland Food Coop's beautiful Community Kitchen where chef and nutritionist Lauren Briggs shared information on cooking with kids, including food safety, knife skills, and fun nutrition facts. The afternoon was spent at Rogue Valley Brambles in Talent where volunteers learned how to perform farm chores with kids, familiarized themselves with the RVF2S lessons, and discussed practical tips for working with kids on a farm. Thanks so much to the Ashland Food Coop and Rogue Valley Brambles for hosting the events, and a BIG thanks to all the community members who participated and signed up to volunteer during our busy Harvest Meal season. We truly could not offer this program without the support of dedicated volunteers!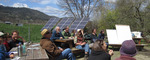 If you missed the training and still want to volunteer with RVF2S,
contact Melina Barker
.
---
We appreciate your help in cross-pollination, please forward our eNewsletter to other people you know who may be interested. If you are new to our eNewsletters, back issues are archived on our website. Thank you