G r a t i t u d e


While we are writing to invite you to a fundraiser and our last eNewsletter was a report from our annual fundraiser, the Siskiyou Challenge, and our next eNewsletter will also very likely include some kind of fundraising news too, we assure you we need every bit of support available to us to be able to do what we do. We are very aware of how often we ask, we wholeheartedly appreciate every contribution we receive and use every dime wisely. Thank you all so much.
We are running more on-farm programs each season; our cafeteria support is also increasing, all with exciting results. Still, we have been turning school groups down at a rate we never have before and it is really hard to do. We want to offer our programs to every teacher and every food service director who asks, but our human and financial resources limit us.
It is our pleasure to do the work we do and we thank you again and again.
RVF2S Staff & Board of Directors
---
We would really like to grow our recurring gift option as a little ground we can count on planting in each month! The secure online option
allows you to give as little as $5.00 per month. Making a recurring donation is an easy way to give that allows more of each dollar to go directly to stewarding our programs and organization by reducing administrative time spent processing donations.
Rogue Valley Farm to School is always so grateful and touched by the support of our community. It's so nice to have enthusiasm for our programs expressed in all the ways you all do, thank you!

RVF2S is a non-profit organization and all donations are tax deductible.
---
Learn More...
Visit our website to find out more about RVF2S and our programs.


Howdy,

It's not often that you can enjoy a beer in the name of supporting a favorite cause. Rogue Valley Farm to School is very excited to let you know that we've been chosen as a beneficiary of Standing Stone Brewing Company's "Pint for a Purpose" program. Cheers!

Standing Stone is dedicated to supporting people and planet. In their Pints for a Purpose program, they dedicate a batch of specialty beer to a nonprofit that aligns with their mission to enhance environmental sustainability, local food, education and community. The nonprofit gets a donation for every pint sold.

The beer that will benefit RVF2S is NPK Ale, a light bodied ale with a low to medium bitterness and a floral hop flavor. We encourage you, your friends and family to savor a pint, or a pitcher, responsibly - know your limit, balance it out with food and don't drink and drive.

We're having a special kick-off party and barrel tapping to jumpstart our fundraising on November 7th from 5 to 9pm, 101 Oak Street, Ashland, OR. On this evening, Standing Stone will donate $1 for every pint of NPK Ale sold. Please join us to lift a pint to RVF2S programs, our local farmers & ranchers and SSBC!

Through 11/27, Standing Stone contribute 25 cents for every pint of NPK Ale sold. Read more about it on the SSBC blog.

Thanks Standing Stone and RVF2S supporters for all you do to help us cultivate healthy kids, environmental stewardship, farm relationships and the local economy.

WHO: RVF2S & SSBC
WHAT: Pints for a Purpose Kick-off party
WHEN: 5 - 9pm, Monday, November 7th, 2011
WHERE: Standing Stone Brewing Company
101 Oak Street , Ashland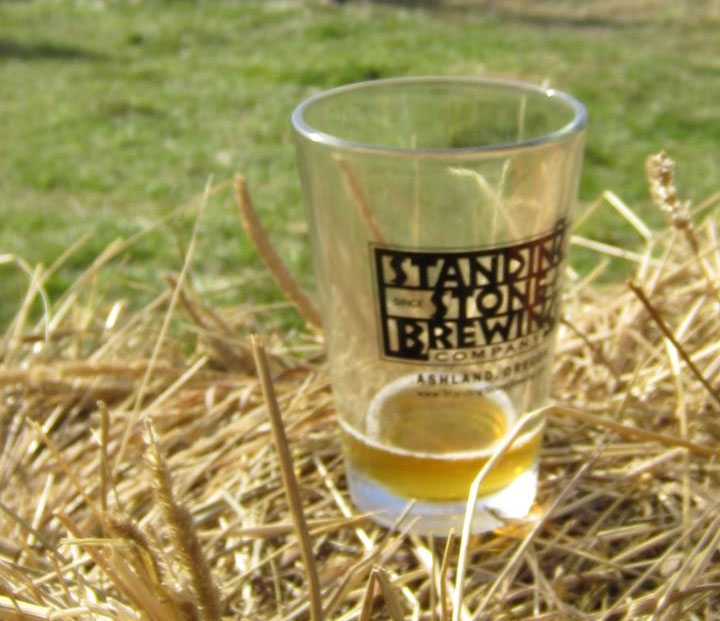 photo by: Meg Dias
---