Support the local foods in school cafeterias goal by going back to school in a RVF2S t-shirt!

If you would like to buy a 100% organic cotton, made in the usa t-shirt to support our programs let us know or order online. T-shirts are $15 - $20 sliding scale. Childrens 2 - 12, unisex Adult S - XL Women's cut too S - XL
---
Get Involved!
You can be part of the solution by supporting our programs.
---
We welcome our new AmeriCorps volunteer, Sarah Tumpane - a Rogue Valley resident. Sarah is taking a break from her world travels and advanced education to stay put a little while and work with us, we are so glad!
---
Learn More...
Visit our website to find out more about RVF2S and our programs.

Hello everyone,
So much is happening as we transition from summer to fall, please take a few minutes to absorb all we did this summer and all we have planned for fall!


The Siskiyou Challenge is quickly approaching, SEPTEMBER 25th! How is your team shaping up? Teams of all variations have registered - solo competitors, duos, 5-person teams, all teen teams, all female teams and teams excited about their costumes! There are many teams we have talked to who have not registered yet - maybe becasue they need YOU! We can help if let us know what you need to form a team.
We need your registration within the next week to guarantee you a groovy t-shirt, but registration is open until the day before the event.
We hope to see Challenge participants and their families for a nourishing barbecue picnic the evening before the main event. The barbecue is the perfect opportunity to size up the competition and enjoy the community at the same time! We will have local sausages, organic chicken, vegetarian options, local bread, and salads. The picnic will take place at the Cotton Memorial Picnic Area in Lithia Park. Purchase barbecue tickets through active.com or by contacting Race Director, Deborah Gordon.
On the same day, there will be an event within the event - the Siskiyou Challenge FUN RUN. The FUN RUN is designed for families or anyone who wants to participate in supporting the Farm to School movement a less rigorous way!
Registration begins at 9:00, with a 9:30 start from our ScienceWorks event base.
If you'd like to loan a team your kayak, sponsor a team or volunteer let us know.
The Siskiyou Challenge has a website, online registration, a Facebook page and the Siskiyou Challenge tweets!
---

RVF2S is thrilled to bring you our second film screening in partnership with ScienceWorks - this time adding Thrive as part of their Eat Local Challenge.
a witty & provocative documentary about kids & food politcis


Thursday, September 16th
ScienceWorks
6pm Locavore reception
7 pm Film Screening
RVF2S has a new kitchen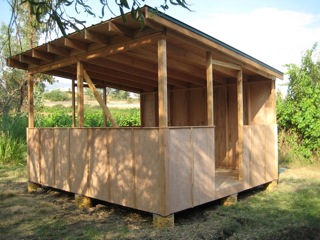 at Eagle Mill Farm!
EMF is our original farm site, like the the farm we are growing and changing! Happy DIrt Veggie Patch at EMF is a busy farm operation and sharing the EMF kitchen was getting pretty crowded. A solution has been provided with the incredible financial & labor donations of many - we now have our own kitchen for cooking farm fresh meals with kids! Laurie Sager of Laurie Sager and Associates: Landscaper Architects Inc. and Jason Eaton of Conscious Construction led the project, donating hours and hours of skilled labor, helping us plan, order materials, and prepare the site. In one long day 6 carpenters built our kitchen! A HUGE thanks to: Jason Eaton, Eric Strong, Alan Goffe, Jeremy Senn, John Golling, Dave Munson, Kelly Gustafson and Matt Locklin! Another big thanks to Anne Eldridge of Our Local Bounty~Farm to Table Catering, who graciously donated a delicious local lunch!
Also, a very special thanks to Laura Roll, RVF2S Board President who recognized a need for this kitchen and generously donated her wonderful energy and numerous resources! Thanks also to our other Board members : Chris Fowler, Ruth Alexander, and Joan Thorndike who supported this project with skills and yummy snacks.
Education Program
Summer Camp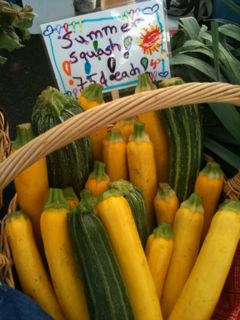 We had a fabulous time over the summer offering camps at Dunbar Farms and Rogue Valley Brambles. Kids brought produce to the Growers Market, made butter and cheese, harvested and milled wheat, and generally had fun learning about growing and preparing fresh food. Summer is a wonderful time on the farm. Look for more summer camp opportunities with RVF2S next summer!
Fall Programs!
Fall is here and students are scheduled to visit all of our farm sites over the next few months, learning about where their food comes from and preparing farm-fresh meals to enjoy together! If you would like to be involved in our fall programs, we could use your help working with students and supporting school gardens!
Contact Melina Barker
to find out more about volunteer opportunities.

Farm to Cafeteria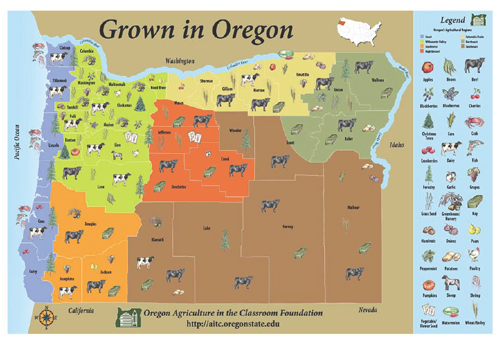 Back to school means back to the cafeteria! RVF2S works with school food services to facilitate locally grown product purchasing by encouraging schools to serve fresher produce to students. Which then creates new markets for local farms, boasts the local economy and benefits the health of the children - perfect!
The Ashland School District starts this school year with a new Food Services Director,
Gema Soto
. RVF2S has been meeting with Gema to see how we can support the ASD in their transition from their 5-year contact with a corporate food service provider to their new in-house structure. We are excited about the openness Gema has exhibited and look forward to the gradual inclusion of locally procured and school garden produce being served in the schools. Our excitement is hard to contain, but our experience with change reminds us that these things will take time. We will keep you informed and if you have questions please
contact Tracy Harding
, RVF2S's link to the school cafeterias.
So much more is happening than we can tell you in one eNewsletter - you'll hear from us again soon. Thank you for reading and engaging in the local food and farm movement!