"In the spring, at the end of the day you should smell like dirt."
- Margaret Atwood
---
Summer Camp!
Save the dates, we have really awesome things planned!
Eagle Mill Farm
in Ashland with
Valerie McCoy
6 - 7 year olds
June 24 - 28
July 22 - 26
Hanley Farm
in Central Point with
Emma Abby
7 - 10 year olds
July 8 - 12
5 - 7 year olds
August 5 - 9
---

We hope to see you at the
Rogue Valley Earth Day
celebration on April 20th. RVF2S will be there with a farm education activity for all, with information to share about our programs and our partner farms.
---
RVF2S Wish Lists
If you have any of the following that you could donate to our organization, we'd sure appreciate it and be happy to provide you with a receipt for tax purposes. U
sed or hand-me-downs are always welcome. Thank
you.
Office Supplies
• Storage shed
• Storage bins • Paper cutter
Garden Supplies
• Rototiller • Shovels
• Hand spades /clippers
• Wheelbarrow/garden carts
• Kids garden gloves
• Utility sinks • Pegboard
Kitchen Supplies
• Aprons • Outdoor tables
• Knife blocks for knife storage
• Propane BBQ with side burner
• Propane hot water heater
• Sturdy harvest baskets
• Tablecloths
• Kitchen cabinets/shelves
• Hand washing sink
---
Community support is the key to our successful programs. You make the difference, please

share with us in owning the accomplishments of Rogue Valley Farm to School.
We would really like to grow our recurring gift option as a little ground in which we can plant with certainty each month! Making a recurring donation is an easy way to give that allows more of each dollar to directly benefit our programs. This option allows you to give as little as $5 per month, you may increase, decrease or suspend your gift at any time.
It is so nice to have enthusiasm for our programs expressed in all the ways you all do,
thank you!

RVF2S is a non-profit organization and all donations are tax deductible.
---
RVF2S Gear!
avaiable through
our website or by email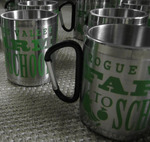 ---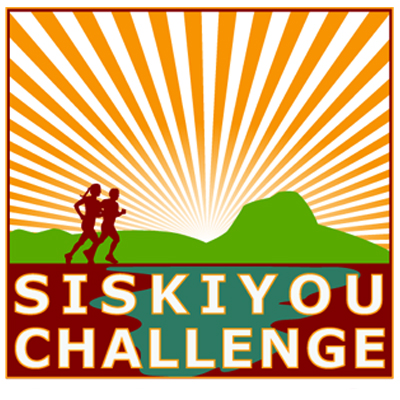 September 28th, 2013
---
Tracy Harding, Executive Director
general information
farm to cafeteria
siskiyou challenge
541-488-7884
tracy@rvfarm2school.org

Melina Barker, Education Director
education programs
volunteer coordinator
541-890-7004
melina@rvfarm2school.org

Learn More...
Visit our website to find out more about RVF2S staff, board of directors and programs.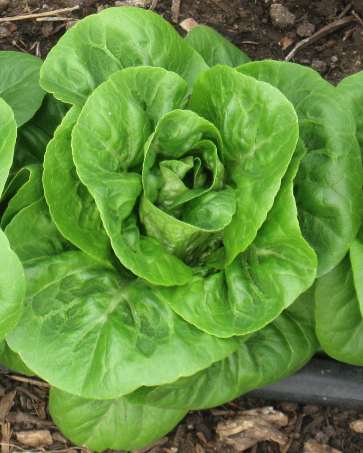 Greetings,
Spring is such a spectacular time of year, RVF2S is so ready! We hope you'll read all about it, we have so much exciting news to share.
---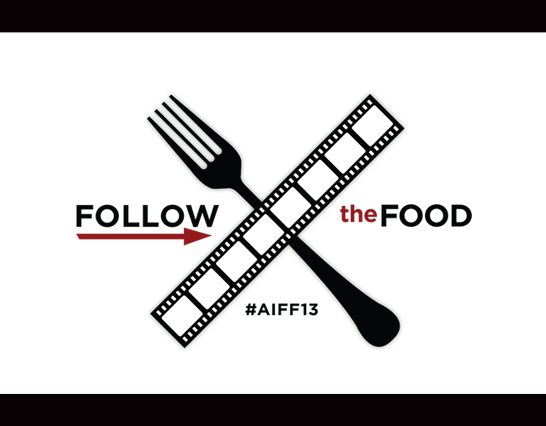 The ashland independent film festival is a great spring event. This year aiff initiated a fantastic collaboration with the SOU Center for Emerging Media & Digital Arts, which produced 8 great videos about the artisan food culture of the Rogue Valley. Including one about RVF2S! The other featured businesses are all awesome F2S supporters (more about that bel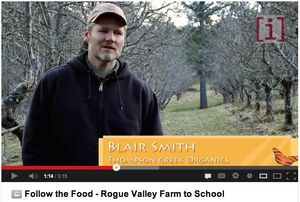 ow!). And a 9th film that is about the making of the 8 video shorts, it's great too. RVF2S is thrilled with the video produced about our programs, take a look!
---
Volunteer with RVF2S this spring!
The mo
rning kitchen training takes place at the Ashla
nd Food Co-op Community Classroom, the aftern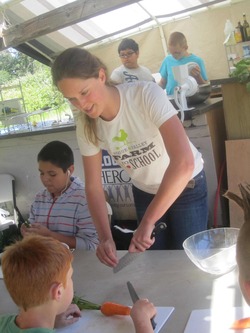 oon on-farm training will be at Eagle Mill Farm.
Registration and more details
here
.
Thank you and please invite friends who may als
o enjoy
teachin
g kids about growing and preparing healthy food.
RVF2S depends on the generous
commitment of time from community members.
---
C o m m u n i t y P a r t n e r s
We have a few sweet stories to share under the community partners banner!

Granite Man
RVF2S has been chosen to be the beneficiary of the Granite Man, an off-road racing series that takes place June 1st & 2nd at Applegate Lake. RVF2S is very excited about this new partnership as it broadens our fundraising potential to support RVF2S programs and amplifies our connection to health and fitness. On top of all that we are certain that the Siskiyou Challenge and Granite Man are each going to benefit from this collaboration, making both events fantastically bigger and better!
Granite Man in it's 7th year, the weekend's events include a triathlon and duathlon, a 10 mile (USATF) mountain run, 5 mile poker run, a kid's triathlon/dualthon and a youth 5K scavenger hunt.
If you are interested in competing or volunteering, please visit the Granite Man website.
---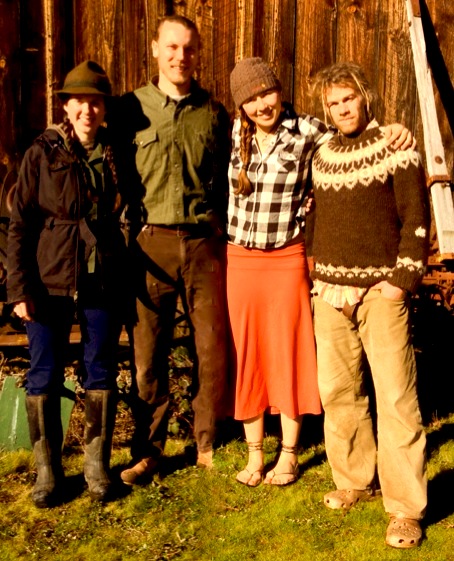 RVF2S is very excited to add Hanley Farm as a partner farm and education site. The Hanley Farm property was a gift to the Southern Oregon Historical Society in 1982 and is listed on the National Register of Historic Sites. Farmers Emma, Kurt, Elizabeth and Nick are breathing new life into the farm with the birth of many lambs and kids this spring, the addition of a farm stand and their second season offering a vegetable CSA. The Mail Tribune featured an article about their farming practices, which RVF2S program participants will learn about on the farm. Emma has joined the RVF2S education staff, check our website soon for updated staff and board information

, impressive crew! RVF2S programs at Hanely Farm begin this summer with Summer Camp sessions, more details on Summer Camp in the sidebar.
---

Rogue Creamery
supports the local c
ommunity as a core part of their mission. Last fall they contacted RVF2S to ask how they might support our programs with the donation of 'cheese ends'. Cheese ends are the unmarketable cut pieces that occur in the packaging of their cheese. The cheese is vacuum sealed, frozen an
d perfect for many uses b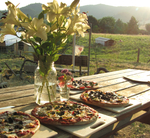 oth
on
-farm and
in school m
eal service. RVF2S facilitated a monthly cheese c
ontribution from Rogue Creamery to the Central Point School District lunch program. We are also receiving cheese for RVF2S on-farm Harvest Meal and Summer Camp programs.
---
Iron Age

Farm
was ready to make their second annual 1% for the Planet donation to RVF2S at a time when they were contracting one business to launch another, Boulton & S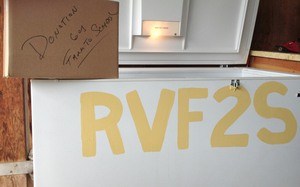 on Butchers. Which was about the same time RVF2S realized we needed somewhere to put all that Rogue Creamery cheese, perfect! Iron Age Farm donated a freezer they no longer needed that we have nearly filled with cheese for spring Harvest Meals, just a couple weeks away. Who knows, maybe we'll even be able to use it to freeze tomato sauce in the fall!
Please show your support to all the businesses, farms and ranches that support RVF2S, they are extremely important to our local economy and our regional food system. We are all nourished by their contributions to our community.
---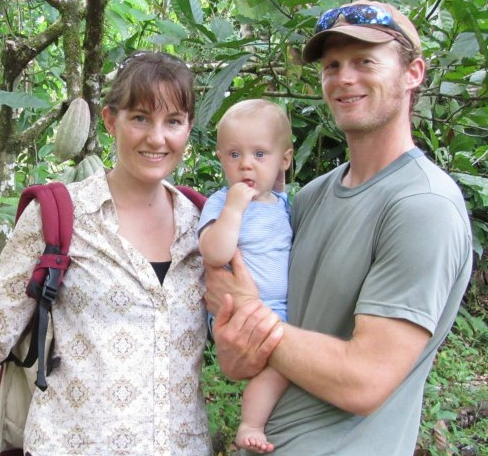 RVF2S got some very sad news this winter. Farmers that we have loved working with made a tough decision to leave the Rogue Valley to grow their family farm nearer to family. The loss of Rogue Valley Brambles leaves a hole in our hearts and our farming community that can only be filled by keeping the farm love alive. And maybe a little social media connection! Click on the new farm logo to see what is happening in the Capay Valley.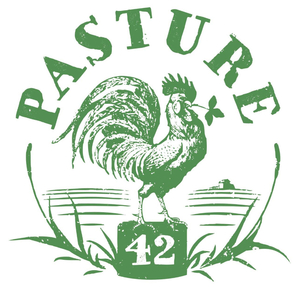 We wish Susan, Ken, Oren, Margaret and Pasture 42 the very best.