Hello,
School food is certainly all the buzz, and we couldn't be happier about it! From celebrity chef Jamie Oliver's "Food Revolution" to Michelle Obama's "Let's Move!" initiative on childhood obesity, and the Child Nutrition Act reauthorization currently being debated in Congress - taking aim at eating habits and the health of our children is front and center. As the local enthusiasm continues to rise, we are racing to keep up!
On March 8th, the Ashland School Board voted unanimously to return to an in-house, self-operating food service. RVF2S hopes the new Food Service Director will be excited about F2Cafeteria options and happy to have our support. Ashland families who are interested in seeing more fresh local food served in the school cafeterias should let the district know their wishes. RVF2S has received a grant from the City of Ashland to support our work in providing school garden assistance and community education relating to our local food system.
We hope that you'll join us, in some way, for our many events and programs as well as those offered by others to our benefit! We are feeling so very grateful for the F2S movement and the local embrace!
The Rogue Valley's Earth Day celebration
is this Saturday. We'll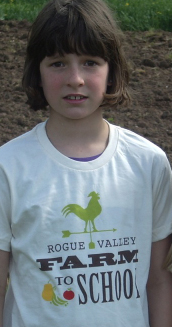 be offering a fun
seasonal eating activity for children, please
come say hello and see our new t shirts!.
We are thrilled with our shirts - 100% organic cotton, made in the usa, local designer, local printer and supporting a local nonprofit! A $20 donation to RVF2S will get you in a great new shirt! Childrens 2 - 12, unisex adult S - XL and women's cut S - XL too. If you would like a shirt let us know.

On Saturday, May 1st, we'll be at the YMCA Healthy Kids Day.
Thursday, May 13th, RVF2S joins ScienceWorks to screen the documentary FRESH, followed by a community conversation with a panel of guests who have direct ties to the local food system.
RVF2S is very excited to offer a summer camp full of great farm activities including; planting, harvesting, cooking, eating,
caring for animals & craft projects.
3 one-week sessions available: June 28-July 2, July 19-23 &/or August 16-20.
Daily from 8:30-1:30, includes lunch, ages 7 - 10, $175 / week
For more information please call Susan @ 530-902-5251
FARM to FORK is a new local venture we are happy to promote and benefit from! FARM to FORK plans, organizes and prepares rustic yet elegant dinners on local farms using local produce, meats, seafood, wine and other artisan foodstuffs.
Starting their first season on June 5th @ Salant Family Ranch in Jacksonville, and ending with a family-friendly blowout in November.
All three RVF2S farm sites will host a dinner and all dinners include a farm tour! This is a great way to visit the farms where our programs happen.
RVF2S & Artik Creamery are planning to have an organic ice cream stand in Lithia Park on the Fourth of July. We are super excited about this new local business and this fun fundraising partnership.
We also want to alert you to an awesome series of classes being offered starting in May. Sustainable, Socially Responsible Business Class: Building Success with a Full Circle Impact. All proceeds benefiting nonprofits building social, environmental and economic sustainability, including RVF2S!
Please mark you calendar now and watch for details...
The first annual Siskiyou Challenge, a multi-sport relay event will be held on September 25, 2010 to benefit Rogue Valley Farm to School.