Summer seems to have flown by, and now here we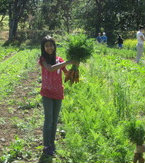 are entering fall! Teachers are quickly scheduling dates for Harvest Meals with RVF2S at our local farm sites. It is time to let us know if and when you are able to volunteer! Whether you are a seasoned volunteer or someone new to RVF2S, we have a place for you to plug-in and help out.

We expect to be fully booked from mid-September to the end of October, with Harvest Meals every Tuesday-Friday from 9:30-1. You can view what dates have been booked at what farms by viewing the volunteer calendar. To sign-up for days just email us and let us know the dates you are available!

Looking forward to seeing you on the farm!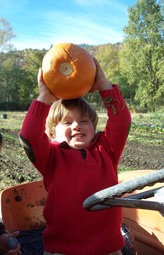 Every October over 1,000 preschool and kindergarteners visit Eagle Mill Farm for a one-hour farm tour and pumpkin harvest.
If you are interested in leading some Pumpkin Tours,
let us know
!
The Siskiyou Challenge is a celebratory and competitive 6-leg multi-sport relay race that raises money for ROGUE VALLEY FARM TO SCHOOL .
We are looking for INDIVIDUAL VOLUNTEERS and VOLUNTEER TEAMS.
INDIVIDUAL VOLUNTEERS are needed for skilled, general and safety tasks. We have tasks starting now through the week after the
race. Race Day volunteers will be asked to attend the pre-race meeting on September 16th. If volunteering during the event you will be asked to wear a Siskiyou Challenge t-shirt, our gift to you!
VOLUNTEER TEAMS will be needed for 2-3 hours the day of the Challenge to host a leg of the race. Hosting entails being present on the route to shepherd the racers and maintain safety. A team can be made up of 6-20 people. A leader and representative will need to attend the pre-race meeting on September 16th.
http://www.siskiyouchallenge.org/
Please contact
Tracy Harding
with any questions or to sign-up to volunteer!