Get Involved!
You can be part of the solution by supporting our programs.
---
Thank You!
To our dedicated volunteers:
Christina Burn
Rachel Buklad
Genealle Visagorskis
Sarah Johnstone
Dana Kristal
Della Merrill
Sarah Rudeen
Amber Tidwell
Elaine Wolfe
Deirdre Young
Laura Roll
Joan Thorndike
Meryl Six
Merle Creller
Chris Fowler
Valerie McCoy
A very special thanks to our AmeriCorps volunteers Maggie Gartman and Stefanie Kramer!
---
Wish List
Kitchen Supplies
Large mixing/serving bowls
Serving tongs
Propane stove (2 or 4 burner Coleman or kitchen stove)
Propane hot water heater
Sturdy harvest baskets of all sizes
Durable soup bowls (50)
Tablecloths
Chopping knives
Kitchen cabinets/shelves
Outdoor tables
Hand washing sink
Cloth dish & hand towels

Garden Supplies
Kids garden gloves
Shovels
Rakes
Hand spades
Seeds
Wheelbarrow/garden carts
Hand clippers

Other
Digital camera
Art supplies
---
Learn More...
Visit our website to find out more about RVF2S and our programs.
Welcome to the first edition of the RVF2S newsletter. We would like to keep you posted on our programs with these bi-monthly posts as well as invite your participation in our projects and events.
We hope that we have accurately assumed your interest in our organization; however, if you'd rather not receive these updates please opt out using the unsubscribe link at the bottom of this email.
We are very excited about the growth we have experienced in the short time that has passed since we evolved from the Eagle Mill Farm Education Project.
This first newsletter enthusiastically announces the launch of our website. We would love to hear your feedback on the website and newsletter.


YOU ARE INVITED TO A VERY SPECIAL DINNER TO SUPPORT
ROGUE VALLEY FARM TO SCHOOL
AT
NEW SAMMY'S COWBOY BISTRO
SUNDAY JANUARY 31ST
5:00 ~ 9:00PM
PLEASE CALL TRACY TO MAKE A RESERVATION
488-7884
SEATING IS LIMITED
ALL PROCEEDS WILL BE DONATED
______________________________________
THIS IS A DINNER TO SHARE WITH A GROUP OF FRIENDS OR NEIGHBORS
AN ARRAY OF TAPAS
VIOGNIER LOCAL VINEYARD
PAELLA
WITH BRADFORD FAMILY FARM RABBIT, HOUSE-MADE CHORIZO, PORT ORFORD SUSTAINABLE SEAFOOD'S
BLACK COD, ROCKFISH AND CRAB
AND CLAMS AND MUSSELS
OR
VEGETARIAN PAELLA
2005 VELOCITY CELLAR
SPANISH-STYLE OREGON CHEESES
WITH MEMBRILLO, HONEY, PEARS IN A SANGRIA SYRUP,
AND MÂCHE WITH WALNUT OIL
CHOCOLATE-CINNAMON OLIVE OIL CAKE
WITH ALMOND ICE CREAM
AND CINNAMON CUSTARD SAUCE
COFFEE
$50 PER PERSON
$65 WITH WINE
WINE, CHEESE, MEAT, SEAFOOD AND PRODUCE VERY GENEROUSLY DONATED BY LOCAL GROWERS AND PRODUCERS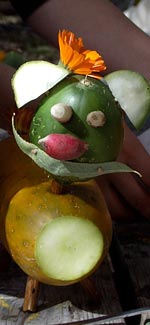 Education Program
Rogue Valley Farm to School had a wonderfully busy fall. Students from many elementary schools in the valley came to the farm and harvested the seasonal abundance, prepared lunch, and learned about many aspects of sustainable farming and the local environment. We planted garlic, dug up potatoes, spread cover crop seed, and examined insects. Students sampled spinach and kale fresh from the field, remarking with surprise how much better they tasted than what comes from the store! Younger students were encouraged to make careful observations in the fields as they investigated geometric shapes, while older students practiced their estimation and multiplication skills as they predicted the number of seeds in tomatoes. One of the big hits this fall was creating works of art with produce that was no longer edible, kids built spaceships, whales, cats, and race cars out of over grown pickling cucumbers, purple beans, pithy radishes, and flowers.
Visiting the farm provides such a perfect setting for fostering many skills that are difficult to achieve in the classroom environment. There is truly no end to the subject matter that we can teach during farm visits. Possibly the most important lessons are not taught but come from the experience of seeing, touching, doing, and tasting. Kids are filled with pride at a row well planted, a meal well cooked, or an overflowing harvest basket. We at RVF2S are constantly impressed by the concentration and observation students make while at the farm. Students, parents and teachers all appreciate the bucolic setting, the abundance of delicious food, and the chance to be physically active and connect to the natural world.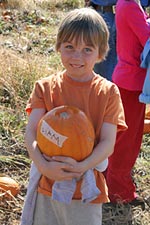 Each October, for many years, Eagle Mill Farm has hosted pumpkin tours for hundreds of pre-school through second grade children. This year RVF2S coordinated and led the tours. Kids toddled through the farm tasting the last of the tomatoes and grapes before harvesting a pumpkin to bring home. Pumpkin Tours offer the youngest kids the chance to make the initial connection between the food that they eat and the farm. Kids take in the change of seasons as they witness decay in some crops and growth in others. There is something very special about the pumpkins and we are very happy to be part of this tradition.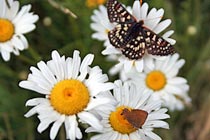 Upcoming Programs
Spring promises to be filled with exciting programs. Rogue Valley Farm to School will be teaching after-school programs in Medford in partnership with Kids Unlimited. Programs will run for six weeks and will be offered at our Medford farm site, Dunbar Farms, as well as at Howard and Washington Elementary schools working to design and establish school gardens. We will continue to work with the students and teachers at the Helman Elementary school garden in Ashland. Harvest meals and farm visits will be available to classes throughout the Rogue Valley. Spring Harvest meals take advantage of over-wintered roots and greens and fresh baby salad fixings for a delicious soup and salad lunch.
This spring we will offer our first programs at our Talent farm site, Rogue Valley Brambles. RV Brambles offers a unique experience for local students to learn about and participate in a sustainable poultry and cow dairy operation. Classes will learn about pasture management, poultry development and habits, dairy production, and get a chance to collect eggs and create a quiche for lunch!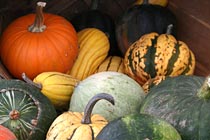 Farm to Cafeteria
Our farm to cafeteria program and resource offerings are gaining legs as we continue to learn so much through our daily work as well as through the knowledge generously shared by the regional and national F2S movement.
We have been surveying Jackson and Josephine county schools for their local procurement practices or interest in adding locally grown and/or processed food to their school lunch programs. Improving child nutrition and reducing hunger to support intellectual and physical development while strengthening the local economy through purchasing and processing school food locally is fundamental to the mission of RVF2S.
The Ashland School District has been buying from three local farms: Whistling Duck and Wolf Gulch farms in the Applegate Valley and Joshua Farms in Sam's Valley. Grants Pass and Central Point schools have also been enjoying local produce.
RVF2S staff and board members are involved with the ASD's Food Service Advisory Committee exploring options for the conclusion of the 5-year Sodexo contract at the end of this school year. The efforts of this committee have been extremely impressive; we have learned so much by being part of this process. The research has allowed us to visit with many school lunch programs throughout the state in our pursuit of model programs.
RVF2S has been exploring many exciting potential programs in collaboration with other non-profits, along with partnerships with state and federal agencies. We'll have more news for you in a couple months - thanks for engaging!