We have an office!
We have happily settled in at 223 5th Street and have many folks to thank for making it possible.
Tom, our gracious landlord.
Darex Corporation's Hank & John who donated & delivered, desks, chairs, file cabinets & misc office supplies.
Shannon & Rob who gave a great project table.
Jim & Heidi who donated chairs.
Our friends Eric, Isaac & Steve who helped us get computers and set them up.
And Barbara, our board president who looked at a lot of properties! Thank you all.
Office Hours
Monday 9 - 1
Tuesday 9 - 2
Wednesday 9 - 3
Thursday 9 - 1
Friday 9 - 2
Please note that office hours are approximate; we are sometimes on-farm, at schools or in meetings.
---
Wish Lists -
If you have any of the following that you could donate to our organization, we'd sure appreciate it and be happy to provide you with a receipt for tax purposes. Thank you.
Office Supplies
book shelves
storage bins
Kitchen Supplies
Large mixing/serving bowls
Serving tongs

Propane BBQ with side burner
Propane hot water heater
Sturdy harvest baskets
Tablecloths
Kitchen cabinets/shelves
Outdoor tables
Hand washing sink
Cloth dish & hand towels

Garden Supplies
Pegboard
Kids garden gloves
Shovels (adult & child size)
Hand spades
Seeds
Wheelbarrow/garden carts
Hand clippers

Other
Digital camera
Art supplies
---
RVF2S has a secure online recurring gift option that allows you to give as little as $5.00 per month. Making a recurring donation is an easy way to give that allows more of each dollar to go directly to stewarding our programs and organization by reducing administrative time spent processing donations. Please help us keep the rent paid in our new office, we working so efficiently there! If just 20 people committed to $10/month our rent would be covered!

RVF2S is a non-profit organization and all donations are tax deductible.
---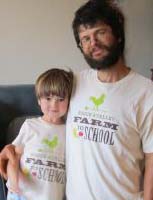 If you would like to buy a 100% organic cotton, made in the usa t-shirt to support our programs let us know or order online. T-shirts are $15 - $20 when purchased direct, $20 when purchased online. Childrens 2 - 12, unisex Adult S - XL Women's cut too S - XL
Local delivery can be arranged, shipping elsewhere in the USA is included with your purchase.
---
Learn More...
Visit our website to find out more about RVF2S and our programs.

Hello,
What a fabulous winter we have had doing winter things like mingling, nesting, planning, writing and thinking of spring!

RVF2S has been paying close attention to HB 2800, which would provide state reimbursements to public schools to help them buy locally grown food products for use in their lunch programs. Given that the state faces a $3.5 billion shortfall, the bill will be amended to provide a pilot project that could pave the way for an expanded effort in future years. You are invited to endorse the Oregon Farm to School legislation, it only takes a minute and means so much, thank you.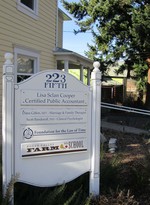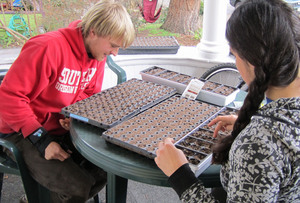 We have a sign out front! And a porch for farmy projects!
---
RVF2S has been graced with two fabulous fundraisers this winter. Many, many thanks to the hosts and all who attended.

ROGUE WORLD ENSEMBLE & RUSALKA performed a concert in late January that was so beautiful. We were thrilled to have a presence and receive a donation from the ticket sale proceeds. Thank you to all the performers and the event organizer, Megan.

3rd Annual New Sammy's Dinner to Feed the Farm to School Program. Charlene, Vernon and the entire New Sammy's staff really went all out to make the local ingredients shine, it was a truly amazing meal served with delicious local wines. Thanks to the farmers, ranchers and winemakers who donated their products grown and made with love to the meal.
---
A shout to all interested VOLUNTEERS -
it's almost SPRING and RVF2S needs you!
We have two important trainings coming up that will be full of fabulous information on our programs as well as an opportunity to schedule volunteering dates.
Saturday, April 2nd | 9-noon
The Ashland Food Co-op is hosting a In the Kitchen with Kids training that focuses on safe and healthy kitchen practices. This training is strongly encouraged if you would like to help in the kitchen during on-farm Harvest Meals. The training will be held at the Co-op Community Classroom located at 300 N. Pioneer Street.
Sunday, April 10th | 1-5pm
RVF2S is hosting a volunteer orientation at Rogue Valley Brambles in Talent. This training is for all volunteers, whether you have worked with RVF2S in the past or not. Join us to acquire information about leading activities at RVF2S farm sites, receive our spring curriculum guide, and learn more about growing food in our region.

Please call or
email
soon to reserve your space in either or both of these trainings! 541-482-2424
Rogue Valley Farm to School




Summer Day Camp




at

Rogue Valley Brambles

in

Talent
Join us on a working farm to learn where your food comes from!
Activities include:
planting & tending crops,
caring for farm animals, harvesting, cooking & preserving fresh produce, cheese making, science projects, arts & crafts and more!
4 one-week sessions
Ages 9-12: June 20-24 | August 1-5
Ages 6-8: July 11-15 | August 15-19
8:30-1:30
| Farm Fresh Lunch Included
$175 / week
Sign up forms available April 1st on the RVF2S website or by calling Susan 530-902-5251
.
Susan is happy to answer any questions.
A deposit of $75 is required to secure a spot in our camp. Cancelations 3 weeks prior to camp start date will refundable. Balance is due on the first day of camp.
---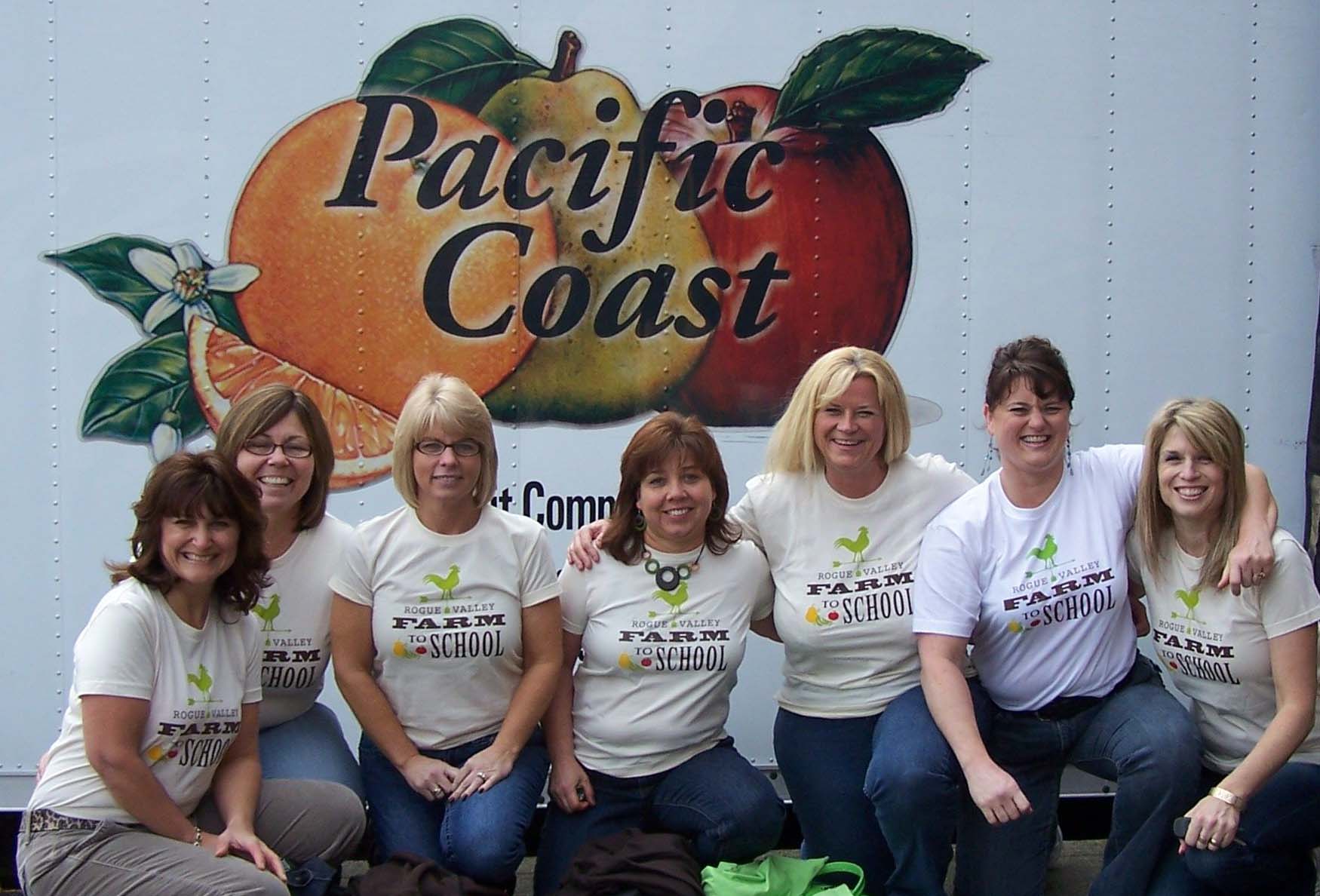 Grants Pass School District No. 7 employees attended the 2011 Oregon State Nutrition Conference in Salem this month. Each year when they make the journey they try to in corporate a field trip or two for their staff. This year they visited Pacific Coast Produce. They look pretty great & happy in those awesome shirts!
---
We appreciate your help in cross-pollination, please forward our eNewsletter to other people you know who may be interested. If you are new to our eNewsletters, back issues are archived on our website. Thank you.