It is not too soon to start planning your costume for the
2nd Annual
SISKIYOU CHALLENGE !
That is if you've already
built your team!!
Registration is open!!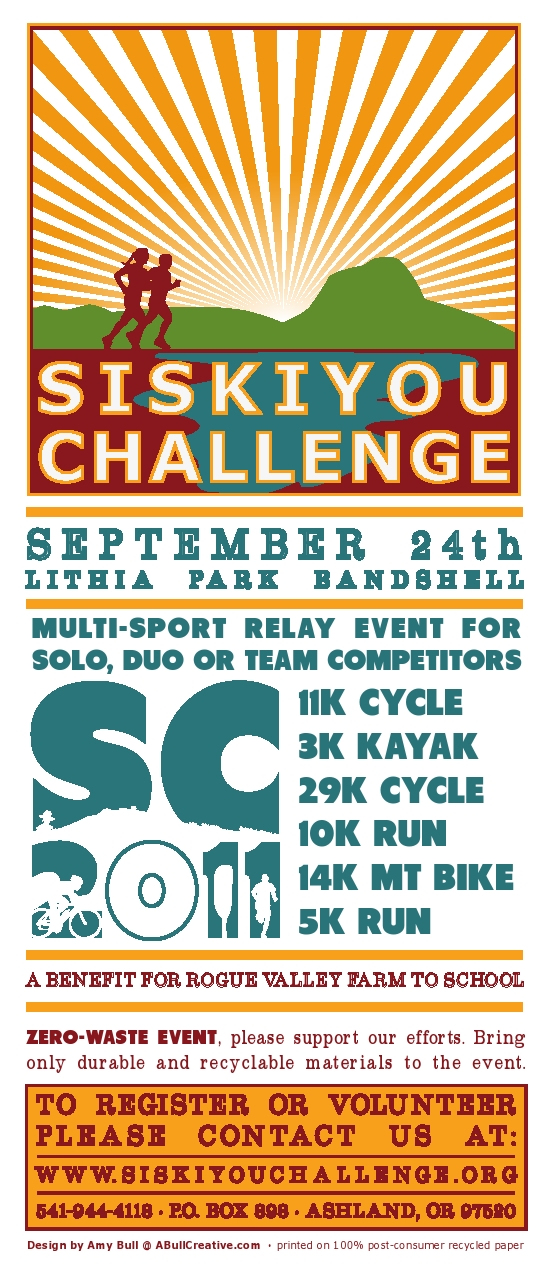 A huge thanks to Amy Bull who is doing our graphic design for us again this year!

A Bull Creative




---
Rogue Valley Farm to School is always so grateful and touched by the support of our community. It's so nice to have enthusiasm for our programs expressed in all the ways you all do, thank you! We would really like to grow our recurring gift option as a little ground we can count on planting in each month! The
secure online option
allows you to give as little as $5.00 per month. Making a recurring donation is an easy way to give that allows more of each dollar to go directly to stewarding our programs and organization by reducing administrative time spent processing donations.
Again, we thank you.

RVF2S is a non-profit organization and all donations are tax deductible.
---
Wish Lists -
If you have any of the following that you could donate to our organization, we'd sure appreciate it and be happy to provide you with a receipt for tax purposes. Thank you.
Kitchen Supplies
Knife blocks for knife storage
Cutting boards
Hand towels & rags

Propane BBQ with side burner
Propane hot water heater
Tablecloths
Kitchen cabinets/shelves
Outdoor tables
Hand washing sink


Garden Supplies
Rototiller
Pegboard
Shovels (adult & child size)
Hand spades
Wheelbarrow/garden carts


---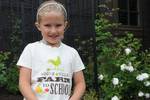 If you would like to buy a 100% organic cotton, made in the usa t-shirt to support our programs let us know or order online. T-shirts are $15 - $20 when purchased direct, $20 when purchased online. Childrens 2 - 12, unisex Adult S - XL Women's cut too S - XL
Local delivery can be arranged, shipping elsewhere in the USA is included with your purchase.
---
Learn More...
Visit our website to find out more about RVF2S and our programs.


Hello,
Warm summer greetings to you all. RVF2S was not at all dampened by this years spring weather, we proceeded with full enthusism and had a great season!

Last time we sent you an eNewsletter we mentioned HB2800, yesterday the Farm to School bill unanimously passed the House. Representative Brian Clem (D-Salem) introduced the bill, he said seeing the bill come to the House floor was one of the greatest moments in his legislative career. The bill heads to the Senate for a final vote, perhaps as soon as this afternoon. The bill has been whittled to a $200K pilot that will be trialed to demonstrate the all around positive impacts that full funding could provide in the future. Our friends at Upstream Public Health recently released a Health Impact Assessment that evaluates the potiential effects of the bill on Oregonians' health. Let's keep our fingers crossed!
---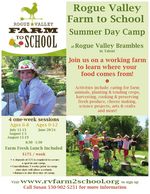 RVF2S Summer Day Camp
at Rogue Valley Brambles
Openings remain for
children 6 - 8 years old:
July 11- 15
August 1 - 5
8:30-1:30 $175 / week
Farm fresh lunch included.
Activities include: planting & tending crops, caring for farm animals, harvesting, cooking & preserving fresh produce, cheese making, science projects, arts & crafts and more!
Please call Susan if you have questions, 530-902-5251
Registration form | Flyer
---
RVF2S will be in Ashland's 4th of July Parade again this year - if your child loves us and wants to show it by walking in the parade wearing one of our shirts, let us know. Thanks and see you there!
---
Each season we tell you that we are serving more students than before - this spring was no different! Our Harvest Meals were booked solid from mid-April to the end of school in June. RVF2S hosted 29 Harvest Meals at our three farm sites! This year we also included pre and post classroom visits to fortify the farm experiences. We have received wonderful feedback from teachers and families about our programs!
---
A BIG thanks to our wonderful spring program volunteers, their help makes offering hands-on farm programs to so many students possible.
THANK YOU ALL
!
Lindsey Jones Carol Huffman Sarah Rudeen
Lucy Witridge Kyra McFadden Alima Matejcek Susan Kohlmann Dave Heckley Gina Heckley Patty Farrell Judi Howlett Deb Riha Laura Roll Jackie Buffaloe Susan Bowden Lucretia Weems Jeanne Evers Virgina Brown Aimee Prezzano Laurie Gadbois Judy Cangiamella Nancy Phillips Pam Moore Laurel Vukovic Lora Rasmussen
We were lucky to also have the support of OHSU Nursing students at our Dunbar Farm Harvest Meals.
Catherine White Teresa Hunter Kristina Groves
David Hodge Katie Forester Steven Rafala
Julia Blyly Amy Ripley Matt Wattier
Laura Pavia Sarah Beskow Olivia Etes
Leah Cates Katie Jones Bonnie Brown
Jennifer Buchanan Krista Johnson
If you'd like yo join our family of volunteers, we'd love to hear from you. Volunteer
---
An extra special thank you to our wonderful AmeriCorps member Sarah Tumpane who helped to lead educational programs, maintain farm sites, recr
uit volunteers, and be a super amazing helper in many other ways!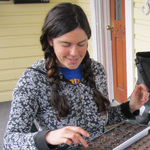 Rogue Valley Farm to School
is better because of you, Sarah!



---
Rogue Valley Farm to School is happy to be supporting six School Garden Coordinators (SGC) in the Ashland School District. RVF2S provides support, training, and resources to these gardens. SGCs manage the school garden, involve parents, teachers and students in garden projects, and insure that the garden is maintained over the summer. Many opportunities exist to be involved in school gardens this summer. If any of these schools are in your neighborhood, and you would like to help out, please contact the SGCs as listed below.
Bellview Elementary: Laura Rogers
Helman Elementary: Susan Kohlmann
Walker Elementary: Elaine Sayer
garden work days open to families from 10am -2pm on:
6/27, 7/11, 7/25, 8/8, and 8/22.
Ashland Middle School: Eric Sandrock
The summer student garden club meets Mondays & Thursday from 9 - 12. Volunteers are welcome.
John Muir School: Patti Ruiz
Willow Wind Community Learning Center: Beth Wismar
Ashland High School: Chris Hardy Volunteers are welcome every Saturday from 9-11. 60 Morse St.
---
School Garden Coordinator
Beth Wismar
Willow Wind Community Learning Center


Beth is the mother of two daughters, a Willow Wind 3rd grader and a 3-year old. Beth brings a lot of farm and garden experience with her to the SGC position; she has worked at a "farm park", a garden center, and a local organic farm. Beth really enjoys gardening and being outdoors, she thinks it is very important for children to know where their food comes from, and believes the best way to do this is through a hands-on experience in a garden.
The Willow Wind vegetable garden consists of 24 raised beds, which are 18ft. x 50 in. There is also an area called the Food Forest full of fruit trees and berries, as well as many flowerbeds around the school. Hops have recently been planted to provide shade in the garden. The Willow Wind garden was established 9-10 years ago, with help from an Ashland Food Co-op grant.
During the school year there are 10-12 classes that participate in the garden each week. They are using the garden to learn about math, science, and gardening. Classrooms harvest and share the produce in connection with the curriculum. Willow Wind has a Farm Stand on Fridays where students sell produce and flowers to make money, to keep the garden going.
In early June Willow Wind offers week-long workshops, and this year some students focused on planting summer crops including tomatoes, peppers, summer and winter squash, pumpkins, cucumbers, etc. In another workshop, students focused on installing the irrigation system.
Over the summer Beth and other parents will be maintaining the crops so that students can return to an abundant garden in the fall. Beth invites community members to help out by donating time or supplies. They are in need of a sink and greenhouse. If you would like to help out, feel free to contact her.