Get Involved!
You can be part of the solution by supporting our programs.
---
Wear a RVF2S t-Shirt!

If you would like to buy a 100% organic cotton, made in the usa t-shirt to support our programs let us know or order online. T-shirts are $15 - $20 sliding scale. Childrens 2 - 12, unisex Adult S - XL Women's cut too S - XL
---
Wish List
Kitchen Supplies
Large mixing/serving bowls
Serving tongs
Propane stove (2 or 4 burner Coleman or kitchen stove)
Propane BBQ with side burner
Propane hot water heater
Sturdy harvest baskets of all sizes
Tablecloths
Kitchen cabinets/shelves
Outdoor tables
Hand washing sink
Cloth dish & hand towels
Garden Supplies
Kids garden gloves
Shovels (adult & child size)
Hand spades
Seeds
Wheelbarrow/garden carts
Hand clippers
Other
Digital camera
Art supplies
---
Learn More...
Visit our website to find out more about RVF2S and our programs.

Greetings!
Summer is finally here in true form! There is never a quiet season for RVF2S just a brief deep breath between seasons!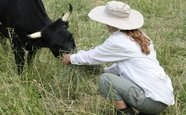 The July session of our Summer Camp at Rogue Valley Brambles in Talent starts Monday. We have room for a couple more kids in this session as well as the August session. We are very excited about this new camp and farm site - children love gathering eggs, feeding the pigs, and seeing the cows up close. Sign up your 7 - 10 year olds and please help us spread the word, it's going to be so much fun!

We are very excited about the inaugural Siskiyou Challenge, a multi-sport relay event being planned as an annual fundraiser for RVF2S by local family physician, Deborah Gordon. You can read more about the heart of this project in the Local's Guide. The Siskiyou Challenge has a website, online registration, a Facebook page and the Siskiyou Challenge tweets!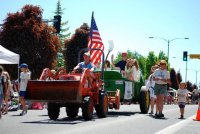 Rogue Valley Farm to School thanks all the farm, kid and food loving folks who walked in the 4th of July parade we us, we had a great time seeing so many supporters and handing out our super cute new buttons!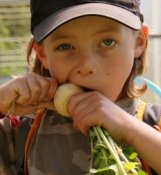 Education Program We had a busy spring, offering farm field trips and harvest meals to over 300 students in Ashland, Medford, and Talent. We offered programs for the first time at our new farm site, Rogue Valley Brambles. This farm offers a different experience than our other two sites because the farm focuses on pasture poultry, dairy cattle, and fruit. Students gathered eggs, kale, and onions and made a frittata, or deviled eggs and salad for lunch. Kids also had the opportunity to visit with the dairy cows up close and learn about caring for poultry and cows. Our spring programs could not have been such a success without the support of our wonderful volunteers. Thanks especially to Amber Tidwell, Deirdre Young, Aliya Shelton, and our wonderful intern Aliza Kawecki. We also had help from a few new staff members: Corinne Coe, Rebecca Slossberg, and Susan Muller.
We have just started summer camp at Dunbar Farms, a joint program with Kids Unlimited in Medford. Students visit the farm two days a week to plant, harvest, cook and learn about food and farming. This year students will also bring their harvest to the Medford Grower's Market on Thursdays, look for our booth starting this week!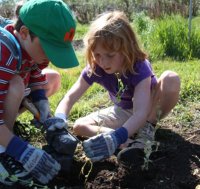 We are working hard to support the establishment of school gardens in our region. This season we are involved in gardens at the Ashland Middle School, the John Muir School, Helman Elementry and Bellview Elementary schools in Ashland, and Washington Elementary in Medford. If you are interested in helping with our school garden program or want to initiate a garden at a school in your neighborhood, contact us!
Get Involved! RVF2S can always use help in the garden and on the farm either helping to keep the crops cared for or leading programs with kids. Over the summer, we could use volunteers to assist in summer camp programs in Medford and chaperoning kids selling their produce at the Grower's Market.
Upcoming Programs
Spring promises to be filled with exciting programs. Rogue Valley Farm to School will be teaching after-school programs in Medford in partnership with Kids Unlimited. Programs will run for six weeks and will be offered at our Medford farm site, Dunbar Farms, as well as at Howard and Washington Elementary schools working to design and establish school gardens. We will continue to work with the students and teachers at the Helman Elementary school garden in Ashland. Harvest meals and farm visits will be available to classes throughout the Rogue Valley. Spring Harvest meals take advantage of over-wintered roots and greens and fresh baby salad fixings for a delicious soup and salad lunch.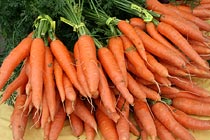 Farm to Cafeteria
The Grants Pass School District's Farm to Cafeteria program has grown by leaps in the last school year and is gloriously illustrating what can be accomplished with a team of inspired folks - absolutely astounding! They are working with many farms within 50 miles of Grants Pass schools to purchase apples, pears, greens, berries, tomatoes, salad mix, carrots, onions, radishes, corn, lettuce, potatoes, spinach, plums, squash and more! They are also buying Oregon grass-fed beef for their beef stew and Salisbury steak, as well as ground beef for other menu items. The school kitchen staff will spend some time over the summer working to process peak-season corn on the cob, tomatoes, squash and berries to be served during the school year. These accomplishments are huge and so exciting. Hats off to Lisa Fisher and the Nutrition Services team of Grants Pass School District #7, we appreciate you leading the way to healthier school meals and a stronger local economy.
The Ashland Food Co-op's Quarterly Forum will explore the challenges of running an in-house school lunch program with panelists: Gema Soto, Ashland School District's new Food Service Director; Eric Sandrock, Ashalnd Middle School teacher and garden director; Eva Skuratowicz, Ashland School Board and Tracy Harding, Rogue Valley Farm to School. Wednesay July 21, 7-8:30pm in the Co-op Community Classroom on A Street. We hope to see you there!