RVF2S is looking for an office space
Version:1.0 StartHTML:0000000229 EndHTML:0000003239 StartFragment:0000002450 EndFragment:0000003203 SourceURL:file://localhost/Users/tracyharding/Desktop/F2S%20-%20eNews/RVF2S%20is%20looking%20for%20an%20office%20spaceWe would be extremely appreciative of any low-to-no rent options that might be available in our community. We would like a room that is approximately 250 square feet - where we could have a couple desks, filing cabinets, bookshelves, and a table & chairs for meetings. Please contact us if you know of anything that might be available.

Our growing organizations need for an office space has prompted us to set up a secure online recurring gift option that allows you to give as little as $5.00 per month. Making a recurring donation is an easy way to give that allows more of each dollar to go directly to stewarding our organization and programs, as well as our hoped for office space because it means less administration time to process donations. If just 30 people committed to $10/month our rent would be covered!
RVF2S is a non-profit organization and all donations are tax deductible.
---
Wish Lists -
If you have any of the following that you could donate to our organization, we'd sure appreciate it and be happy to provide you with a receipt for tax purposes. Thank you.
Office Supplies
file cabinets
book shelves
scanner/printer/copier
chairs
storage bins
bulletin/white board
Kitchen Supplies
Large mixing/serving bowls
Serving tongs

Propane BBQ with side burner
Propane hot water heater
Sturdy harvest baskets
Tablecloths
Kitchen cabinets/shelves
Outdoor tables
Hand washing sink
Cloth dish & hand towels

Garden Supplies
Pegboard
Kids garden gloves
Shovels (adult & child size)
Hand spades
Seeds
Wheelbarrow/garden carts
Hand clippers

Other
Digital camera
Art supplies
---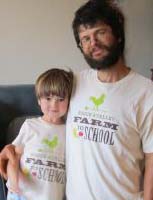 If you would like to buy a 100% organic cotton, made in the usa t-shirt to support our programs let us know or order online. T-shirts are $15 - $20 when purchased direct, $20 when purchased online. Childrens 2 - 12, unisex Adult S - XL Women's cut too S - XL
Local delivery can be arranged, shipping elsewhere in the USA is included with your purchase.
---
Learn More...
Visit our website to find out more about RVF2S and our programs.

Hello,
We are thrilled to have two invitations to extend to you this winter, both promise to be incredibly wonderful and donating proceeds to Rogue Valley Farm to School. Please join us and support RVF2S while enjoying a concert or a fine meal.

ROGUE WORLD ENSEMBLE & RUSALKA ~ A Mid-Winter Concert
Saturday, January 29th 7pm


First United Methodist Church of Ashland
175 N. Main Street
Tickets available in advance at Heart & Hands,
255 E. Main Street $10
Tickets available at the door $12
Seniors & students $8 ~ Children under 12 are free
For more information: 541-482-1429
Details | Flyer
---
a menu
to feed the farm to school program
at new sammy's
sunday, february 20, 2011

an espresso cup of
wild mushroom soup with steamed milk and garlic toast

2009 William Augustus Viognier/Marsanne


cherry wood-smoked black cod
with a mustard green, shiitake, cilantro,
and poached dry sour cherry salad

"garbure"
duck leg confit, truffled duck breast sausage,
and slices of duck breast in a rich duck broth with
savoy cabbage, carrots, parsnips, turnips, potatoes, winter squash, and shell beans
OR
root vegetable mash, braised mixed green and truffle cheese lasagne with sauteed mushroom ragout
local red wine, tba


yogurt "cheese" with spicy green tomato jam
on black pepper crackers
2008 Roxy Ann Night Harvest Viognier


apple "confit" with honey-applejack ice cream
and a shortbread cookie with fleur de sel
$ 65
$ 80 with wines

New Sammy's cooks with organic ingredients

for reservations please call 541-535-2779
seating is limited
Thank you to Velocity Cellars & RoxyAnn Winery; and the fabulous local farmers for their very
bighearted
donations. Thank you to New Sammy's for this 3rd Annual Dinner, also a very
generous
gift. What you all do makes what we do feel so fabulous.
Gearing up for the 2011 Farming Season! Call for Volunteers!
RVF2S's educational programs slow down quite a bit from Thanksgiving until spring. Spring is already just around the corner! Sunny warm winter days let us know that it is almost time to plant sweet peas, spinach and other tasty greens. Our programs have become increasingly more popular; to be able to provide programs to as many schools and children as possible we will need more volunteers to help us. If you would like to work with children on the farm and in school gardens; have an interest in children, gardening, teaching where food comes from, or an enthusiasm for cooking and eating fresh, healthy meals we'd love to share more information with you about being a RVF2S volunteer. We are extremely grateful to everyone who has volunteered their time to work in the gardens and provide teaching assistance for our programs.
We have a couple of exciting volunteer training events planned that we hope will make volunteering more fun for everyone! On Saturday, April 2nd we are partnering with the Ashland Food Coop to offer a half-day training specific to teaching kids in the kitchen. Topics covered will include knife skills, food safety, recipe creation, and nutrition fun-facts. If you are interested in leading cooking activities during our on-farm Harvest Meals, this is the training for you!
On Saturday, April 9th we will be offering another volunteer training specific to farm field trip activities. Volunteers will receive an orientation and overview of what to expect during farm programs, and get acquainted with our lessons and activities.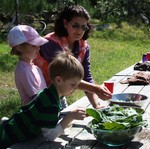 Farm programs in the spring and fall are primarily scheduled Tuesday - Friday from 9:30-1:00 at our three farm sites in Ashland, Medford and Talent. There are also after school programs at Dunbar Farms in Medford on Wednesdays and Fridays in April and May. We also offer summer camp programs.
RVF2S is always looking for ways to reach individuals who would be interested in volunteering their time to help with educational activities. If you are a part of a community group, club, or other organization that many have members who would be interested in learning more about RVF2S, let us know. We have a short 10-minute presentation that we would be happy to bring to your next meeting.
If you are interested in volunteering with RVF2S, and attending one or both of our training events, please contact Sarah Tumpane 541-482-2424.