Before the year is over RVF2S needs to raise funds to meet our budget goals.


Y o u c a n h e l p !
Please make a gift at whatever level you can and support RVF2S programs, empowering people all over the Rogue Valley to know where their food comes from and to take care of the environment.
Community support is the key to our successful programs. You make the difference, please

share with us in owning the accomplishments of Rogue Valley Farm to School.
We would really like to grow our recurring gift option as a little ground in which we can plant with certainty each month! Making a recurring donation is an easy way to give that allows more of each dollar to directly benefit our programs. This option allows you to give as little as $5 per month, you may increase, decrease or suspend your gift at any time.
It is so nice to have enthusiasm for our programs expressed in all the ways you all do,
thank you!

RVF2S is a non-profit organization and all donations are tax deductible.
---
Give the gift of Farm Education!
When you purchase RVF2S clothing & gear, you support our programs and the recipient of the mug, t shirt or hoodies knows you care about RVF2S.
RVF2S & SC GEAR
is avaiable through
our website or by email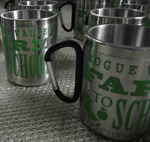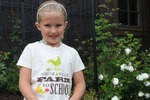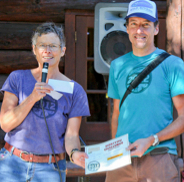 ---
RVF2S Wish Lists
If you have any of the following that you could donate to our organization, we'd sure appreciate it and be happy to provide you with a receipt for tax purposes. Used or hand-me-downs are always welcome. Thank you.
Office Supplies
• Storage shed
• Storage bins • Paper cutter
Garden Supplies
• Hand spades /clippers
• Wheelbarrow/garden carts
• Kids garden gloves
• Pegboard • Rototiller
• Utility sinks • Shovels
Kitchen Supplies
• Aprons • Outdoor tables
• Knife blocks for knife storage
• Propane BBQ with side burner
• Propane hot water heater
• Sturdy harvest baskets
• Tablecloths
• Kitchen cabinets/shelves
• Hand washing sink
---
Tracy Harding, Executive Director
general information
farm to cafeteria
siskiyou challenge
541-488-7884
tracy@rvfarm2school.org
Melina Barker, Education Director
education programs
volunteer coordinator
541-890-7004
melina@rvfarm2school.org
Learn More...
Visit our website
to find out more about RVF2S staff, board of directors and programs.
Hello,
What a great year RVF2S has had! And what exciting plans we have for 2013!
We hope the same is true for all of you!
---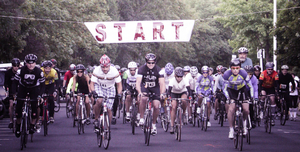 The Siskiyou Challenge is much more than a fundraising event for RVF2S, it is an amazing community building event for all. While we can measure the proceeds, approximately $11,000 - thank you - it is difficult to measure the other important impacts. The increased awareness for RVF2S programs and for the vital relationships between schools, consumers, local businesses, including local farms - are all equally valuable.
Thank you to all the Siskiyou Challenge sponsors, volunteers and participants!
2013 Siskiyou Challenge - September 28th
photo credit: George Rubaloff
---
U P C O M I N G E V E N T S
2013 Siskiyou FilmFest
February 8th & 9th
Performing Arts Center at the Grants Pass High School
RVF2S will be hosting
KidFest on Saturday at 11am
featuring environmental shorts for families!

The Siskiyou FilmFest also hosts a youth filmmaking contest,
see the web for details soon.
---
New Sammy's Dinner
Sunday, February 24th

The 5th Annual fundraising dinner to feed RVF2S programs!

Reservations 541-535-2779 ~ more details coming soon!
---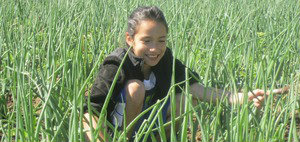 On-Farm Programs - What a beautiful Autumn we've had on the farms! We did not have to cancel any of our Fall programs due to weather – what a treat! We provided 32 Harvest Meals at the four farm sites that host our education programs – Eagle Mill Farm in Ashland, Dunbar Farm in Medford, Rogue Valley Brambles in Talent and White Oak Farm & Education Center in Williams. Children from Kindergarten through 8th grade collected seeds and created seed packets, searched for and identified beneficial insects and pests, cared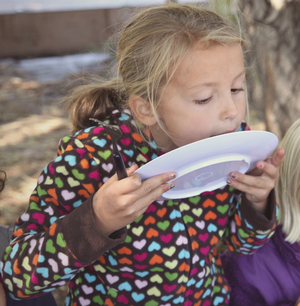 for farm animals, harvested lots of produce, and whipped up scrumptious meals. Some of the dishes enjoyed this season were wood-fired oven baked pizza with farm-grown toppings, creamy pumpkin sage soup, sautéed kale with garlic, oven-roasted delicata squash, and all sorts of salads.
For the younger learners, we hosted 34 Pumpkin Tours at Eagle Mill Farm in Ashland. Many of the groups participating in these tours were Head Start preschools. We had a bumper crop of pumpkins this year – from preschooler-size pie pumpkins to giant Jack O' Lanterns. It's safe to say that every child who came got his or her pick! Following this successful season, we've already started booking classes for next Spring.
---
Spring is Just Around the Corner
RVF2S will offer Harvest Meals again this Spring at farms in Ashland, Talent, Medford, and Williams. Hundreds of students will visit these farms with their class to learn about where their food comes from and to develop relationships with a local farms. RVF2S always needs help from community members interested in teaching kids about farming and healthy food preparation.