Rain is grace; rain is the sky descending to the earth; without rain, there would be no life.
John Updike
---
Organically Grown Company
has teamed up with northwest orchards, retailers and YOU to help fund Farm to School efforts in the communities where we live and do business. When you buy Farm to School Fuji Apples at these local businesses, Rogue Valley Farm to School benefits and puts the funds into on-farm environmental and nutriton education in Jackson & Josephine counties.
---
Community support is the key to our successful programs. You make the difference, please

share with us in owning the accomplishments of Rogue Valley Farm to School.
We would really like to grow our recurring gift option as a little ground in which we can plant with certainty each month! Making a recurring donation is an easy way to give that allows more of each dollar to directly benefit our programs. This option allows you to give as little as $5 per month, you may increase, decrease or suspend your gift at any time.
It is so nice to have enthusiasm for our programs expressed in all the ways you all do,
thank you!

RVF2S is a non-profit organization and all donations are tax deductible.
---
RVF2S Wish Lists
If you have any of the following that you could donate to our organization, we'd sure appreciate it and be happy to provide you with a receipt for tax purposes. Used or hand-me-downs are always welcome. Thank you.
Office Supplies
• Storage bins • Paper cutter
• Easel • Presentation board
Garden Supplies
• Rototiller • Shovels
• Hand spades /clippers
• Wheelbarrow/garden carts
• Kids garden gloves
• Utility sinks • Pegboard
Kitchen Supplies
• Outdoor tables
• Knife blocks for knife storage
• Propane BBQ with side burner
• Propane hot water heater
• Sturdy harvest baskets
• Tablecloths
• Kitchen cabinets/shelves
• Hand washing sink
---
Tracy Harding, Executive Director
general information
development
farm to cafeteria
siskiyou challenge
541-488-7884
tracy@rvfarm2school.org

Melina Barker, Program Director
education programs
school gardens
volunteer coordinator
541-890-7004
melina@rvfarm2school.org

Learn More...
Visit our website to find out more about RVF2S staff, board of directors and programs.
Greetings,
Winter is just as busy as every other season for RVF2S. We have added a winter program we'l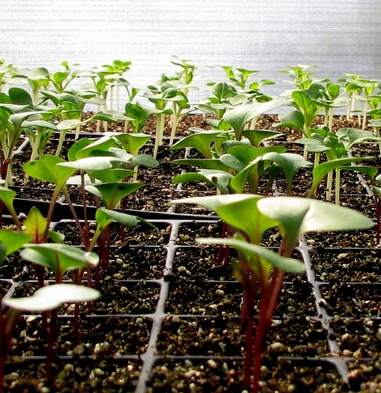 l tell you more about below and we are happily preparing for spring on-farm and garden programs. We have a several exciting invitations to extend. We hope that all our plans include you and rain gear.
---
RVF2S Spring Volunteer Training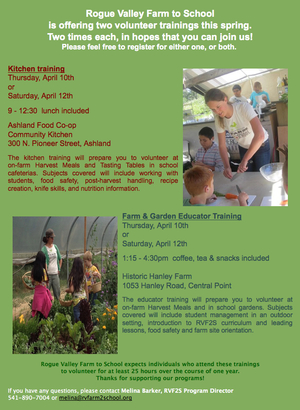 If you have questions about the trainings, let us know.
---
With this wonderful annual event,
we celebrate RVF2S's sixth year of on- farm,
school garden and cafeteria programs.
It is all pretty exciting!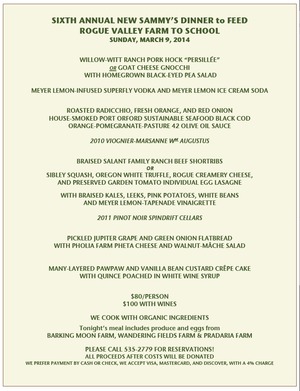 ---
Yoga for a good cause!
Twice a week, for two great organizations!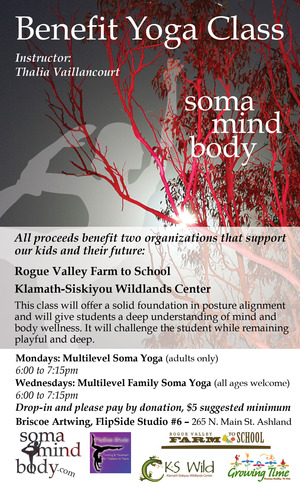 ---
Native American Ecological
Education Symposium &
the Farm to School Movement
April 24 – 26th


SOU Stevenson Union, Arena, lower level
Caitlin Mezger-Sieg, Anthropology and Native American Studies undergraduate at SOU, will be presenting about Rogue Valley Farm to School, and how Native American communities are implementing Farm to School programs nation wide as a way to strengthen food systems in their communities, improve health and nutrition, and build food security.
More information
---
You are invited to participate!
RVF2S Volunteers Requested for
Farm to School Research Project
Rogue Valley Farm to School is fortunate to be chosen by Southern Oregon University to conduct research regarding the impact our programs have on students, families, volunteers and staff. Research such as this provides us with valuable information about what our programs are, or are not accomplishing and help to guide improvements in our programs. This information is also a valuable tool as we work to secure funding for our programs. The primary purpose of this research is to understand what effects Rogue Valley Farm to School programs have on those we reach as it relates to food culture in the Rogue Valley.
Caitlin Mezger-Sieg and Dr. Vincent Smith, Ph.D, would like to conduct interviews with students, parents, staff and volunteers who participate in our programs. The SOU Internal Review Board (IRB) has approved this research and confidentiality will be respected.
If you are willing to participate in this study, or have any additional questions about the purpose of this research, please contact Caitlin Mezger-Sieg: 415-328-8943 caitlingms@gmail.com
Thank you for considering participating.
---
RVF2S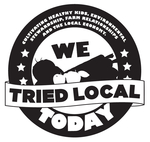 Tasting Tables
Building healthy eating habits one bite at a time!
This winter RVF2S launched a new program to help increase student appreciation for fresh, local fruits and vegetables. RVF2S staff and volunteers are visiting 8 elementary school cafeterias in Ashland and Central Point each month, offering small samples of a local, seasonal fruit or vegetable, prepared a few ways. In January the Tasting Tables featured carrots; prepared as a warm soup and a raw salad. Students then have the opportunity to taste the samples and place a marker in one of three jars, "I tried it" "I liked it" or "I loved it". Recipes and nutrition facts are available for students to take home and share with their families. And curriculum is provided to teachers so they can further the impacts of the tastings by adding information in their classrooms. Research says that it takes 10-12 "exposures" to a new food before a child accepts it. At RVF2S, we work to expose kids to foods through growing, cooking and eating new things. Tasting Tables are a great way to offer another exposure for students.
If you are interested in volunteering at a Tasting Table, please let us know.
Ashland Food Co-op
has invited RVF2S to offer a
Tasting Tables experience in the store!
Join us on February 11th, from 4 - 6pm
at the Co-op's Culinary Kiosk to sample some local food and learn more about our programs.