Community support is the key to our successful programs. You make the difference, please

share with us in owning the accomplishments of Rogue Valley Farm to School.
We would really like to grow our recurring gift option as a little ground in which we can plant with certainty each month! Making a recurring donation is an easy way to give that allows more of each dollar to directly benefit our programs. This option allows you to give as little as $5 per month, you may increase, decrease or suspend your gift at any time.
It is so nice to have enthusiasm for our programs expressed in all the ways you all do,
thank you!

RVF2S is a non-profit organization and all donations are tax deductible.
---
Give the gift of Farm Education!
When you purchase RVF2S clothing & gear, you support our programs and the recipient of the mug, t shirt or hoodies knows you care about RVF2S.
RVF2S & SC GEAR
is avaiable through
our website or by email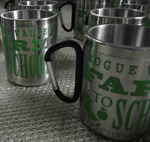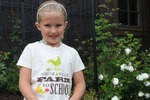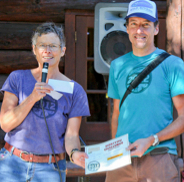 ---
RVF2S Wish Lists
If you have any of the following that you could donate to our organization, we'd sure appreciate it and be happy to provide you with a receipt for tax purposes. Used or hand-me-downs are always welcome. Thank you.
Office Supplies
• Storage shed
• Storage bins • Paper cutter
Garden Supplies
• Hand spades /clippers
• Wheelbarrow/garden carts
• Kids garden gloves
• Pegboard • Rototiller
• Utility sinks • Shovels
Kitchen Supplies
• Aprons • Outdoor tables
• Knife blocks for knife storage
• Propane BBQ with side burner
• Propane hot water heater
• Sturdy harvest baskets
• Tablecloths
• Kitchen cabinets/shelves
• Hand washing sink
---
Climate change is undoubtedly impacting Punxsutawney Phil's ability to accurately predict the weather. Here is a fun way to engage in an action that speaks to our elected officials about our climate concerns. Join us to make sure Phil's job doesn't become obsolete .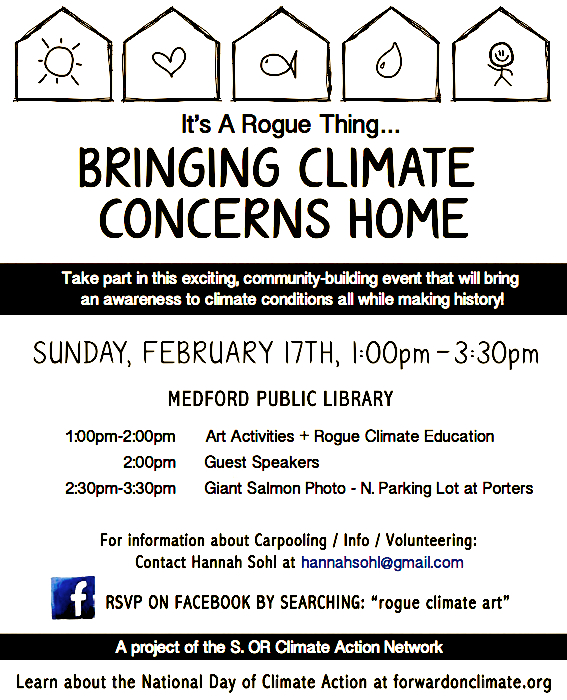 ---
Tracy Harding, Executive Director
general information
farm to cafeteria
siskiyou challenge
541-488-7884
tracy@rvfarm2school.org

Melina Barker, Education Director
education programs
volunteer coordinator
541-890-7004
melina@rvfarm2school.org

Learn More...
Visit our website to find out more about RVF2S staff, board of directors and programs.
Hello,
Tomorrow's folklore spawned holiday is just one of the excitement sparking spring happenings we start to crave this time of year. Our huge list of upcoming events is another indicator that spring is on the way! Winter is such a lovely restorative season for the people and the planet, join us as we step toward the changing seasons for some cheer on our way back to on-farm and school garden programs!
---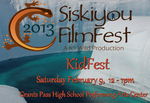 RVF2S is pleased to be hosting KidFest, a FREE children's film hour, featuring short documentaries and award winning films from young filmmakers. KidFest films
KidFest - Saturday February 9th @ noon
Grants Pass High School Performing Arts Center
KidFest and the main event, the Siskiyou FilmFest, are a KSWild production. This year celebrating 11 years of sharing films about real people creating solutions to today's environmental challenges on a local and global scale.
Free previews screenings in Medford, Ashland, Grants Pass and Cave Junction. FilmFest schedule
---
5th Annual New Sammy's
Dinner to Feed
Rogue Valley Farm to School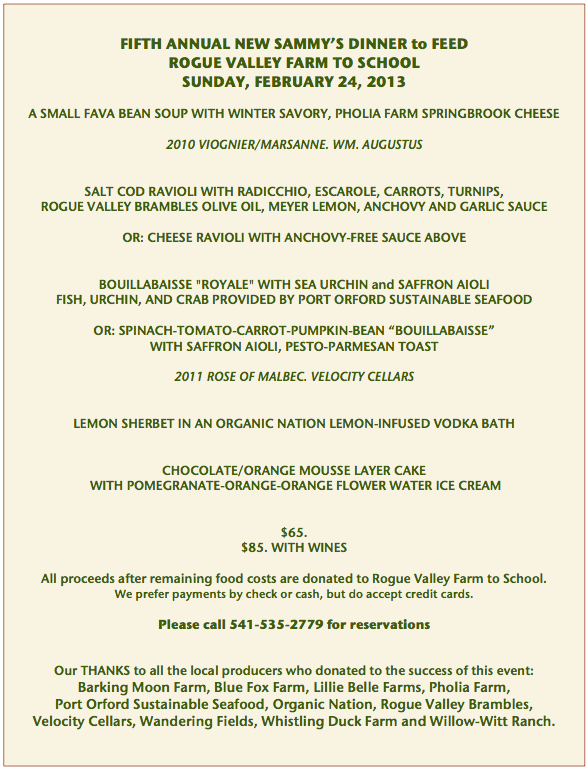 Our THANKS to New Sammy's & all the local producers who donate to the success of this event: Barking Moon Farm, Blue Fox Farm, Lillie Belle Farms, Pholia Farm, Port Orford Sustainable Seafood, Organic Nation, Rogue Valley Brambles, Velocity Cellars, Wandering Fields, Whistling Duck Farm and Willow-Witt Ranch.
And to everyone who partakes in this fabulous event!
Please call 541-535-2779 for reservations
Click here or image above to see the menu!
---
Spring is Just Around the Corner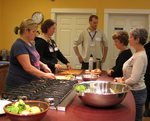 RVF2S depends on help from community members interested in teaching kids about growing and preparing
healthy food
.
We will host a volunteer training on APRIL 13th, please save the date, we would love to have you on our crew.
Let us know if you would like to get involved!
---
Come one, come all, to the first
Living Rogue Community Dinner
Saturday, March 9th
4 -10 pm
Bellview Grange, 1044 Tolman Creek Road in Ashland
The purpose of these quarterly dinners is to promote a lifestyle which supports local farmers, helps enhance local food security, and creates an ever greater experience of abundance and sense of community in our region.

Tickets are $20 or $35/pair
Tickets purchased in advance are discounted $5

Tickets are available online, at RVF2S @ 223 5th Street or at Vitalist School of Herbology @ 340 A Street #7

This event is sponsored by Rogue Produce, and all of the proceeds of the event will be donated to
Rogue Valley Farm to School!



---

It's All Good in the Serpent's Hood



ShivaRatri All Night Chanting Event 
& Fundraiser for Rogue Valley Farm to School




Saturday, March 9th beginning at 9pm  




11 hours of call-and-response singing, the night of Maha ShivaRatri




when millions of people are chanting to Lord Shiva in India.



At OASIS, A Healing Arts Sanctuary & Community Gathering Place, 258 A Street, Upper Level, Ashland





Shiva represents Destruction of unhealthy attachments, desires, patterns & the Transformation that allows for the emergence/creation of Inner Bliss, Non-Attachment, and Peace.



Featuring Krsna Deva, Beloved & The Pure Love Band, Andy Bayliss, Ken Abbott, Amma's Ashland Satsang, and other kirtan artists!



Chant with us all night, or join us for the evening and/or morning hours.



$8-$28(+) cash donation at the door.

Contact: Teja Shankara, teja@yogini-bliss.com

, 541-488-4523