If you are receiving this newsletter, you have either volunteered with RVF2S or have expressed interest in joining our team of volunteers. You can easily unsubscribe from this list at the bottom of the page.
Rogue Valley Farm to School had a wonderfully successful fall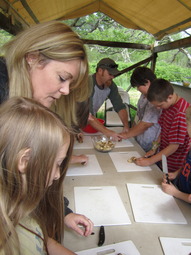 season, offering 25 classes of k-8th graders opportunities to visit a local farm and learn about where their food comes from, the importance of local agriculture, and the skills to grow and prepare their own healthy meals. We are so very grateful for all the help we received this fall from community members volunteering their time to help lead our educational programs. If you volunteered with us this past fall (or the spring before) please take some time to respond to our
volunteer survey
so that we can continue to improve our programs and the overall experience of our volunteers!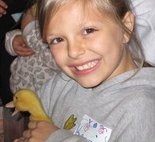 Now is the time of year that we at RVF2S retreat to the office to write grants, plan programs, and spend some time with our families. We are already scheduling classes for spring Harvest Meals and making plans to lead after school garden clubs in Talent and Medford starting in March. We are also looking for more community members and students such as yourselves who would be interested in volunteering with RVF2S. If you know of anyone who you think would be interested in becoming a RVF2S volunteer,
please forward this email
or send us their email address. Also, if you have ideas of where we might go to reach interested individuals who are potential volunteers, please let us know.
We are happy to announce that our
volunteer calendar
is finally up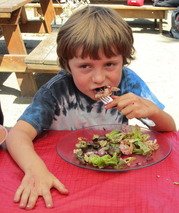 and in working condition. Simply visit the calendar to view when classes are scheduled for Harvest Meal farm visits and then send me (Melina Barker) an
email
and let me know what days you are available. I will update the calendar so that you can double check when you are scheduled to volunteer and see what days are well staffed, and what days are still in need of help. In general we need 3 or 4 volunteers for each Harvest Meal to run smoothly.
After each season of educational programs RVF2S sends out evaluation surveys to all the teachers who participated in a Harvest Meal experience. This year we received some wonderful feedback not only about our programs, but about our volunteers as well!
Here's what a few teachers had to say:
" I honestly thought everything worked great! I was totally impressed with each station and the kids still can't stop talking about their trip!"
"We enjoyed it all, and it all tied in to our curriculum in some way."
"All the activities were well led, organized and really involved the kids."
"My science (cycles) was addressed so much better than I could do it in the classroom. The children are still talking about the animals at Brambles and they think making pizza on the farm was one of the best experiences they've had."
"The students gained the concept of where food comes from and that so many things can be bought locally. The nutrition rotation got them thinking about what they are eating. They don't bug me anymore when I have them put something away for not being a healthy snack."
"This allowed my kids to make connections between other units and lessons. It made abstract ideas more concrete"