Dojang News and Events
Taekwondo in Tuscany...
TRAINING UNDER THE
TUSCAN SKY...
Fourteen Chosun Students spent one glorious week training and touring the Tuscan countryside. They were treated to genuine Italian hospitality at the Villa Fiona, owned and operated by the family of Chosun student, Gino Conti. Students gathered in the mornings with Grandmaster Cook for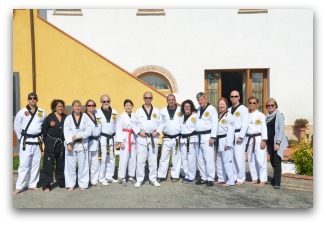 taekwondo training on the hard terrazzo floors in the villa or outside surrounded by olive orchards and vineyards. Meditation sessions were led by Chosun student, Hal Pyke, Qigong with Instructor Jake Garrett and yoga with Patty Cook. Afternoons included excursions to see the leaning tower of Pisa, the walled village of Lucca and medieval city of Sienna. One special day was spent in the picturesque region of Cinque Terre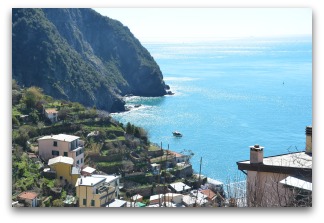 soaking in the sun and the incredible vistas along the Mediterranean. Florence, the cultural capital of Europe was a highlight of the itinerary and of course a visit to a local vineyard! Many THANKS to Gino and his "bella familia" and all those who made this
trip so special!
Ciao!
Click the top image for more photos
---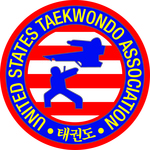 USTA NEWS
United States Taekwondo Association Poomsae Seminar
On Sunday, March 4th
, 2018, the United States Taekwondo Association, established in 1980, hosted its first sanctioned seminar without the oversight of its founder, martial arts-legend, Grandmaster Richard Chun.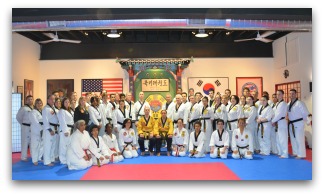 Taught by Grandmaster Pablo Alejandro, 8
th
dan, and Grandmaster Doug Cook, 7th dan, the event was deemed a success by the fifty-eight attendees representing seven schools throughout the tristate area.
Still, the hole in our universe scooped out by the recent passing of our teacher and mentor, was palpable.
So, with hearts not yet healed from our loss, Grandmasters Alejandro and Cook attempted to lead the group on an enlightening journey through the creation, philosophy and performance of traditional Moo Duk Kwan Taekwondo poomsae.
Grandmaster Cook's intention was to validate the juxtaposition between the older Pyung –Ahn (Pinan, Heian) hyung created in Okinawa at the turn of the nineteenth century by Anko Itosu, and the more recent Palgwe set fashioned in 1965-67 by the Korea Taekwondo Association. Likewise, Grandmaster Alejandro's mission was to solidify the standards, through performance, set forth in Tae Kwon Do Black Belt Poomsae: Original Koryo & Koryo – a reference book authored by Grandmasters Chun and Cook- as they relate to Original Koryo, the primordial poomsae preserved and cultivated by Chun Kwanjangnim and Grandmaster Pyung Soo Kim of Texas.
The United States Taekwondo Association 2018 Poomsae Seminar was but the first chapter in what will be a long and unbroken book, written by sturdy links in the great chain of martial arts wisdom, soon to be followed by many more events of its kind in support of our membership and the good deeds and actions of its founder, Grandmaster Richard Chun.
To participate in future USTA events, or to explore the many benefits of membership worldwide as an individual, affiliate school, or to potentially serve in an official capacity, visit us at
www.ustaweb.com.
Read the entire article by Grandmaster Cook in the April issue of Totally Taekwondo Magazine
Subscribe at:
www.totallytkd.com
Click above image for more photos...
---
Visit our website at: www.ustaweb.com
to view upcoming events, articles, and information regarding the USTA.
"LIKE" the NEW USTA Facebook page!

---
Grandmaster Doug Cook appointed President of the United States Taekwondo Association
as seen in the Warwick Advertiser...
November 24, 2017
Grandmaster Doug Cook, 7th degree black belt and owner of the Chosun Taekwondo Academy located on Galloway Road in Warwick, was recently named president and CEO of the United States Taekwondo Association, a national organization whose mission it is to "promote the traditional and evolving art of taekwondo."

Founded in 1980 by martial arts pioneer Grandmaster Richard Chun, Cook was appointed by the grandmaster to succeed him shortly before his passing on Nov. 15, 2017.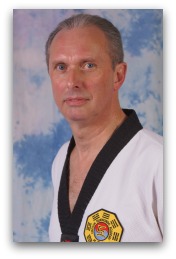 The USTA provides professional guidance in establishing national standards for technical practice and competition, testing, and accreditation for its many members.

It also assists in organizing curricula for affiliate schools and offers services in web design and social media marketing.

Additionally, the organization oversees tournaments, hosts seminars, arranges training tours to South Korea and provides testing and legitimate accreditation of black belts through the Kukkiwon in Seoul, South Korea.

"While I am honored beyond measure to accept this esteemed post, it comes at great cost with the death of my mentor and master," Cook said in the press release announcing his selection. "Grandmaster Chun was like a father to me in many ways and I will miss him dearly with all my heart."
---
Yoga News
Every week we focus on a different aspect of our yoga practice... on the mat and off..
Stay tuned for weekly inspirational emails and a glimpse of what we are doing in class...
see you on the mat!
Tuesdays 9:30am
Thursdays 9:30am
Saturdays 9:30am
First Class is FREE! Beginners Welcome!
Want to receive a weekly email about what we are doing in class?
Contact us at: info@chosuntkd.com with yoga email in the subject line
---
Important Announcements
Check the Chosun website under

LATEST NEWS

on the homepage for holiday and weather related closures.

New Winter/Spring 2018 Schedule
ATTENTION CHOSUN STUDENTS:
MARK YOUR CALENDARS NOW!
2018 Test Dates:
Sundays:
May 20th
August 19th
November 4th
Please take note:
All tests will continue to be held at the
Warwick Town Hall
132 Kings Highway
Warwick, NY 10990
Write a review of Chosun!
Has your taekwondo training at Chosun made a positive impact on your life? Why not consider writing a review about Chosun on the Chosun google page and/or yelp.com. We are truly grateful to you for your endorsements!
---
NEW CLASS
Thursdays 11:15 am
All Belts Review Class
Teen/Adults
---
Mrs. Pyke Eats Korea
...an oldie but goodie from Mrs. Pyke...
Mandu Guk
I was inspired to make Mandu Guk during that amazing snow storm we had in March. A great day to be homebound baking banana bread and cooking up some Guk!! Mandu Guk is a lovely beef broth made with garlic, brisket or sirloin and of course Mandu, Korean dumplings. Any frozen dumpling from the Korean Market will do. There are so many to choose from, Shrimp, Pork,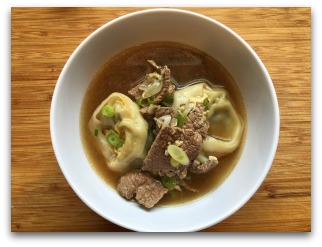 Kimchi and Vegetable. It just so happened I had a bag of Vegetable Dumplings my Taekwondo friends the Cirillos surprised me with! The soup was so satisfying and the dumplings were so filling. The Mandu Guk warmed my body and soul, just the way Taekwondo and the physical space of the Dojang does. Being a part of Chosun has led me to meet some wonderful people. I often think to myself that I never would have met Pam il, Mary Sudul, Master Wiggins or my Taekwondo husband John Surace!! I so value all who I train with every day. We support each other in such an intimate and profound way. It's a blessing to be on this journey with all of you.
So not only does good hard training bring us together, so does good Korean food! Take your practice a little deeper and explore the cuisine of Korea. You will not be disappointed. Goggle this article from Saveur magazine …Bridge to Banchan: NJ's Koreatown is where to get the Good Stuff. An excellent source for going down to Fort Lee, NJ and dining in some amazing Korean restaurants.
Here's my recipe for Mandu Guk.
¾lb Beef Brisket or Sirloin, sliced in thin bite size pieces
10 cups water
4 cloves of minced garlic or more if you like
1 bunch of scallions sliced
14 frozen Dumplings
2T Fish Sauce
1-2T soy sauce or more to taste
1 beaten egg
2 t sesame oil
1t ground black pepper to taste

Bring 10 coups of water to a boil. Add the garlic and the beef. Cover and turn heat to medium. Simmer for 30-40 minutes till beef is tender. Add 14 dumplings and turn heat to medium high. Cook until the dumplings start to float, 10-12 minutes for frozen dumplings. If you are blessed to have fresh dumplings cook for 7 minutes. Add fish sauce, soy sauce and scallions. Cook for 1 minute. Pour the beaten egg into the soup and let cook for 20 seconds. Stir gently. Add sesame oil and black pepper.
Serve immediately with a side of Kimchi.
A new website on YouTube about Korean Cooking is called: Anyone Can Make.
Just a quick tip….I found another web site that I love. TriFood.com. This site is about educating people about Korean food. Check it out.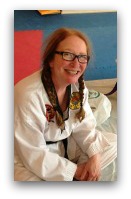 When it comes to researching Korean cuisine I follow two amazing Korean women who have shared their love of good home cooked Hansik (Korean food). Go to YouTube
and check out maangchi.com and omma's kitchen.com

We would love to hear from you... send comments or questions to chosuntkd@yahoo.com
---
Chosun Ch
atter
April Birthdays:
Suyash Srivastava, Pamela Pyke, Kyle Gutierrez, Alex Pack, Michele Radakovits, Christopher Longo, Rosa Cirillo, Cherie Durgin, Sean Luhavalja, Abigiya Bekele- Arcuri, Milo Shaw-Smith and Maria Klyshko
Welcome New Students:
Joseph Heintz, Charles Heintz, Cole Rodriguez, Anthony Peconie, and Kolton Roe,
---
Do you need a CHOSUN patch sewn on your dobok but lack sewing skills?
You are in luck!!!
Master Eleanor Pyke is offering her expert sewing services to CHOSUN families.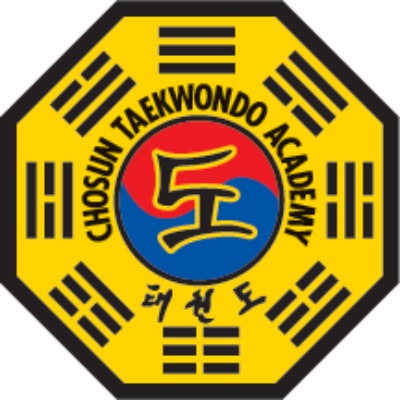 She charges $5.00 per patch and you can contact her or Mrs. Pyke at the dojang.
---
Chosun Introductory Offer
Interested in Traditional Taekwondo training
at Chosun?
Take advantage of our Basic Training Package: $29 for one month of training/includes the uniform


MAKES A GREAT GIFT!
---
Do you have any news that you would like to share with Chosun students? Submit your news to Chosun Chatter: chosuntkd@yahoo.com
Space limited
Send submissions for the Chosun e-newsletter to chosuntkd@yahoo.com Deadline for the May, 2018 newsletter is 4/25/2018
On the Horizon
Chosun Bi-Annual Black Belt Test


Saturday April 14, 2018
12:00 pm
Chosun Taekwondo Academy
---
ICHF Hapkido Seminar
with Grandmaster John Pellegrini


NOT TOO LATE TO ATTEND... REGISTER AT THE SCHOOL ASAP!


Saturday April 7, 2018
Red Hook Martial Arts Academy
42 Firehouse Lane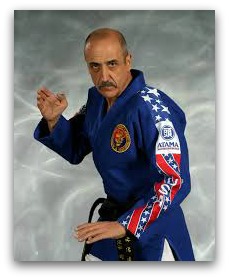 Red Hook, NY 12571
10:00am - 4:00pm
The accomplishments of Grandmaster John Pellegrini are too diverse to list www.dsihq.com/biography. He is recognized as the preeminent leader of Combat Hapkido within the borders of the United States. DO NOT pass up this opportunity to take advantage of a full afternoon of focused training in effective self-defense, through the use of Ki energy, with this true master of the art.
Lunch included
Register at the Chosun dojang - front desk
Happy Birthday Taekwondo!!!
APRIL 11, 1955
...coining of the name Taekwondo.
The 63nd birthday of Taekwondo is rapidly approaching. We will be celebrating in our own way with traditional poomsae practice, basic skills and refreshments at the dojang during all classes on Wednesday April 11, 2018.
See you there!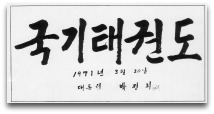 ---
HAPPENING IN JULY, 2019!
Korea Training & Cultural Tour
2019 Chosun Taekwondo Academy Korea Training & Cultural Tour
ALLOW YOUR TAEKWONDO DREAM TO BECOME A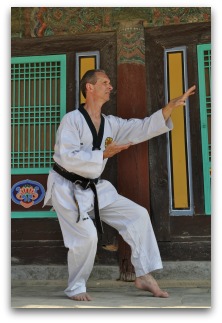 REALITY...Join us for the 2019 Chosun Taekwondo Academy Korea Training & Cultural Tour. Begin planning now for July 2019.
Visit and train at world famous dojangs, the Kukkiwon, universities and ancient temples located high in the mist-covered mountains. Our itinerary also includes a visit the stunning volcanic Jeju island. Sample many unique delicacies and the rich culture of Korea.... homeland of taekwondo.
Dates and details to be announced

Cost includes round-trip airfare, lodging, all meals, training and sightseeing fees, and English-speaking guide
Call (845) 986-2288 or email us at chosuntkd@yahoo.com for detailed information.

Actions speak louder than dreams. Only you can make yours come true.
Click image above for 2014 Korea Tour retrospective
---
Totally Taekwondo Magazine




Special Edition


Master Doug Cook
comments from...
Stuart Anslow, author and publisher of Totally Tae Kwon Do Magazine
"Master Doug Cook's work in Totally Tae Kwon Do first appeared in 2009. By then he had already published three books about the Korean martial art...Master Cook's loyalty and commitment to his teacher ,Grandmaster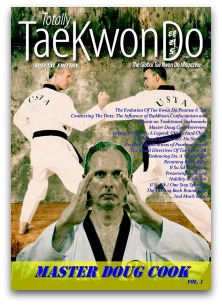 Richard Chun and the principles of Do have never strayed, and a small sampling of his work collected here in a single issue for the first time, confirms his resolve.
There are seven Special Editions due to come out, the first four of which feature some of our most prolific and loved writers, with the next three featuring all the interviews and profile features we have run
since 2009.
All Special Editions are double sized issues, but not double priced - each is over 200 pages long and will be available via the Totally Tae Kwon Do magazine website:"
www.totallytkd.com
---
Chosun Student of the Month
February 2018
Anthony Pellegrini Jr.
Anthony is 15 years old and was born in Warwick NY. He currently attends and is an Honor student and a member of the cross country team at S.S. Seward Institute in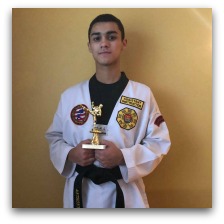 Florida, NY. He has a love for history in school and at the dojang. This is one of the reasons he loves Chosun, in addition to the excellent self defense instruction he has been learning, he also enjoys the history and purpose of the art of taekwondo. Anthony is also on the leadership team, and recently has been given the opportunity to be an assistant instructor at Chosun and now hopes to one day be given the opportunity to be an instructor . He has been training in taekwondo since he was 6 years old and holds the rank of second Dan and on target for third Dan this year.
He is also currently volunteering as a cadet in the Orange County Explorer Program , with aspirations of one day going into law enforcement , and following in his parents foot steps.
Leadership Team News
Making a difference in our community
The Chosun Leadership Team held it's first organizational meeting of the season and are looking forward to a productive year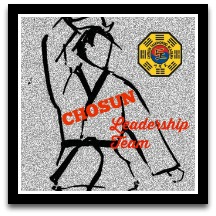 of community service, including anot
her Applebee's fundraiser and the Ann
ual Book & Bake Sale to benefit the Warwick Lion's Club Holiday Event for Community Children in Need.
Team members, Eleanor
, Pyke, Dylan Parkinson and Timothy Leonard will each be individually teaching leadership team classes in the next few months, which is a new and exciting feature for the team.
Read an article about the Chosun Leadership Team's holiday outreach activities in the
Warwick Advertiser:
Chosun Taekwondo Academy Increases Efforts to Serve Community
The Chosun Leadership Team has it's own FACEBOOK PAGE!!!


---
Chosun in the Media
April, 2018 #110 A Link to the Past... USTA 2018 Poomsae Seminar, by Grandmaster Doug Cook page 11
Subscribe at: www.totallytkd.com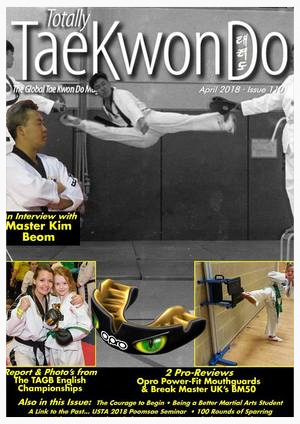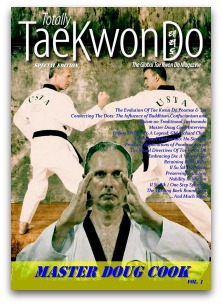 Totally Taekwondo News
Master Cook - Special Edition
"A small sampling of Master Cook's work is collected here in a single issue for the first time. "
Stuart Anslow

Subscribe to read articles
Missed an article? Go the the Chosun Blog for past articles by Master Cook
---
Chosun news events in local publications:
Warwick Advertiser

December 13, 2017
Chosun Taekwondo Academy celebrates
20th anniversary

November 24, 2017
Grandmaster Doug Cook appointed president of United States Taekwondo Association
September 29, 2017
Chosun Taekwondo Academy hosts its annual charity book and bake sale
July 24, 2017
Chosun Taekwondo Academy students featured in Korean TV documentary
May 9, 2017
Chosun Taekwondo Academy provides women's self-defense course
January 13, 2017
Master Doug Cook awarded 7th degree
black belt
May 4, 2016
Chosun Taekwondo Celebrates Relocation Ceremony
June 20, 2016
Chosun Taekwondo Academy Leadership Team refurbishes local landmark
August 30, 2016
Chosun Taekwondo Academy to host a weekend of charity and education
September 20, 2016
Chosun Taekwondo's annual Book and Bake Sale raises more than $2,300
October 10, 2016
Warwick unites to help kids in need

Times Herald Record
August 23, 2016
Chosun to host open house, book and
bake sale
Chosun Video Channel:
view the 20th Anniversary Chosun Retrospective
View Taegeuk and Palgwe Forms
---
Literary Contributions to the Art of Taekwondo
by Master Doug Cook
YMAA Publications, Inc.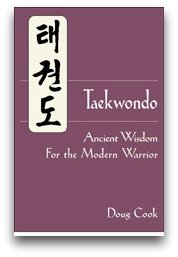 Taekwondo - Ancient Wisdom for the Modern Warrior

"...Cook writes in an easy-to-understand style, which is particularly helpful for analyzing this complex subject. Any practitioner of Taekwondo, from the novice White Belt to the most seasoned Black Belt, should include this book in martial arts training."

Alan J. Couture, forewordmagazine.com

Traditional Taekwondo - Core Techniques,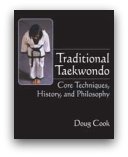 History and Philosophy
ForeWord Magazine Book of the Year finalist

"This is much more than a how-to guide but a book that quenches the thirst a lot of practitioners who prefer their reading material to be a bit meatier. A recommended read for all those interested in scratching beneath the surface of the art of Taekwondo."

Pete Mills, Martial Edge Online, U.K.

also available in Portuguese, Taekwondo by Madras Editora LTDA.

Taekwondo - A Path to Excellence
USA Book News Best Books award finalist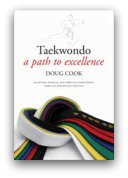 Book of the Year Award Finalist - Foreword Magazine

"Taekwondo - A Path to Excellence is a pick for any library strong in martial arts and spiritual connections. It follows Taekwondo's path and development, drawing connections between the martial arts choices and the Way. From linking movement to harmony and life rhythms to developing traditional and non-traditional strength, this is a far wider-ranging title than just another martial arts survey."

Midwest Book Review - Oregon. WI

Taekwondo Black Belt Pomsae - Original Koryo and Koryo
by Richard Chun and Doug Cook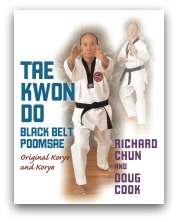 Written specifically for level 1 and level 2 black belt students, this book is a scholarly attempt to capture, transmit and preserve as an inheritance, the historical treasures and technical elements inherent in Original Koryo and Koryo, as well as the applications less obvious or even secretly encoded in these forms. This knowledge will benefit those seeking more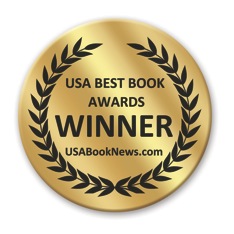 than triumph in the ring or aerobic fulfillment from their taekwondo training.

All books available at booksellers worldwide
e-book format available

Visit Chosun Taekwondo Academy for information or to purchase books by Master Cook.
---
Chosun Affiliate School News
T.P.M Martial Arts
T.P.M. is a traditional taekwondo academy that is owned and operated by Chosun 4th Dan Black Belt Master Arun Salgunan who has over 25 years of experience in the Martial Arts.
T.P.M Martial Arts is located at:
111 Route 6
Milford, PA 18337
(570)296-1726 Cell# (845) 344-7912
tpmmartialarts@gmail.com


Please help us support our Chosun Affiliate School... PASS THE WORD!
---
Forward this message to a friend