Be active. Be connected. Be inspired.


Dear Friend,
What a year! 2016 was such an exciting time for Life Navigators. Our expansion began and we are thrilled to see the progress of the new building. We are thankful for the many new and enhanced partnerships that are making this expansion possible.
Through Life Navigators' services, families are connected to resources, participate in community events and receive help planning for the future. The work of Life Navigators truly matters, and we are grateful for the tremendous support we receive throughout the year to offer the best services possible.
We are excited to see what 2017 has in store as we finalize our new building and prepare to serve 850 more kids and adults with disabilities and their families over the next three years.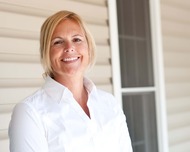 Warm Regards,

Vicki Wachniak
Executive Director

---
Consumer Spotlight: The Opportunity to Travel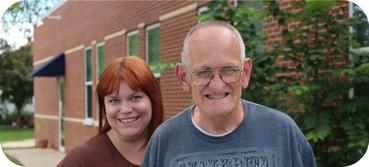 Meet Ron. Ron loves being active and participating in outdoor activities. He is very social and loves spending time with friends. Ron is known for his cheerful personality and often greets friends and strangers alike with a "Hey buddy!".

Ron is a member of the Life Navigators Guardianship Program and enjoys attending our social and community outings. Through the Guardianship Program, Ron works with Lynn, the guardianship coordinator, who ensures his health and safety in the community. Part of Lynn's role at Life Navigators is making sure that Ron has meaningful experiences within the community. Since Ron loves to travel throughout Wisconsin and the neighboring states, Lynn connected him to Going Beyond Travel. This wonderful group
takes Ron on
fishing trips, to dinner theater performances and much more. Being connected to Life Navigators and Going Beyond Travel
has allowed Ron to experience things he never thought possible.
Photo: Ron is pictured with Life Navigators' Guardianship Coordinator Lynn.

---
Expanding our Community Impact

Our new building is coming along. There are many exciting features to highlight, including a new family support room, an expanded kitchen area for consumer events, a toiletries supply drive closet, an accessible parking stall and much more. As the expansion nears completion, please enjoy photos on our
Facebook page
.


Thank you to our many donors and friends who saw the need for the expansion and made it happen. You, too, can be part of this journey by
donating online today
.
Photo: Life Navigators staff members in front of the new entrance.

---
Featured Partnership: Quarles & Brady LLP

Our amazing donors and friends are making our expansion project possible. Thank you to Quarles & Brady LLP for sponsoring our new Toiletries Supply Closet. Quarles & Brady recently hosted staff and consumers for a breakfast where they presented their donation along with eight bins of soap, shampoo and conditioner. Check out our
Facebook video here
to see photos from the breakfast.
Photo: Brian Lanser and Jeff Peelen of Quarles & Brady, Life Navigators Executive Director Vicki Wachniak and Jess Kent of Quarles & Brady.
---
Our Soap, Suds Drive has made a Splash!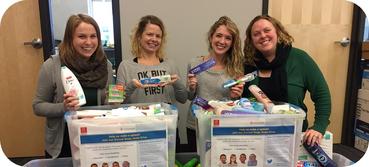 What incredible partnerships! Thanks to our many wonderful community partners, we were able to spread the word about our Soap, Suds Drive throughout the greater Milwaukee community. A special thank you to Boucher Auto Group for providing drop off locations at fifteen area dealerships.
Thank you to the Autism Society of Southeastern Wisconsin, Quarles & Brady LLP,
Brookfield Central High School Key Club and Roosevelt Elementary School for their annual contributions. These long-standing supporters made such a splash. We are also delighted for our new partnerships with WI FACETS and IEWC. Their support will keep kids and adults with disabilities healthy all year long. Check out our Facebook Album of our drive participants.
Photo: Life Navigators Program Coordinators Megan, Joanna, Grace and Crystal with donations from Boucher Auto Group.

---
A Gift for the Holidays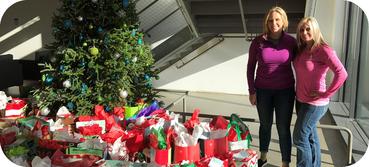 It was all smiles as 150 of our consumers and families received gifts this holiday season through the The Nonprofit Center of Milwaukee's Giving Tree Program.
Our deep appreciation to our sponsors Zywave, Diversified Insurance Solutions, Randstad and Mahler Enterprises for providing these special presents.
Check out our
Facebook Album
to see photos of our consumers enjoying their gifts.
Photo: Zywave employees collected 50 gifts for our consumers.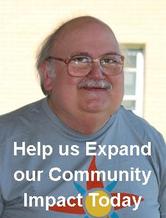 Mark your Calendars for our Upcoming Event!




February 21, 2017:
Volunteer Outing
4:00 p.m. to 6:00 p.m.
(Feeding America Eastern Wisconsin)