Small Business Commission
Upcoming Events
Resources
Hi Reader,
The 2016 Annual Return for Gross Receipts Tax and Payroll Expense Tax is due on February 28, 2017. In order to complete the online filing, you will need the following information:
- Your seven (7) digit Business Account Number
- The last four (4) digits of your Tax Identification Number
- Your eight (8) character Online PIN
The Online PIN is on the Notice to File. If you did not receive the Notice, please confirm whether your mailing address is correct at
www.sftreasurer.org/accountupdate
before completing a PIN Reset request at
www.sftreasurer.org/PINreset
. Please note that you will NOT be able to reset your PIN over the phone or in person and can not file any taxes without your new PIN. If you do not file by the deadline, you will be subject to penalties, interest and fees. Therefore, please verify that you have your Online PIN. If you don't, please submit your request to reset your PIN now.
It is with great sadness to inform you that Urban Solutions, one of the City's non-profit organizations that supports small businesses, has decided to cease operations, effective January 31, 2017. Urban Solutions has been helping small businesses open, grow and thrive in San Francisco for the past twenty-four years. They have helped built better neighborhoods, one business at a time. From home-based industry to retail stores and restaurants, Urban Solutions has helped over 3,000 people start and grow their business while providing thousands of jobs and economic sustainability for families throughout the City. Thank you, Urban Solutions, for your assistance and services to strengthen the underserved neighborhoods by supporting small businesses, job creation, diversity and sustainability.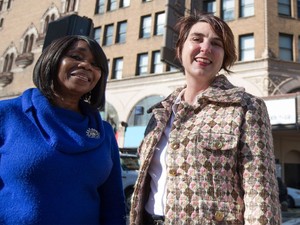 Director of Small Business Services, Helen Branham, (left) and Urban Solutions Executive Director, Lisa Zahner (right).
Sincerely,
Regina Dick-Endrizzi,
Director, Office of Small Business
---
News & Announcements
2016 Gross Receipts & Payroll Expense Tax Annual Return - Due February 28, 2017
Every February the Office of the Treasurer and Tax Collector sends the Notice of Gross Receipts and Payroll Expense Tax Return Filing and Payment. As required by the San Francisco Business and Tax Regulations Code, every person with taxable payroll expense of $150,000 or more, or taxable gross receipts of $500,000 or more in a given tax year are required to file a Return. Lessors of Residential Real Estate also must file a Return if they lease four or more units in a building or have taxable payroll expense of $150,000 or more in a given tax year. Returns must be filed by February 28, 2017 and may be filed online at: http://sftreasurer.org/2016grPY. Taxpayers that do not meet the minimum filing amounts stated above are not required to file an Annual Return and may disregard the notice.

Businesses, Look Out for Form 571-L Business Personal Property Notices
Every February, the Office of the Assessor-Recorder sends reminders to businesses to file their 571-L business property statements. Under the State Constitution, items used in business like furniture, machinery, equipment, fixtures, and supplies etc. are subject to property tax called Business Personal Property or BPP. Filing instructions and details on how to login to file electronically will be on your notice. If you do not receive a notice by the end of February or if you are a new business, please contact the Assessor's Office at 415-554-5531 or via email at askbpp@sfgov.org to get your login information. Workshops on completing the 571-L statement will be held at the Business Personal Property Division at 1155 Market Street, 5th Floor, San Francisco on March 28th from 12:00PM to 1:00PM, and from 4:00PM to 5:00PM. To RSVP for a workshop call 415-554-6952. To learn more about Business Personal Property, please check out this factsheet or visit the website.

SFO Consultant Opportunity - Executive Management Development and Staff Training Services
The San Francisco International Airport Commission is soliciting Statements of Qualifications (SOQs) from qualified firms to create two pools of qualified consultants to assist in the Airport Commission's leadership development and training efforts. Training and leadership development will be provided to senior and mid-level management and supervisory staff, as well as career development support to individual contributors. To view the RFQ and Bid Documents for Contract No. 50119, click here. Statement of Qualifications (SOQs) are due on Wednesday, March 8, 2017 (3PM). For more information contact Project Manager Robertson Erskine at Robertson.erskine@flysfo.com or at (650) 821-3589.

Legacy Business Program
3 Businesses Placed on the Legacy Business Registry in January
In January 2017, the Small Business Commission placed 3 businesses on the Legacy Business Registry: Brownies Hardware, Good Vibrations and Joe's Ice Cream.

The Legacy Business Registry recognizes longstanding, community-serving businesses as valuable cultural assets to the city and provides educational and promotional assistance to encourage their continued viability and success in San Francisco.

5 Businesses Will Be Considered for Inclusion on the Legacy Business Registry in February
On February 13 and February 27, 2016, the Small Business Commission will review a total of 5 businesses for inclusion on the Legacy Business Registry, joining 67 businesses that have already been listed on the Registry. The 5 Legacy Business Registry applications are: FLAX art & design, Real Food Company, Rolo San Francisco, Inc., ArtHaus Gallery and Books Inc.

At least 72 hours prior to the Small Business Commission's meetings, agendas and Legacy Business Registry applications can be found at http://sfosb.org/meetings/10.

For a complete list of the 67 businesses placed on the Legacy Business Registry, please visit http://sfosb.org/legacy-business/registry.
Small Business Commission
Upcoming Small Business Commission Meetings
Please join us at the upcoming Small Business Commission meetings in City Hall, Room 400.

- February 13, 2017 at 5:30 PM
- February 27, 2017 at 2:00 PM

Click here for Meeting Agendas. Attend in-person or watch online with SFGOV TV.

Legislative Updates

Zoning Calle 24 SUD
Scheduled for SBC: 2/13/17
Ordinance amending the Planning Code to create the Calle 24 Special Use District, and revising the Zoning Map to reflect the Calle 24 Special Use District generally bounded by 22nd Street, Potrero Avenue, Cesar Chavez Street, and Capp Street, as well as 24th Street to Bartlett Street. Since May 2014, a series of community meetings, discussions, interviews, and assessments have occurred around the Latino Cultural District concept as well as economic development. The Calle 24 SUD is a collaborative effort between the community, district Supervisor, and Mayor's office. Background briefing on the Calle 24 Special Use District Ordinance.

Improving the Business and Tax Regulation Code for Small Businesses
Treasure Cisneros introduced three ordinances improving the Business and Tax Regulation Code for small businesses. All three were supported by the Small Business Commission and recently passed by the Board of Supervisors.
1) File No. 161225, removes the $100 minimum penalty from one of the penalties for failing to register with the Tax Collector; and to remove the fee and administrative requirements for obtaining a duplicate registration certificate (effective date July 1, 2017)
2) File No: 161226, limits the late fee on unpaid administrative penalties to 40% of the administrative penalty assessed; and modifies the methods by which an administrative citation may be served (effective date: 30 days after enactment approx. March 15, 2017); and
3) File No. 161264 modifies the quarterly filing and payment requirements for payroll expense taxes and gross receipts taxes, to clarify the requirements for obtaining a return filing extension, and to expressly permit taxpayers to apply refunds of the business registration fee, the payroll expense tax, and the gross receipts tax to subsequent tax periods recommended. (effective date: 30 days after enactment approx. March 15, 2017 and apply to all tax periods commencing January 1, 2017 and all pending and future overpayments).


Hearings of Interest

Five-Year Monitoring Report for the Eastern Neighborhoods Plans
Hearing on the Five-Year Monitoring Reports of the Eastern Neighborhoods Plan; and requesting the Planning Department and the Eastern Neighborhoods Citizen Advisory Committee to report.

Federal Budget Cuts to Health Care, Immigration Services, Homeless Services, and Services for the LGBTQ Community
Hearing on the federal budget cuts to health care, immigration services for undocumented San Franciscans, services for the LGBTQ community, homeless services, and cuts to services that have traditionally encouraged the stabilization and progress of protected classes that will be affected by new federal policies from the Trump administration; and requesting the Mayor's Budget Office, the Department of Public Health, the Human Services Agency, the Human Rights Commission, and the Department of Homelessness and Supportive Housing to report.

Neighborhood Crime Prevention Strategy of San Francisco
Hearing to determine a comprehensive, coordinated, and compassionate neighborhood crime prevention strategy for San Francisco, addressing issues including but not limited to robberies, auto break-ins, bike thefts, and vandalism; and requesting the Police Department and District Attorney's Office to report.
Upcoming Events
Additional Classes & Workshops
The City contracts with a number of local non-profits to provide technical assistance, training, loan packaging, and legal services for small businesses. Through this vast network of business support organizations, individuals can access classes, workshops and trainings, and one-on-one assistance on a variety of topics, including business planning, financial management, marketing, human resources, legal services, and more. Below are links to some of these partner organizations for more info on their specific programs and classes.

La Cocina
Legal Services for Entrepreneurs
Mission Economic Development Agency
Renaissance Entrepreneurship Center
San Francisco Small Business Development Center
San Francisco SCORE Chapter
Small Business Administration Calendar of Events
Southeast Asian Community Center
Urban Solutions

Business Spotlight - NEW!
The Business Spotlight is a new feature in our newsletter. Every month, we will feature a small business in San Francisco. In the spotlight for this issue is D'Maize.

Office of Small Business client D'Maize opens its first restaurant at the former Casa Sanchez space at 2778 24th Street in Q2, 2016. The space had long been without a steady business and D'Maize is the perfect fit. D'Maize is owned and operated by husband and wife, Zenaida Merlin and Luis Estrada who first visited the Office of Small Business in 2012 to inquire about starting a catering business. Staff provided information on the requirements for starting a catering business, including information on the caterers permit and food safety certificate, business registration and business name filing requirements, and referred them to non-profit economic development partner organizations MEDA and La Cocina for technical and business assistance.

D'Maize Catering eventually operated in La Cocina's kitchen incubator for three years. In 2015 Zenaida and Luis revisited our office to get information on permitting of a mobile food truck they had purchased. This time staff provided them the necessary information for mobile food facility permitting, and connected clients to the health inspector for approval of their truck. Staff also connected clients to Legal Services for Entrepreneurs and the SBDC to access legal services and an HR consultant respectively to help them understand the rules and responsibilities of becoming an employer since they needed to begin hiring employees for their growing business, and to determine if they should convert to an LLC. In May 2016, Zenaida and Luis opened restaurant D'Maize where they run all their operations out of, and recently, they were approved for a limited live performance permit for their location. For more information visit D'Maize at: dmaize.com. You may also read this article on D'Maize from Mission Local.