Small Business Commission
Upcoming Events
Resources
Ana's Market
105 Broad Street
San Francisco, CA 94112
415-337-9475
Hi Reader,

As the holidays are upon us and the gift-giving season begins, I want to encourage all of you to join us in the Shop & Dine in the 49 Initiative. For the fourth year, Mayor Lee challenged residents to shop and dine within the 49 square miles of San Francisco to support our local small businesses this holiday season and all year long. Take this opportunity to explore a new neighborhood or commercial corridor. Don't forgot to share your San Francisco shopping and dining moments on social media with the hashtag #shopdine49.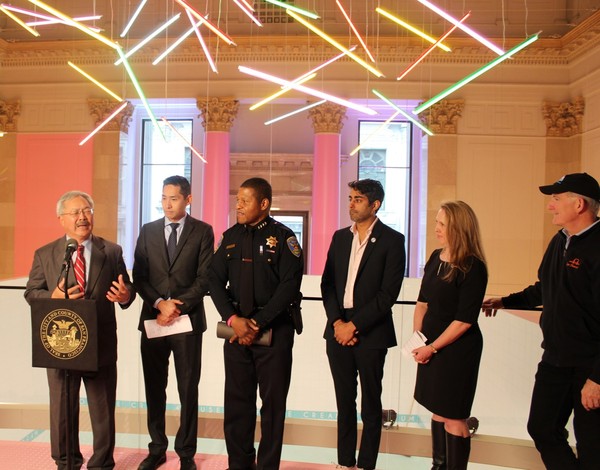 Mayor Edwin Lee along with Todd Rufo, Director of Office of Economic and Workforce Development, and Mark Dwight, President of Small Business Commission, at the press conference to kick off the 4th Annual Shop & Dine in the 49 Initiative in November.
From all of us at the Office of Small Business, we wish you a Happy Holiday and a great New Year!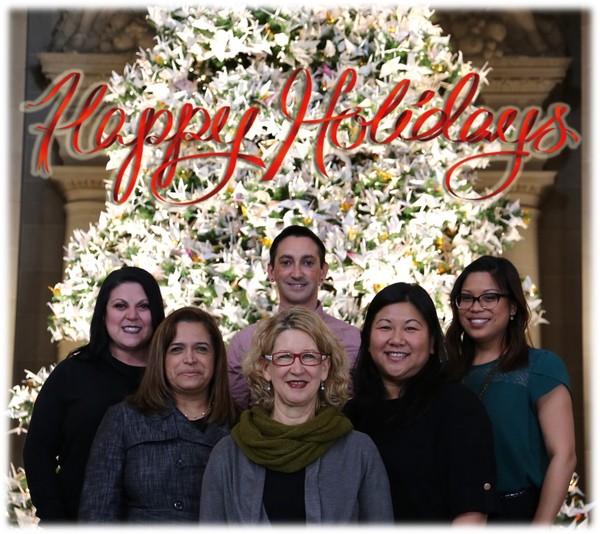 Photograph by Lawrence Liu.
Sincerely,

Regina Dick-Endrizzi,
Director, Office of Small Business
---
News & Announcements
New State Legislations on Employment Practices - Effective January 1, 2018


As you prepare your business for the New Year, it's important to be aware of new legislation that could impact your business come 2018. Visit the 2018 Legislative Updates page on our website for information and how to prepare.


AB 1008: Employment Discrimination: Conviction History
Under the California Fair Employment and Housing Act (FEHA), this bill would repeal the unlawful practice for employers with 5 or more employees to include any questions related to an applicant's conviction history on an employment application. Please note that if you are downloading or purchasing a generic employment application, be sure to cross out any questions and section related to conviction history. Generic employment forms and applications may not be compliant with California and San Francisco regulations, but you can be held liable for violation. To learn more about this legislation, click here.

AB 168: Employers: Salary History Information
This new bill applies to all employers and their agents prohibiting them from seeking salary history information of the applicant. Regardless if it's orally or in writing, directly or indirectly, employers cannot ask and use this information as a factor in determining whether to offer an applicant employment or what salary to offer. Employers are also require to provide pay scale for a position to the applicant upon request. For more information about this bill, click here.

SB 63: California New Parent Leave Act for Small Employers
In addition to the pregnancy disability under California Government Code section 12945, this leave requires California employers with at least 20 employees within 75 miles, to provide up to 12 weeks of unpaid protected leave to employees, who has at least 1,250 hours of service with the employer during the previous 12-month period. Click here to learn more.


​

​The Sugary Drinks Tax - Effective January 1, 2018


The Sugary Drinks Tax is a City general excise tax adopted by the voters in November 2016 on the distribution of sugar-sweetened beverage that could be produced from syrup or powder. Businesses that sell the beverages will not need to adjust their Point of Sale systems, but may need to adjust the shelf price and will pay for the cost increase at the time of payment of invoice from the distributor.

This tax applies to "self-distributors", including retailers who obtain the beverages, syrups, or powders outside the City and bring them into the City themselves. Click here for full details on taxed beverages, compliance requirements and payment schedules.

SBA Announcements

​Julie Clowes, New Director of the SBA's SF District Office
The U.S. Small Business Administration (SBA) announced the appointment of Julie Clowes as Director of the SBA's San Francisco District Office. Clowes, an attorney with a broad experience in SBA programs, formerly managed the SBA's programs and services in the Washington Metropolitan Area District Office. Previously, she was also the chief marketing and outreach attorney with the SBA's Office of General Counsel. As an experienced leader with great knowledge, Julie will be overseeing the entrepreneur services in the San Francisco District, advocating for small business owners in the Bay Area. Welcome, Julie. For the full press-release, click here.

The SBA San Francisco District Office is now accepting nominations for its 2018 National Small Business Week Awards, annual Small Business Person of the Year and Small Business Exporter of the Year. The National Small Business Week will be from April 29 - May 5, 2018. All nominations must be submitted no later than noon PST, January 8, 2018. For more information, forms, criteria and guidelines, visit here.


Temporary Relocation for Assessor's Business Personal Property Division
Please be advised that the Office of the Assessor-Recorder, Business Personal Property Division, located at 1155 Market Street, 5th Floor is undergoing renovations from November 27, 2017 until January 2018. During this time, taxpayers may receive assistance from Business Personal Property Division staff by emailing askbpp@sfgov.org, calling 415-554-5596, or visiting the Assessor's Office in City Hall, room 190, 1 Dr. Carlton B. Goodlett Place, San Francisco, CA 94102, Monday - Friday, 8:00am - 5:00pm.

Women's Entrepreneurship Fund
Mission Economic Development Agency (MEDA) in collaboration with the Office of Economic and Workforce Development (OEWD) is pleased to launch the Women's Entrepreneurship Fund for established women-owned businesses in San Francisco. Participants in the program will pitch ideas for mini-grants (up to $5,000) toward projects that have a transformative effect on their businesses. The mini-grant funding will support the following investments:
​

Business operations improvements: marketing, financial/accounting, new equipment and/or technology, training, networking

Visual merchandising, space improvements, and marketing: window displays, lighting, signage, layout improvement, design changes, online marketing, trade shows, other marketing and customer acquisition opportunities.
Participants must be nominated by a small-business technical assistance provider to be eligible. For more information, please contact Edwin Rodriguez, Business Development Program Manager, MEDA at (415) 282-3334 ext. 102 or via email at
erodriguez@medasf.org
.
Legacy Business Program
Celebrating Historic SF Businesses through the Legacy Business Program
What do a martial arts center, a variety store, a hotel, a hair salon, and five bars/restaurant have in common? They were all recognized as cultural assets to the city and added to the Legacy Business Registry! This brings the count to 119 businesses who are celebrated as longstanding, community-serving businesses in San Francisco.

The following businesses were added to the Registry in November:

The following businesses were added to the Registry in December:
A Legacy Business is a locally-owned for-profit or nonprofit business that has been operating for at least 30 years, garners a nomination from the Mayor or member of the Board of Supervisors, and gets approval from the Small Business Commission. Businesses must demonstrate their contribution to the neighborhood's history or identity through the application process.
In January, the Small Business Commission will review 4 businesses for inclusion on the Registry: AIDS Legal Referral Panel, Lucca Delicatessen, Noe Valley Bakery, and San Francisco Market Corporation.
At least 72 hours prior to the Small Business Commission's meetings, agendas and Registry applications can be found at http://sfosb.org/meetings/10.
Visit the Legacy Business Program section of our website to learn more about the program, which includes a complete list and map of businesses on the Registry.
We are presently undergoing a marketing and branding project for the Legacy Business Program. Stay tuned for updates early next year!
Small Business Commission
Upcoming Small Business Commission Meetings
Please join us at the upcoming Small Business Commission meetings in City Hall.

- January 8, 2018 at 5:30 PM (City Hall, Room 400)
- January 22, 2018 at 2:00 PM (City Hall, Room 400)

Click here for Meeting Agendas. Attend in-person or watch online with SFGOV TV.


Cannabis Updates
The regulatory structure for adult use Cannabis in San Francisco was signed into law by Mayor Lee on December 6, 2017. The Small Business Commission made a total of 12 recommendations to modify the two pieces of legislation, BOS File Nos: 171041 and 171042. The Board of Supervisors adopted 9 the recommendations. The Office of Cannabis is regulatory department that will issue the permit to operate for cultivation, manufacture, distribution, testing, sale, and delivery of medicinal and adult use cannabis.

The earliest a permit to operate in the adult use market can be issued is January 6th, 2018. The Director of the Office of Cannabis is required to issuing permits based upon the priorities established in section 1606 of file No. 171042. It is important to note that come January 6, 2018, San Francisco patients in need of medical cannabis will still have the same access as they do now.
Upcoming Events
How to Start a Business in San Francisco - January 3, 2018, 11:00AM - 12:30PM

In this informative class you will hear directly from the San Francisco Office of Small Business on rules, regulations, and important considerations for starting a business in San Francisco. Learn how to register your business, file a fictitious business name, and obtain other permits and licenses. You will also receive information on city programs and resources, including small business loans, tax credits and incentives, and technical assistance providers. Click here to register.
​

How to Start a Business in San Francisco (SPANISH) - January 10, 2018, 11:00AM - 12:30PM
En esta clase informativa, un representante de la Oficina de Negocios Pequeños proporcionará información sobre las reglas y requisitos para comenzar un negocio en San Francisco. Aprenderá a registrar su empresa, presentar un nombre comercial ficticio y otras consideraciones importantes, tales como licencias y permisos, zonificación, y accesibilidad. También aprenderá sobre los programas y recursos para pequeñas empresas, incluso préstamos para pequeñas empresas y proveedores de asistencia técnica. Registro es obligatorio. Regístrese en línea en http://sbatrainings.evenbrite.com, o llame al (415) 554-6181.

Business Law Basics - January 10, 2018, 3:30PM - 5:00PM
Current and prospective business owners will get an overview of important legal issues faced by small businesses including choosing the right legal entity, contract drafting and negotiation, intellectual property, hiring employees, and commercial leases, presented by an experienced business lawyer. This class does not constitute legal advice. For more information, click here.

HUBZone and Women Owned Small Business (WOSB) Program Certifications
This workshop is beneficial to existing small businesses who are interested in learning the provisions of the HUBZone Program and the Women-Owned Small Business (WOSB) Program. Eligibility requirements, application and certification will be explained. Registration required, click here.
Request for Proposals & Contracting Opportunities:
Business Spotlight - NEW!
The Business Spotlight is a new feature in our newsletter. Every month, we will feature a small business in San Francisco. In the spotlight for this issue is Ana's Market.
Office of Small Business, Small Business Assistance Center had endorsed Ana's Market for a $5,000 zero interest Kiva loan. A loan of $5,000 will help Thelma Orozco, the proprietor of Ana's Market buy a cooler to keep vegetables fresh and to offer a lager variety of vegetables in her store. Ana's Market at 101 Broad Street in the Oceanview neighborhood of San Francisco is participating in the city's Invest In Neighborhoods (IIN), Healthy RetailSF program, an initiative aimed at addressing health equity by encouraging access to healthy and affordable foods in all neighborhoods.



With the endorsement of the City and County of San Francisco Office of Small Business, a Kiva Trustee and partner, Thelma's loan was fully funded in less than one week!!





A special "Thank You" to KIVA and all of our supporters who help small businesses reach their goals one step at a time.